Ebay Shop Extractor Starts From Seller Home
Ebay seller scraper. Starts from seller home page and visits categories to extract all product information.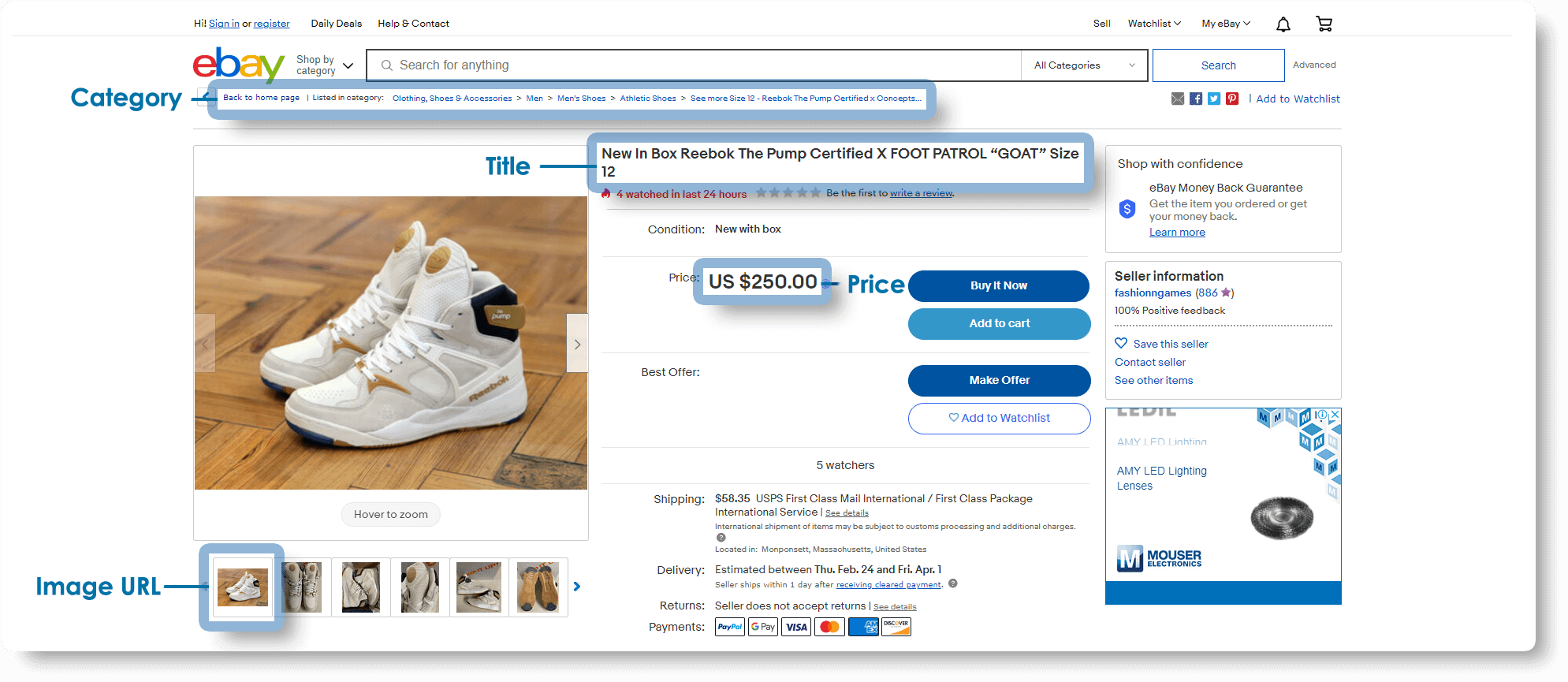 Use cases are not defined.
Input settings are not required.
You can easily see how this extractor works by running it.
The output file might be csv, xml, xlsx, json formats. When you download it you can see all extracted elements.
What does the output data look like?
This data consists of up to 6 lines of which each one represents a single (unique) page's information such as its Item_Number, Seller, Name, Price, Image_url, Category, Style_code, EU_Shoes_size, Brand, Department, Model, Region_of_Manufacture, etc from ebaystores.co.uk.
| # | Item_Number | Seller | Name | Price | Image_url | Category | Style_code | EU_Shoes_Size | Brand | Department | Model | Region_of_Manufacture |
| --- | --- | --- | --- | --- | --- | --- | --- | --- | --- | --- | --- | --- |
| 1 | 304356561582 | fashionngames | New In Box Reebok The Pump Certified X FOOT PATROL "GOAT" Size 12 | US $250.00 | https://i.ebayimg.com/images/g/uDwAAOSwUPdiCZhZ/s-l1600.jpg | Athletic Shoes | M44303 | EUR 45.5 | Reebok | Men | the pump certified | China |
| 2 | 115248931532 | portjapanexusa | Reebok Instapump Fury Og Pump Fuuri 25.5Cm Red Red Red 25.5cm Sneakers | US $198.90 | https://i.ebayimg.com/images/g/aSAAAOSwulViCOww/s-l1600.jpg | Athletic Shoes | Does not apply | - | Reebok | Men | the pump certified | - |
| 3 | 403474322766 | nwotoutlet | 78-65 NEW $140 Men's Sz 12 M Nike Air Raid Sneaker In White | US $59.99 | https://i.ebayimg.com/images/g/hyEAAOSwgOJiCxAs/s-l1600.jpg | Boots | - | - | Nike | Men | - | - |
| 4 | 373300818646 | couragetactical | Under Armour 3022606 Men's UA 8" Tac Loadout Tactical Duty Boots Hiking Boot | US $140.95 | https://i.ebayimg.com/images/g/k9EAAOSwb41h01Ep/s-l1600.jpg | Boots | - | - | Under armour | Men | - | Vietnam |
| 5 | 313867219895 | allbrands365 | Gallery Seven Mens Casual Driving Loafers | US $60.00 | https://slimages.macysassets.com/is/image/MCY/products/9/optimized/16915073_fpx.tif?wid=1300&fmt.jpeg | Dress Shoes | GLS112-1-RUSTCOPPER | - | Gallery Seven | Men | GALL-GLS112-1 | United States - US |
Scraping Intelligence is leading Web scraping company with Headquarter in Houston, USA