AliExpress Product Data Feed Includes
Categories, brand, feature, price, URL, Reviews, etc.
This AliExpress data can be used to analyze variation in price, availability of the product, reviews, ratings, etc.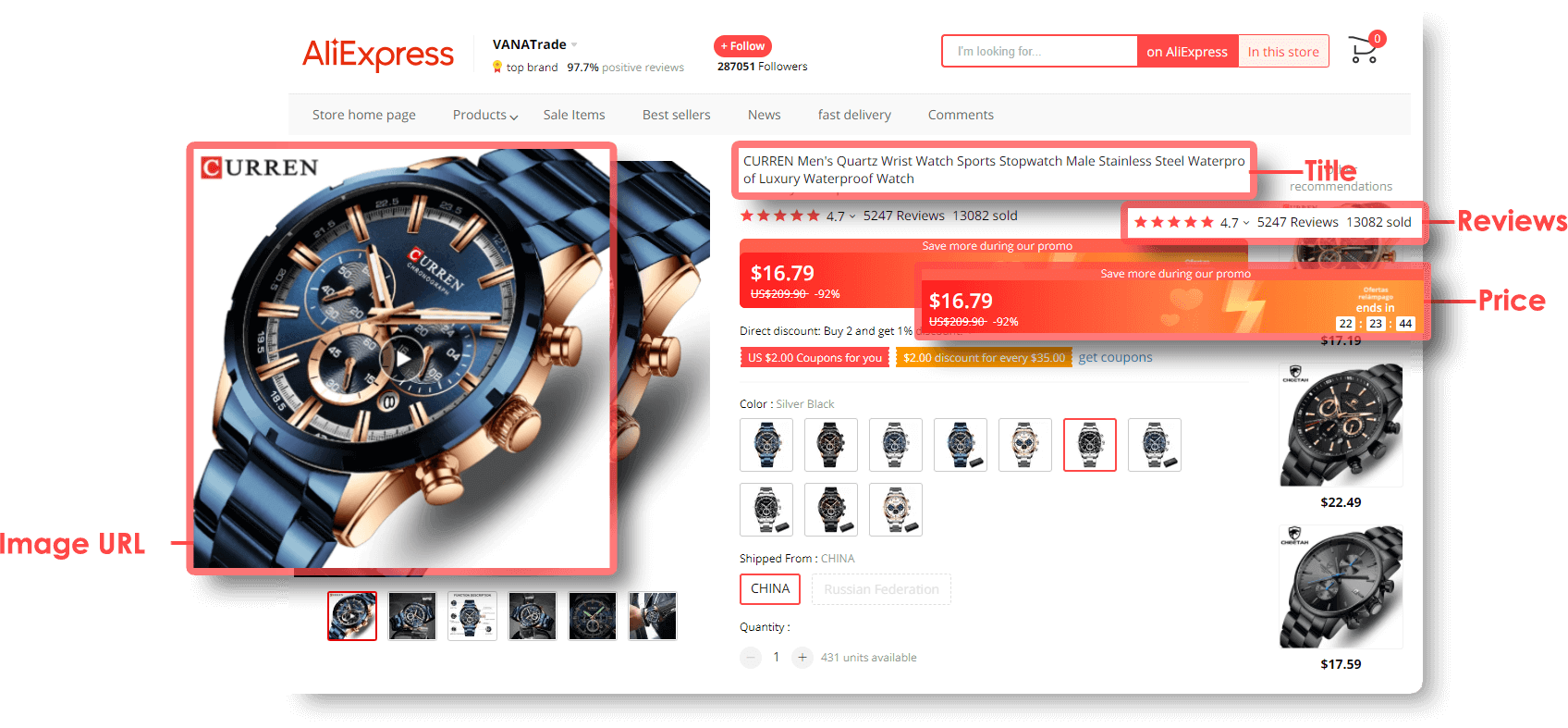 Procedure to Use and Try Free Crawlers
The crawlers are 90% ready to work. With a few clicks, it becomes as easy as copying and pasting the content.
Step 1: Initiate Advance Search
Provide search queries for any search result URLs for scraping any product data from AliExpress.
Step 2: Downloading
You can download the data in any required format such as CSV, HTML, Excel, JSON.
Step 3: Scheduling the crawler
Schedule the crawler on an hourly basis, weekly, or regularly to stay updated with products on Dropbox.
AliExpress is among the largest e-commerce websites. Every day, thousands of individuals from all over the world interact on it.
If you want to expand your e-commerce business, scraping AliExpress product data can provide you with a wealth of marketing techniques and knowledge which will give your company a huge boost.
Trying to keep up with ever industry trends might appear to be a daunting chore, but now with web scraping on your team, you can extract any product-related information in minutes.
Uses and Benefits of Scraping AliExpress Product Listing Data
If a department category or search page on AliExpress contains pagination, all pages will be crawled repeatedly.
You may also utilize the task scheduler capability to execute this AliExpress product data scraper.
There will be no requirement to download any software or extensions.
We will be always there to make necessary changes to the scrapers as per the requirement.
You can download the data without any knowledge of coding.
We analyze and resolve any issues that rely to website structure changes and blocking from the website.
The output for the scraped file can be downloaded in various formats such as CSV, XML, JSON, XLSX format. The below screenshot will show AliExpress product data fields that we will be scraping: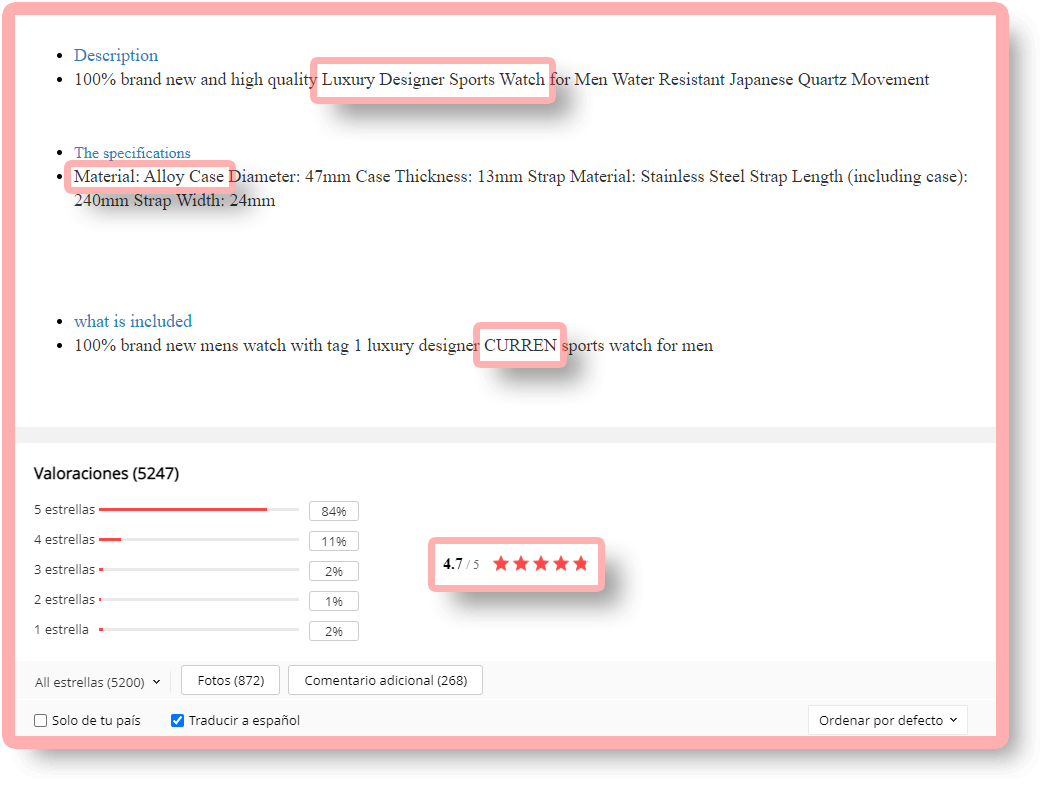 How will the Output Data look Like?
This information comprises of up to 6 lines, each of which contains a single (unique) page's data from aliexpress.com, such as its name, photos, price, url, date, and so on.
| # | Model_Number | Product_Name | Image | Price | Description |
| --- | --- | --- | --- | --- | --- |
| 1 | CUR8355-RGBE | CURREN Men's Quartz Wrist Watch Sports Stopwatch Male Stainless Steel Waterproof Luxury Waterproof Watch | https://ae01.alicdn.com/kf/Hfaed5931b2e24758913b68502a5a1214W/CURREN-Reloj-de-Pulsera-de-Cuarzo-para-Hombre-cron-metro-Deportivo-Masculino-de-Acero-Inoxidable-Resistente.jpg_50x50.jpg_.webp | Rs. 1,298.00 - 1,483.54 | Perfect for all kinds of business, casual, outdoor sports, indoor activities or daily use, all small dials work with real chronograph function. |
| 2 | CH1613G-BRG | CHEETAH Casual Sports Watch Men Stainless Steel Wristwatch Big Dial Waterproof Quartz Watch Men New | https://ae01.alicdn.com/kf/Hfb0da1c6719340279c897eab65ea12ddP/CHEETAH-reloj-deportivo-informal-para-hombre-cron-grafo-de-pulsera-de-acero-inoxidable-esfera-grande-resistente.jpg_50x50.jpg_.webp | Rs. 1,738.66 - 1,947.39 | CHEETAH Watches Mens Top Luxury Brand Business Watch Men Waterproof Quartz Wristwatch Chronograph Sports Clock Relogio Masculino |
| 3 | KL413 | Luxury Ultra-thin Stainless Steel Bracelet Casual Classic Chronograph Mesh Strap Quartz Wrist Watch Men Top Brand Luxury | https://ae01.alicdn.com/kf/Ha41103a909c4454cbc2c7cc950bbe8acu/Reloj-de-pulsera-de-cuarzo-con-correa-de-malla-para-hombre-cron-grafo-cl-sico-informal.jpg_50x50.jpg_.webp | Rs. 123.69 - 278.31 | Luxury Ultra-thin Stainless Steel Bracelet Casual Classic Chronograph Mesh Strap Quartz Wrist Watch Men Top Brand Luxury |
| 4 | B1XR72208 | Fashion Women Watches Rhinestone Luxury Brand Female Bracelet Gold Watches | https://ae01.alicdn.com/kf/H3ae8ed0822a34e01ad607b09957c3599B/Relojes-con-diamantes-de-imitaci-n-para-mujer-pulsera-femenina-de-marca-de-lujo-de-oro.jpg_50x50.jpg_.webp | Rs. 370.31 | Brand New Women Golden watches which gives you a premium looks like a bracelet. |