Amazon Best Sellers Web Scraper
This Product-Data pre-defined extractor is designed to scrape detailed information about Best sellers lists of products from Amazon.com category pages. The extractor crawls a best sellers category and extracts full details from the 100 top selling products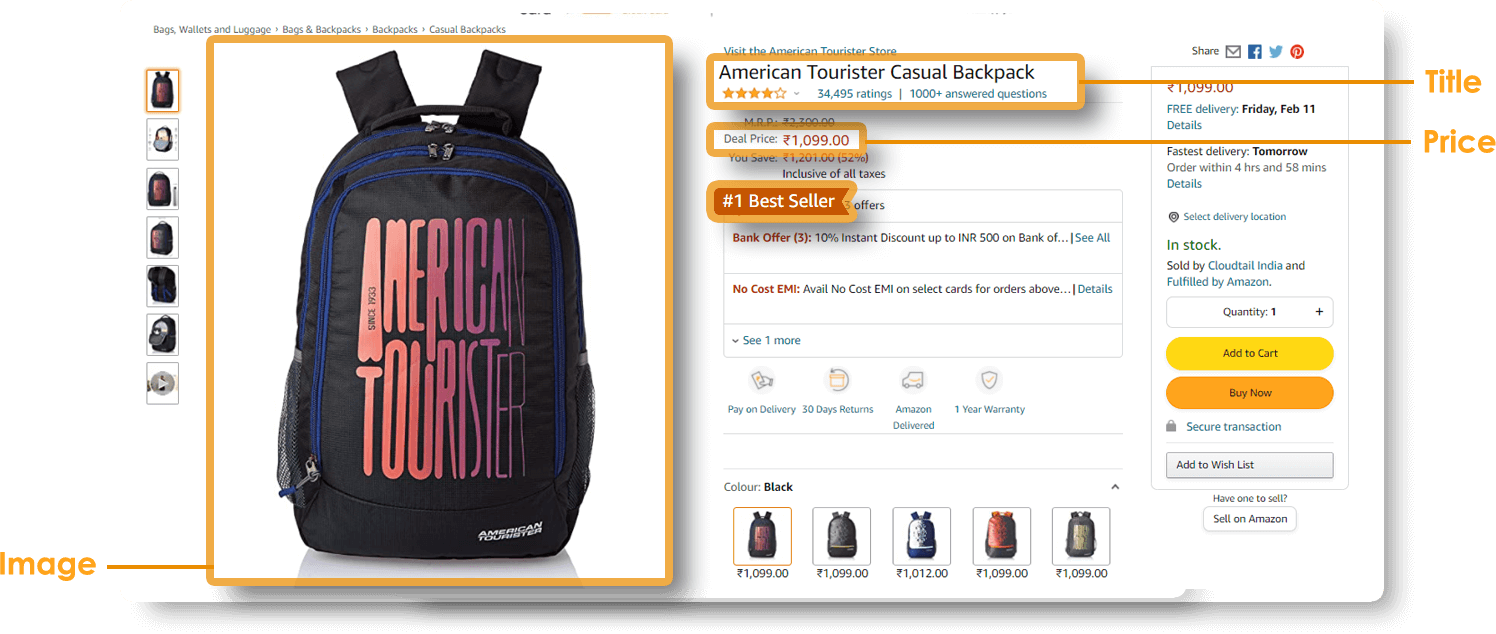 Product Information includes:
ASIN, Category, Image, ItemKey, Order, Price, Price_max, Rating, Referer, Reviews, Title, Updated, url
This data could be used for :
Sentiment analysis
Product comparison
Product research
Discovering new product opportunities
Dropshipping
Brand Monitoring
and much more....
Easy to use and Free to try
A few mouse clicks and copy/paste is all that it takes!
How to use:
Step 1: Click on "use for Free"
Step 2: Activate the PDE
Step 3: Enter your starter URLS
Enter List of search URLs to start the web scraping. It must be a search url including querystring for filters.
Please use Amazon Best sellers list to filter your search and copy the start urls
Amazon could restrict search results, so it is advised to use very specific search criteria to get better results while scraping data from it
Step 4: Click "Run now"
Remember when you enter a best sellers department link if it is a parent department all its child departments and their child departments will be scraped recursively.
This Amazon web scraper can be automatedely scheduled to run using our scheduling tasks feature
The output file can be in either be csv, xml, xlsx, json formats which contains the following information of best seller products of Amazon.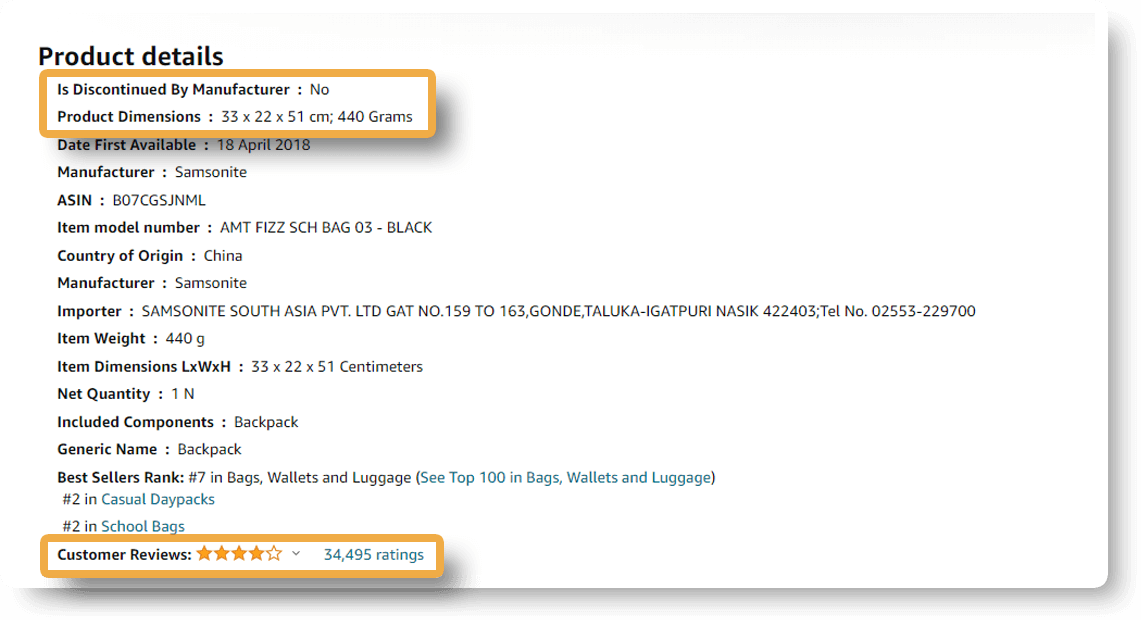 What does the output data look like?
This data consists of up to 6 lines of which each one represents a single (unique) page's information such as its ASIN, Brand, Name, Item_model_number, Price, Image, best_seller_rank, Customer_reviews, Manufacturer, Country_of_origin, etc from amazon.com.
| # | ASIN | Brand | Name | Item_Modal_Number | Price | Image | Best_Seller_Rank | Customer_Reviews | Manufacturer | Country_Of_Origin |
| --- | --- | --- | --- | --- | --- | --- | --- | --- | --- | --- |
| 1 | B07CGSJNML | American Tourister | American Tourister Casual Backpack | AMT FIZZ SCH BAG 03 - BLACK | ₹1,099.00 | https://m.media-amazon.com/images/I/91iUT+DfleL._UL1500_.jpg | #7 | 4.1 | Samsonite | China |
| 2 | B07YY6PTMN | MI | Mi Business Casual 21L Water Resistant Laptop Backpack (Dark Grey) | Business Casual | ₹999.00 | https://m.media-amazon.com/images/I/71k408azSWL._SL1500_.jpg | #1348 | 4.1 | Korrun India Pvt. Ltd | India |
| 3 | B09Q172X7J | WALKENT | Walkent Ritzy 15.6 inches Waterproof Laptop Bag (White) Hi-Quality PU, Anti Theft Design, External USB, Scratch Resistant | Ritzy | ₹2190.00 | https://m.media-amazon.com/images/I/71k408azSWL._SL1500_.jpg | #1348 | 5 | Walkent | China |
| 4 | B07FVNPWLJ | EUME | UME Viggo 30 LTR Laptop Backpack for 14 inch Laptop and Nylon Water Resistance Backpack, Ideal for School, College, Office and Travel- (Olive Green) | 2400006_T | ₹926.00 | https://m.media-amazon.com/images/I/71k408azSWL._SL1500_.jpg | #26958 | 3.6 | Avon Lifestyle Pvt Ltd | India |