ASOS Data Extractor
The ASOS data extractor tool is a versatile and efficient solution that enables a thorough search for product information on the entire e-commerce website. This tool facilitates product data scraping by inputting key parameters such as product name, brand, price and more.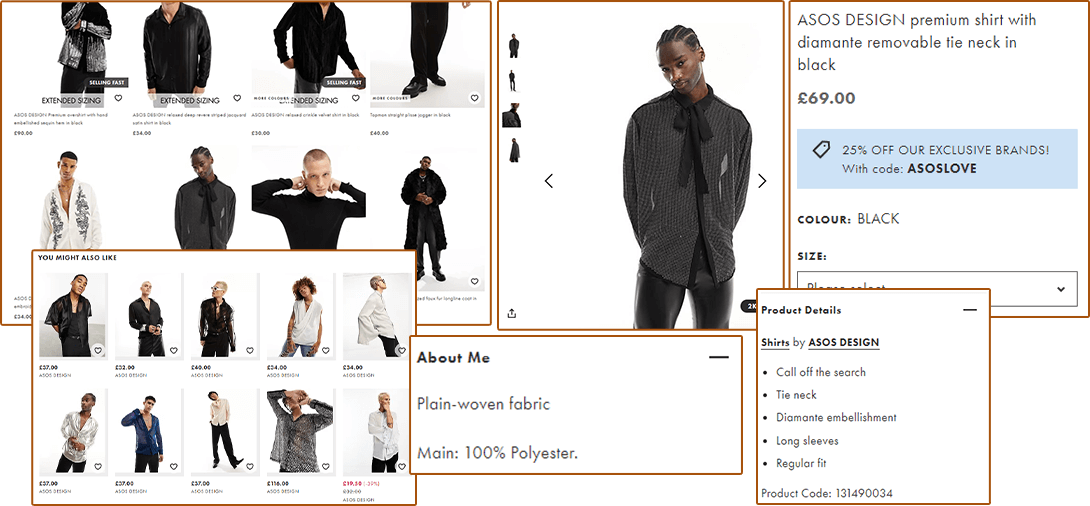 ASOS Product Data Feed Includes
Scrape ASOS's product data fields from e-commerce websites like Product Name, Product Image, Description, Model, Product Quantity, Ratings and Reviews, Category and Cost, Department, Shipping Cost, Seller Name, and many more.
Procedure to use and Try Free Crawlers
The crawlers are almost ready to function, making it as simple as copying and pasting content with a few clicks.
Step 1: Initiate Advance Search
Provide search queries for scraping product data from ASOS.
Step 2: Downloading
You can export the data in multiple formats, including Excel, CSV, MySQL, MS Access, XML, MSSQL, or HTML Files.
Step 3: Scheduling The Crawler
Schedule the crawler regularly to stay updated with product data on Dropbox.
Data Extraction using ASOS Web Scraper
The ASOS Data Scraper tool is used by millions of people and business firms looking to gather product data from the ASOS online platform for price comparison. An ASOS data extraction tool extracts valuable data related to some products from various websites. The ASOS product data extractor gathers and collects information about any product from the ASOS website.
The ASOS data extractor tool gathers product names, descriptions, prices, product images, sizes, and more information. This data is scraped for various business needs and saved in multiple formats such as CSV, MS Access, MS Excel, or MySQL databases according to the user's requirements.
Benefits of ASOS Product Data Scraper
ASOS Product Data Scraper is a robust tool that can benefit e-commerce businesses by streamlining the process of gathering product information from the ASOS website. The Asos product data scraping tool automates collecting valuable product data for market analysis and pricing strategies. This scraper empowers businesses to make informed decisions and stay competitive online by providing detailed product information, such as pricing, descriptions, and customer reviews. Its accuracy and efficiency can help optimize inventory and enhance overall operational productivity, saving time and resources.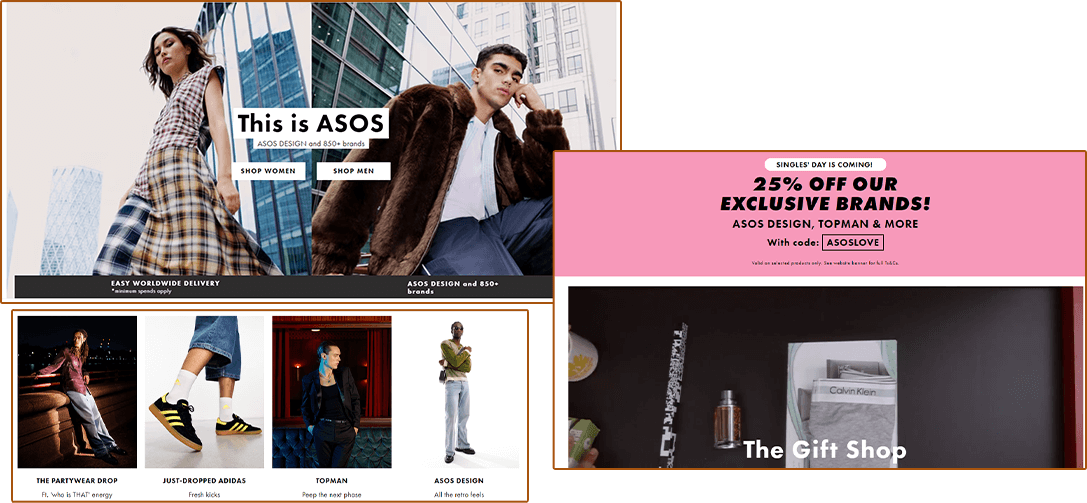 Functionality of ASOS Product Data Scraper Tools
E-commerce businesses require ASOS Product Data Scraper Tools as an essential asset. These tools provide a complete solution for extracting detailed product information from the ASOS website. They offer real-time data, including product names, prices, descriptions, customer reviews, and availability. These tools benefit market analysis, price comparison, and inventory management. ASOS Product Data Scraper Tools empower businesses to make strategic decisions by ensuring accuracy and efficiency in data extraction.
How will the Output ASOS Product Data Scraping Look Like?
Various data extraction forms include Excel spreadsheets, CSV, MySQL, MS Access, XML, MSSQL, Text, and HTML files.
| Product_Code | Title | Price | Brand | Image | Category | Colour | Product_Details |
| --- | --- | --- | --- | --- | --- | --- | --- |
| 131333730 | Puma CA Pro trainers in grey and white | £84.00 | Puma | https://images.asos-media.com/products/puma-ca-pro-trainers-in-grey-and-white/204965136-1-greywhite?$n_240w$&wid=75&fit=constrain | Shoes, Boots & Trainers | Grey & White | Smooth leather upper - Sole: 100% Rubber, Upper: 100% Leather. |
| 120998535 | Adidas Originals three stripe joggers in black | £60.00 | adidas | https://images.asos-media.com/products/adidas-originals-three-stripe-joggers-in-black/203387822-1-black?$n_320w$&wid=317&fit=constrain | Clothing | Black | Sweatshirt fabric: soft and warm - Main: 70% Cotton, 30% Polyester. |
| 132229734 | Tommy Hilfiger skyline stripe washbag in space blue | £50.00 | Tommy Hilfiger | https://images.asos-media.com/products/tommy-hilfiger-skyline-stripe-washbag-in-space-blue/205102323-1-spaceblue?$n_320w$&wid=317&fit=constrain | Face + Body | Space Blue | Plain-woven fabric - Main: 100% Polyester. |