Food Delivery Data Extractor
Our Food Delivery Web & App Extractor is helpful to get information like product data, quotations, prices, features, and more. By adding URLs, you can export required food delivery data and get on-time delivery.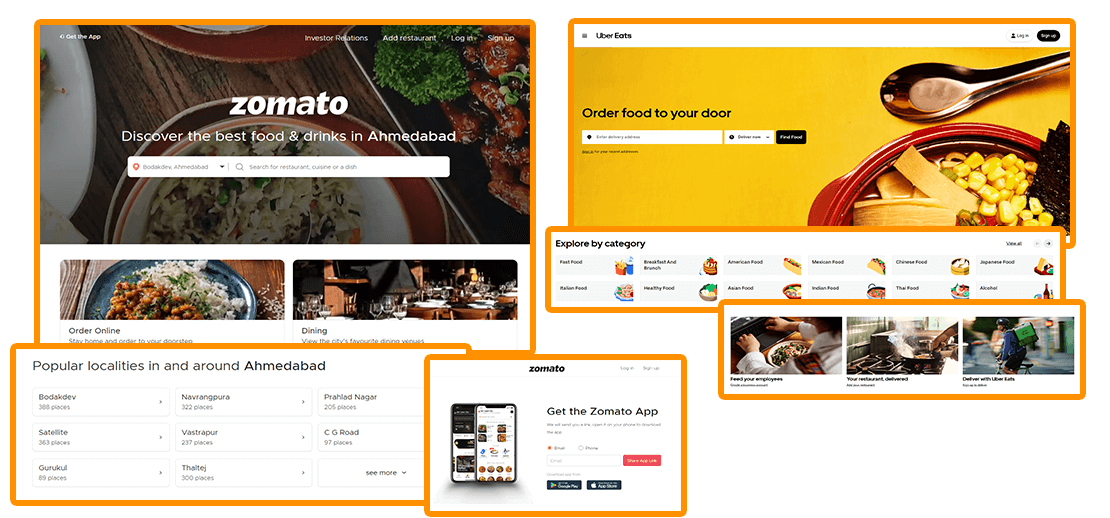 Food Delivery Web & App Data Feed Includes
Scrape data fields from Food Delivery Web & App like Restaurant's Name, Address, Contact Number, Opening Hours, Cuisines, More Info, Reviews, Payment Method, Current Promotion, Longitude & Latitude, What People Love at Restaurant, Menu Items, Item Type, Item Price, Item Discount Price, Item Description, etc.
Procedure to use and Try Free Crawlers
The crawlers are 90% ready to work. With a few clicks, it becomes as easy as copying and pasting the content.
Step 1: Initiate Advance Search
Provide search queries for any business search result URLs for scraping any data from food delivery web and apps.
Step 2: Downloading
You can download the food delivery data in any required format such as Excel, CSV, MySQL, MS-Access, XML, MSSQL, HTML Files
Step 3: Scheduling the crawler
Schedule the crawler on an hourly basis, weekly, or regularly to stay updated with food delivery data on Dropbox.
Data Extraction using Food Delivery Data Scraper
Many restaurant owners get their food ordering web and app prepared so that the customers can order food online easily and restaurants can deliver food to the customer's doorstep. You can get a lot of food delivery apps accessible in the market that work like a general platform between restaurants as well as customers including Zomato, FoodPanda, Swiggy, Uber Eats, Deliveroo, Grubhub, Postmates, Just Eat, and DoorDash to name some. Scraping Intelligence offers the best food delivery web & app scraper to extract data from food delivery web and apps mentioned above.
Functionality of Food Delivery Data Scraper
Our Food Delivery Web & App Scraper is accurate and provides on-time data delivery to our customers. Our Food data extractor helps in scraping precise data as well as providing all the required details for a business in the required format.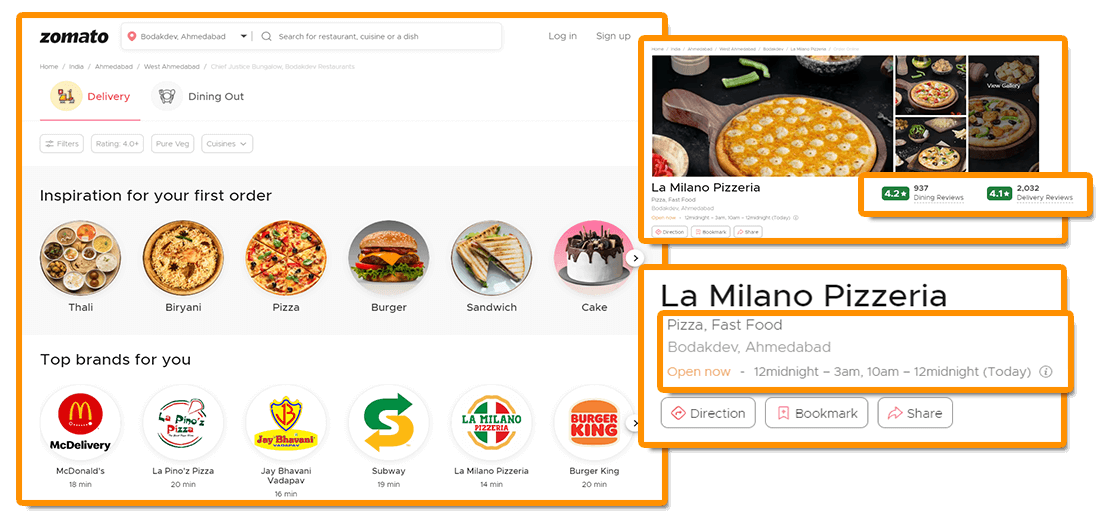 Benefits of Food delivery Data Extractor
Ready-to-use Food Delivery Data Extraction Tool to get started instantly.
Deal with cleaning, scraped data, and various delivery techniques in data formats.
Get customized Zomato, Uber Eats, Swiggy, etc scraped data.
our Food Delivery Web & App Scraper can fulfill all your business requirement.
Businesses can measure their KPIs more effectively.
Exposure to new customers and helps understand customer behavior better
How will the Output Data look Like?
Extract data can be populated in various forms such as Excel spreadsheets, CSV, MySQL, MS-Access, XML, MSSQL, Text & HTML Files
| Id | Restaurant Name | Address | URL | rating | reviews | Phone no |
| --- | --- | --- | --- | --- | --- | --- |
| 1 | Diggin | Shop 1 8.2 Sri Fort Road Opposite Gargi College, Anand Lok New Delhi | https://www.zomato.com/hor/digginanand-lok-dehi | 4.5 | (4.937k Reviews) | 011 27478918, +91 9350605566 |
| 2 | Ever Bake | B-2, Central Market Shalimar Bagh, New Delhi | https://www.zomato.com/verbak | 4.0 | (11.5K Reviews) | +91 8588800843 +91 9821448343 |
| 3 | Pizza Live | 94, Block D, Shaheed Sukhdev Marg, NIT 5. NIT, Faridabad | https://www.zomato.com/no/pizza-live-nit-faridabad | 4.2 | (1888k Reviews) | +91 9953505696 |