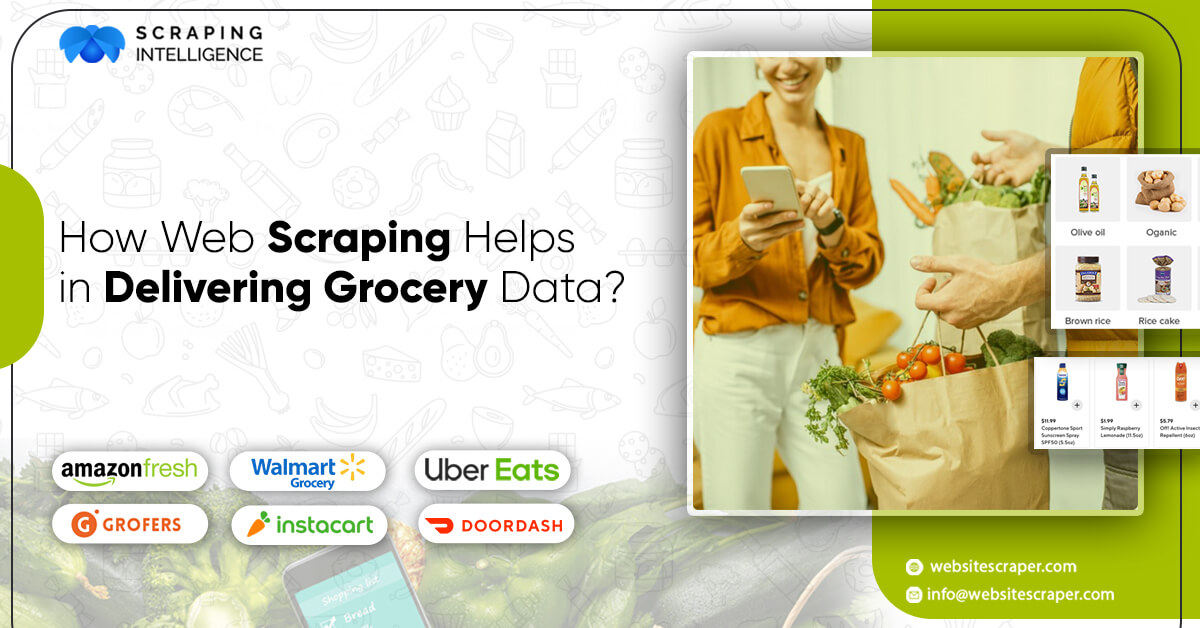 People are skipping weekly visits to their local grocer in preference of buying groceries online due to ease of accessibility and convenience given by online grocery delivery companies. Between 2021 and 2031, the industry's income is predicted to grow by 20% yearly. Order volumes have reached new highs for companies like DoorDash, InstaCart, Amazon Fresh, and others.
Online grocery delivery is growing rapidly, due to developments in digital communications, logistics assistance, and increasingly busy career and personal life. Web scraping is a solution that helps you get further to your company goals if you're seeking to develop and expand your grocery delivery service or establish a new one.
Reasons Behind Scraping Grocery Delivery Data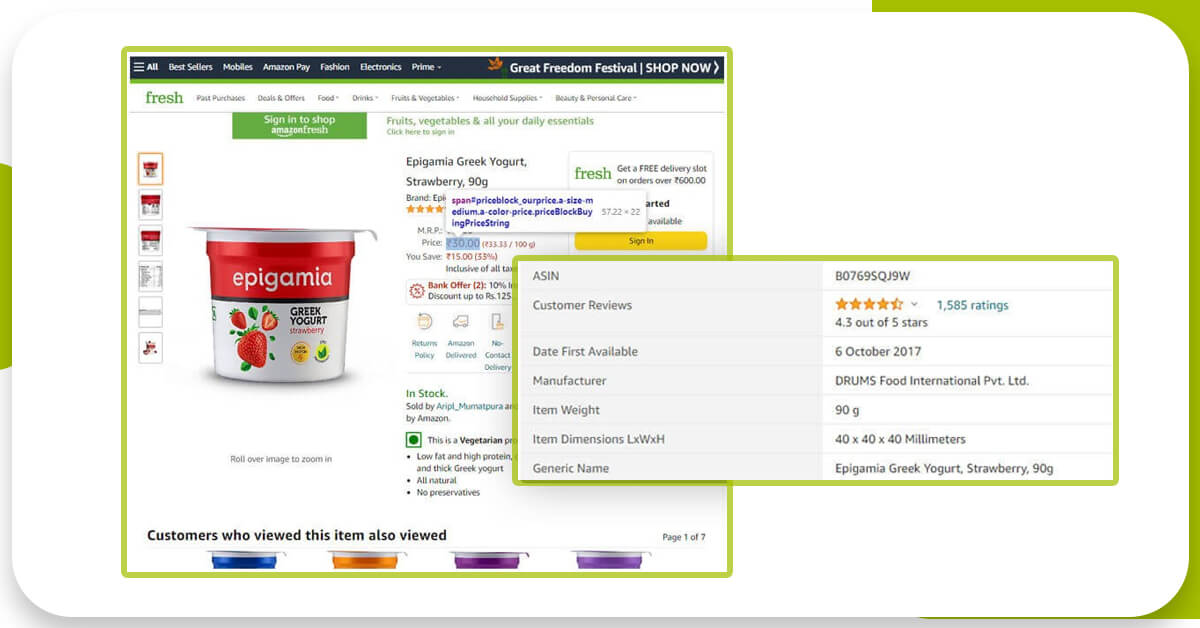 Every grocery delivery company that uses a grocery data scraping service may have distinct goals. You can choose to target all of the data fields available to accomplish specific business objectives. Here are a few examples:
1. Consumer Buying Patterns
Customers can now order groceries online and have them delivered to their home as delivery operations have improved. The development of this market is being fueled by the user-friendly interface of popular services, various payment choices, and additional savings. E-Commerce alternatives will keep expanding, and retailers will be better able to comprehend their clients' shopping preferences.
2. Enhancing Pricing Policies
If you sell a product on a grocery delivery platform, then you will need to focus on developing a competitive pricing plan. Similarly, if you own a grocery delivery platform then offers, and discounts offered by competitors, will better assist you in creating your marketing policies.
Which Data Fields are Scraped from Scraping Grocery Delivery Data?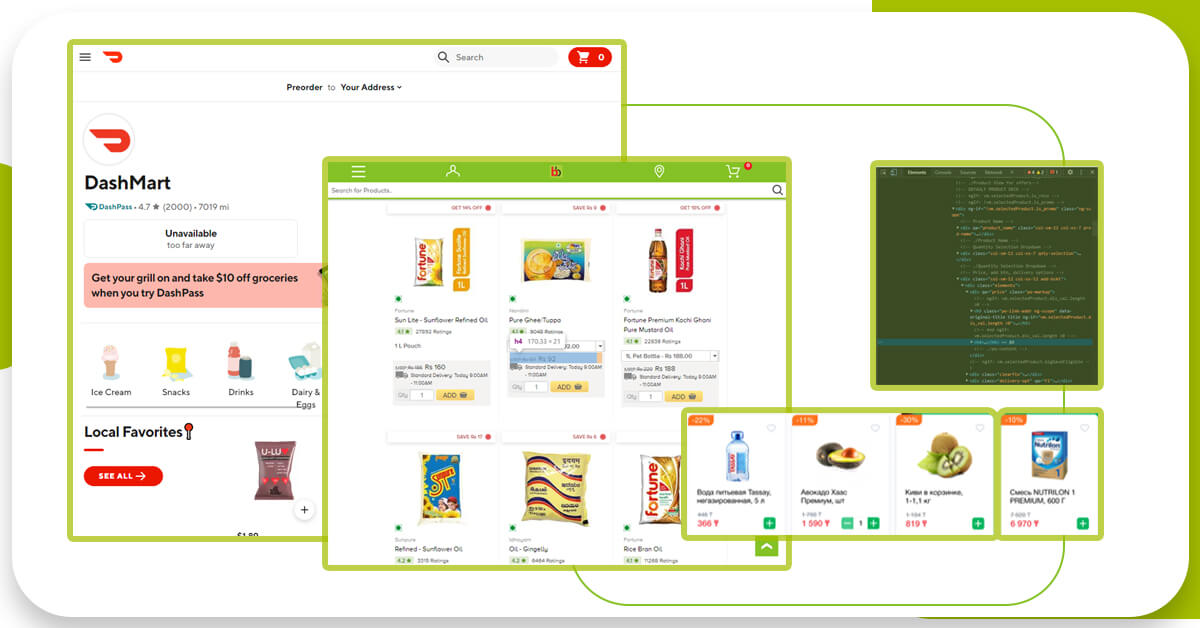 Several fields can be scraped from online grocery delivery services. Among the most common are:
Store name
Address
Product name
Product description
Product image
Product SKU
Offer and discounts
Reviews/Ratings
Product price
Product Category
After the necessary data has been obtained, it is processed and subjected to several quality tests before being delivered. All of this information is presented in a standardized manner, allowing associated firms to gain great information.
What are The Uses of Scraped Grocery Delivery Data?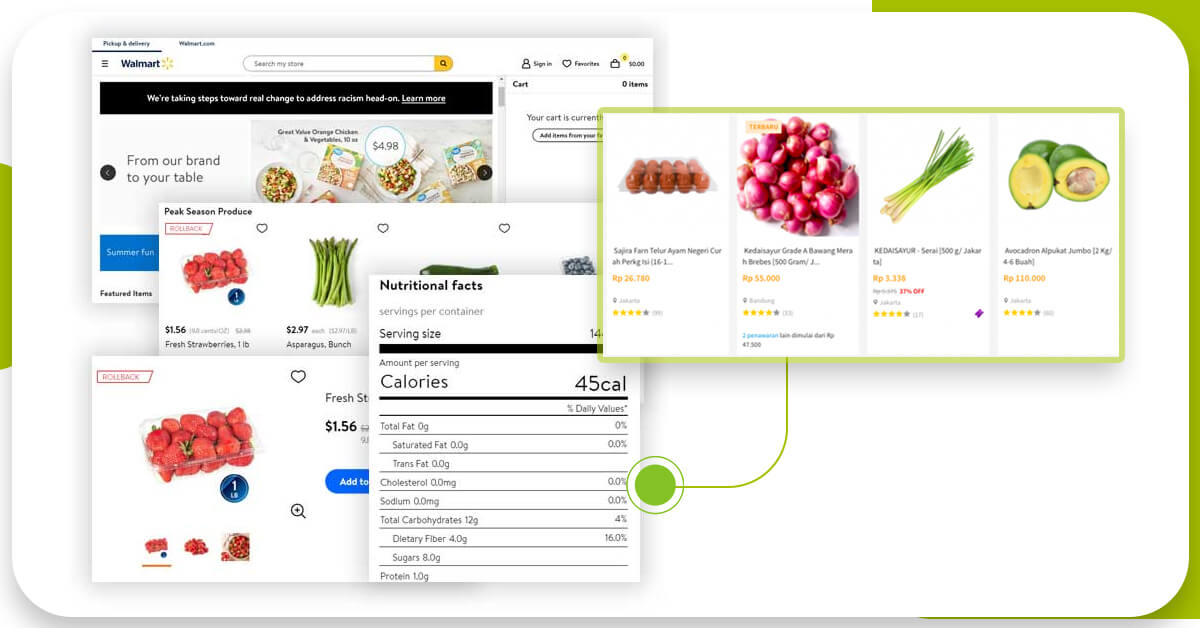 Every business involved in grocery sales and delivery can benefit from web scraping services. Given the current state of the industry, it may be an ideal moment for a company to leverage dependable web scraping solutions and obtain a competitive advantage.
Here's a quick rundown of how different businesses can use scraped grocery delivery data.
1. Grocery Retailers
If you currently have a brick-and-mortar grocery store, you can expand your operations to include virtual convenience for your clients. It's a good idea to research services of local merchants in your region before being listed on a major grocery delivery platform.
2. Online Retailers
As an online shop with products in a variety of categories, you should consider adding grocers to benefit from this growing market. Because groceries are necessary, this can be a fantastic strategy to increase sales and revenue. Furthermore, specific grocers with strong brand value may attract more clients, which may assist to boost sales of other things you sell.
3. Bulk Grocery Dealers
If you're a distributor selling grocery items to shops, knowing what products are popular with consumers might help you optimize your products. Scraped reviews and ratings help to get the précised information about famous product categories across regions and localities allowing you to attract more retailers for your bulk products.
4. Grocery Platform Competitors
Web scraping is an efficient way to strengthen your business strategy as new companies enter the market regularly. If you are planning to establish a new grocery delivery business, you must know that scraping grocery delivery data is the necessary thing required for business. It can give you valuable information about the entire market, top buyers, pricing, and more, all of which can help you achieve a competitive advantage
5. Business Expansion
If you want to expand your grocery delivery business, then you will need a comprehensive scraped list of existing food delivery providers and merchants. You may employ location data that will assist you to match your expectations and requirements by using a customized web scraping tool like Scraping Intelligence.
Custom Solutions to Gather Grocery Delivery Data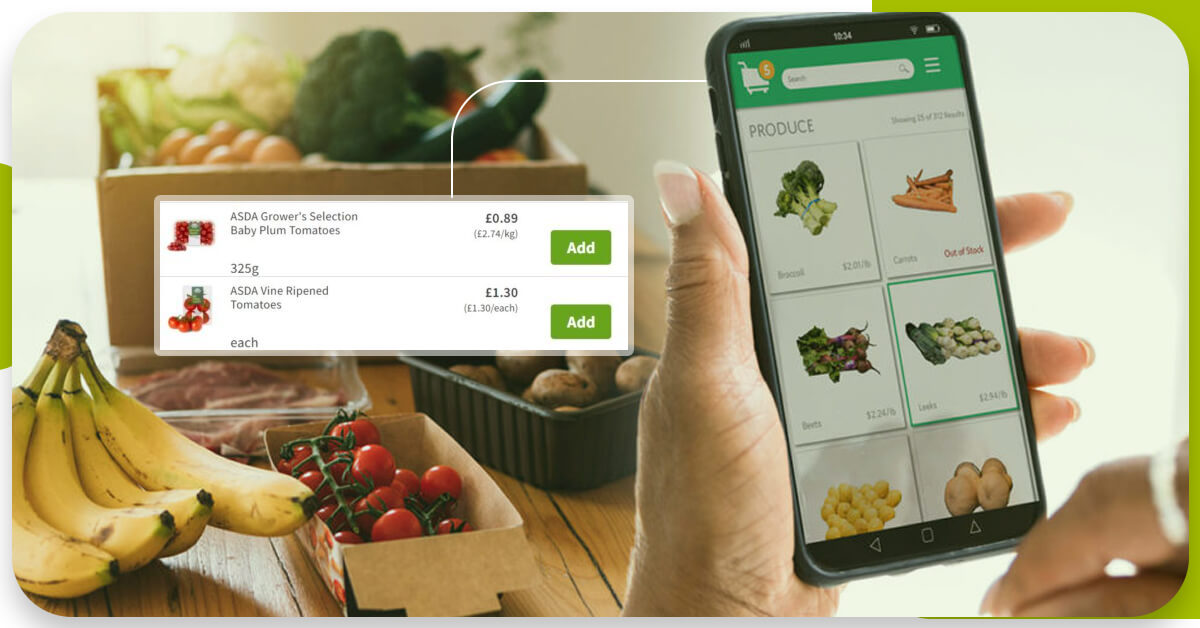 Because of simplicity and comfort of use, the grocery delivery industry has grown steadily. Analyzing grocery delivery data service will require a web scraping service provider that reliably gathers data depending on your schedule.
Scraping tools like Scraping Intelligence can help you get started by creating unique solutions to extract the data points you require. Scraping Intelligence can also create customized web scraping APIs for companies that lack an API to accomplish the business goal.
Scraping Intelligence is one of the leading web scraping providers in the world that scrapes publicly available information available on the internet. Scraping Intelligence pre-built scrapers and other online scraping tutorials make scraping easy and price less for small businesses, academics, and professionals to harvest data from prominent websites.
Looking to Scrape Grocery Delivery Data? Contact Scraping Intelligence today and request for a free quote!!