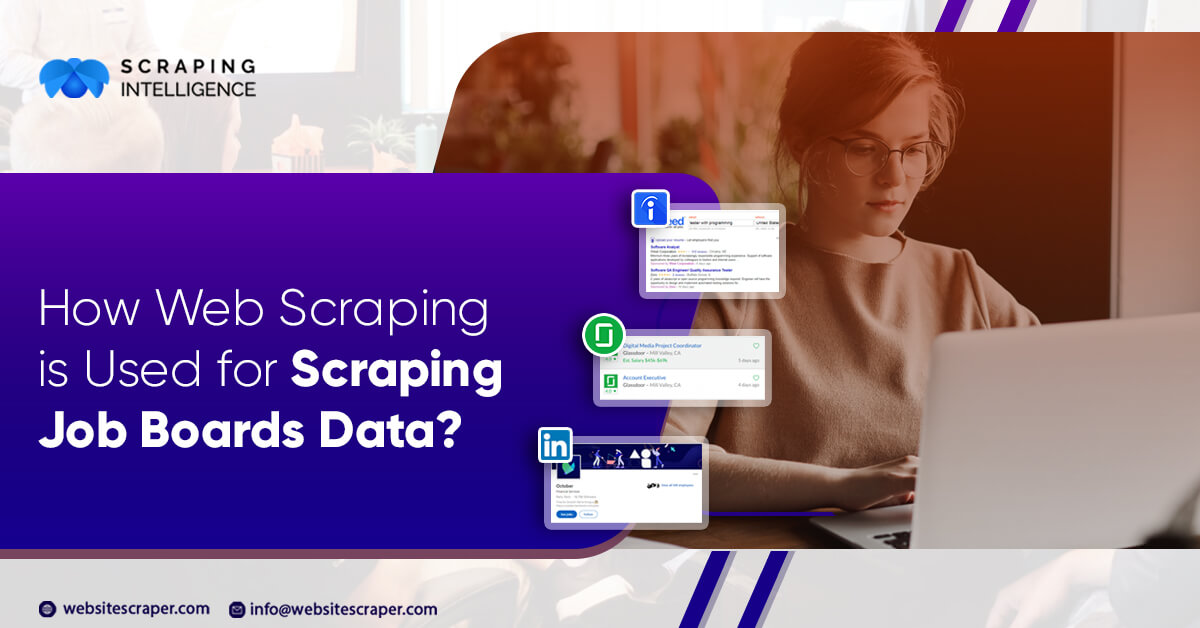 Job boards are websites that let job searchers and companies connect. Employers can use the site to advertise their job openings and encourage qualified candidates to apply. The amount of high-quality job posts shown on a job board website is its most valuable asset. This job data is what gives the job board its depth and utility. This is why web scraping jobs benefit job boards by increasing the quantity and quality of job ads.
Web scraping jobs are used to compile large numbers of job advertisements from all over the internet into a single location. A job board can display scraped feeds from numerous websites, resulting in a variety of job posts.
Crawlers are used by job boards to crawl and gather information from various websites containing job advertisements. These websites are crawled regularly to ensure that fresh listings are not overlooked. Some job boards still utilize inefficient manual crawling methods to gather data from the internet.
What Data Can be Scraped from Job Portals?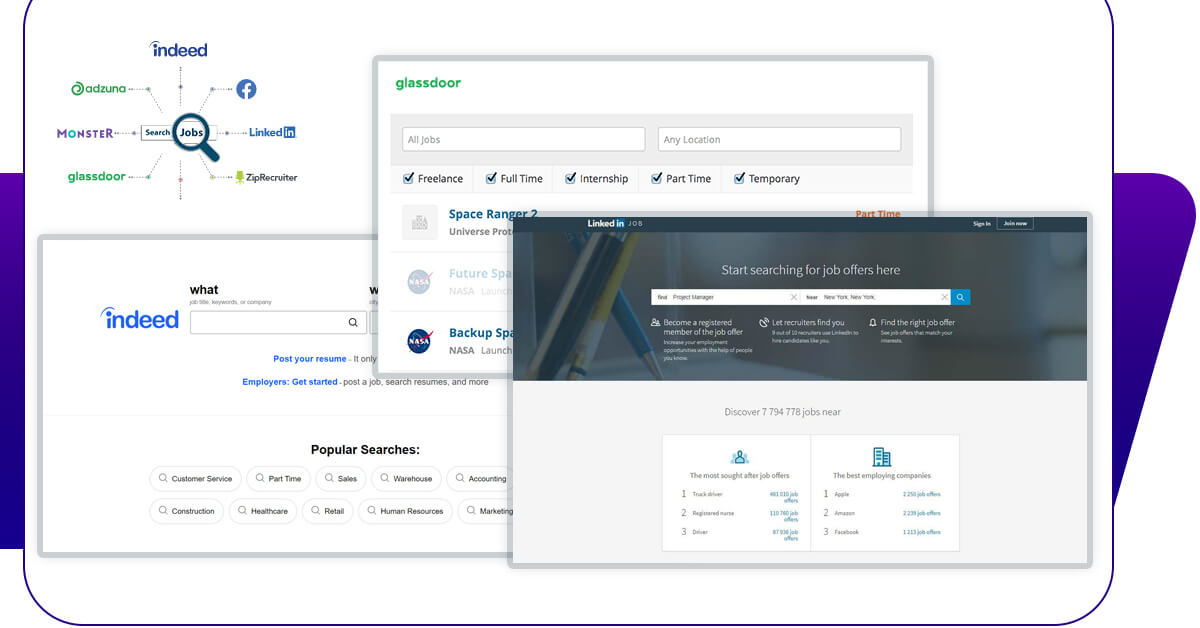 Job seekers frequently use platforms such as LinkedIn, Monster, Indeed, and CareerBuilder. As a result, companies prefer to post job openings on these specific platforms to expedite the hiring process.
Web scraping tools can be used by newer job boards and competitors to collect job listing data from these leading sites. They can then use the scraped information to post job openings on their websites. This will help them gain favors with companies and job seekers rapidly.
Here is the list of the data fields that you can scrape using Scraping Intelligence:
Company name
Job type
Job description
Salary provided
Company ratings
Reviews
Days since posted
Location
Job title
Why Scrape Job Data?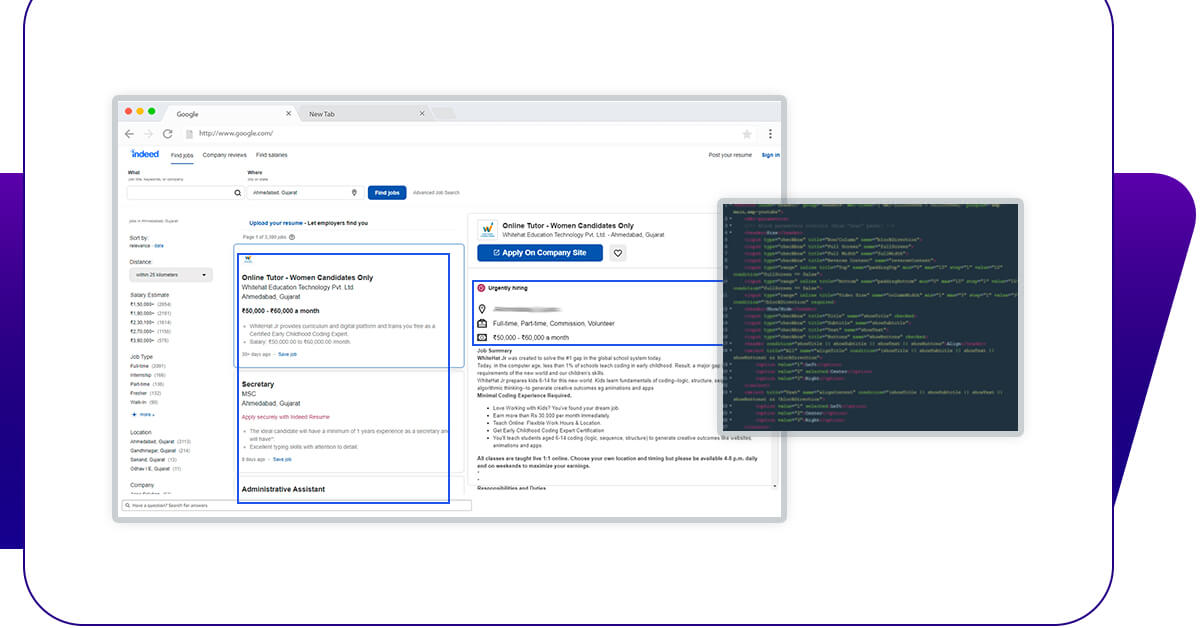 Here are various ways in which scraped job data can be used:
Enhancing the quality of the portal
A job portal's reputation and value can be boosted through high-quality listings. It's no coincidence that now the global leaders in the internet recruitment sector include job listings from some of the world's most prestigious companies. Many large organizations use these popular platforms to publish job vacancies regularly.
As a new job board, you can get such high-quality postings by scraping information from popular job boards. Also, make a post on your website to attract the best candidates to your employment board. Because job postings have a shelf life, you must renew and refresh them frequently. The picture of your portal may be damaged if your listings are old or expired. This might result in a
loss of brand equity and trust.
You can gather and upload the most appropriate listings from the main employment sites in real-time using web scraping technology.
Searching for particular job listings/Locations
Collecting information about new jobs posted for particular roles or a certain location is critical for the success of a specialist job portal. However, if you're just getting started, you might have to do some manual research and add such listings to your site. This could take a long time and put your success on hold. To get rid of this growing problem, use an automated scraping method. Scraping Intelligence allows you to request a custom scraping solution. This will allow you to scrape only the information you need from the specified websites.
Learning Hiring Patterns
The information may be used to determine which industries are recruiting, which job profiles are in high demand, and what types of pay are being provided across categories and industries. You can utilize this information to provide information to job seekers as well as employees. To provide added benefit to your audiences, these insights could be provided immediately on your website. These insights might potentially be used to develop a lead attraction for your site and expand your email list.
Keeping a record of Updated Job Listings
Scraping job board information can help you remain ahead of the competition by keeping track of the most recent job listings available across numerous portals. Scraping Intelligence can browse your chosen platforms regularly and extract job listing data. The data is also given in an easy-to-use format (such as JSON, CSV, or Excel) to ensure the entire process runs smoothly.
Crawlers for Glassdoor Job Postings and Indeed Job Listings can assist you in extracting data from job listings without actually writing a line of code. These crawlers not only allow you to retrieve a limitless amount of data from job listings, but also allow you to receive periodic updates from the entries. Scraping Intelligence may also design a custom automatic crawler for a specific application.
Web Scraping Job Data to Boost your Business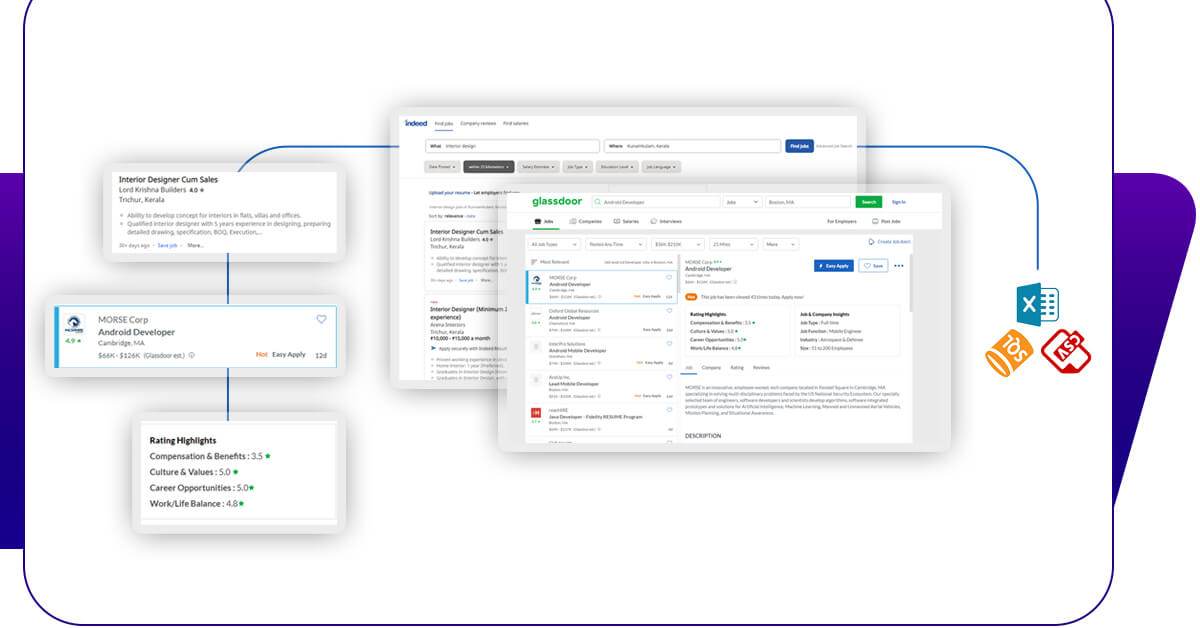 Manually accessing information from thousands of websites might be a difficult task. Even if you construct a unique web scraper for your company, crawler upkeep will require devoted personnel. For transforming raw features extracted into a suitable form, you may need to invest in additional tools or software.
Scraping Intelligence Cloud has made an entire procedure extremely cost-effective, rapid, and painless. You only have to provide the specified platform and the tool will take care of the rest.
You can also request that we tailor the scraping procedure to get the data you require. Automatic extraction occurs at regular intervals to ensure that you do not miss any fresh job postings.
You can save the extracted data in JSON, CSV, or Excel format, depending on your requirements. Furthermore, if necessary, the data can be transferred directly to your Dropbox account. You'll
get the data in a simple tabular format that you can use on your website right away.
Scraping Intelligence provides unique solutions to new and rising job portals to scrape employment data in real-time, with extensive features, inexpensive plans, zero maintenance, and automatic crawlers.
Contact Scraping Intelligence and Request a quote!!