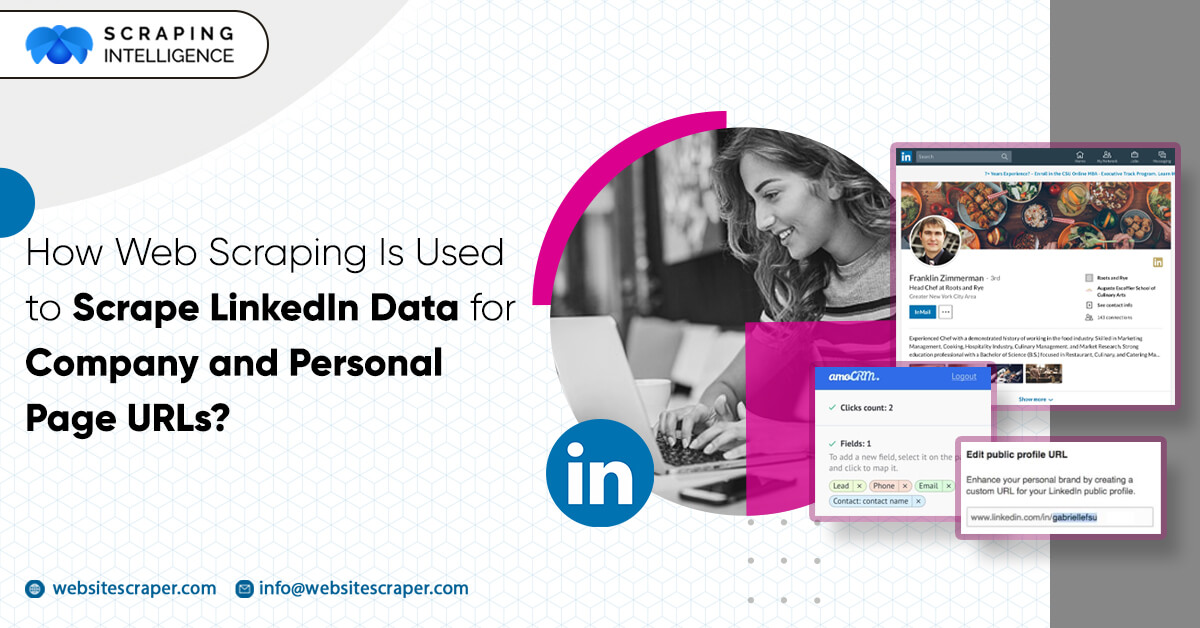 LinkedIn is a global online network that allows users to establish professional profiles and has around 810 million memberships. It is used by both individuals and businesses to stock resumes, communicate with coworkers, and promote brands. Individual users can look for and apply for jobs and companies, while businesses can do recruitment and post vacant positions.
The users on LinkedIn can also use the social networking platform for sharing material and can-do debates on the fields of their expertise. This makes LinkedIn the most comprehensive database of potential employees and employers and a valuable source of public data.
The LinkedIn Company URL Finder tool allows to extractLinkedIn company page URLs data in a clear, organizedway that can be exported as structured data. Just enter a firm name or a list of companies to find on LinkedIn, and it will return a list of URLs. It is simple, quick, and inexpensive.
LinkedIn People Finder only searches personal profiles. Theweb scraping crawler takes a name or the list and extracts the URLs from the profiles on LinkedIn.
Is Scraping LinkedIn Legal?
Fetching data from the internet is lawful. From a simple Google search, the available URLs are extracted publicly.
Importance of Scraping LinkedIn URLs
Looking for Job
If you are looking for the ideal job and need all the URLs of the companies where you wish to work, you don't need to search on separate corporate pages as it makes the list of URLs of the companies where vacancies are available. This also allows you to immediately view the websites to apply for the job via the LinkedIn page.
Recruitment
With the help of LinkedIn people finder, you can fetch the list of people who applied for the post at your organization. You can also extract profile URLs where you don't have to search and consult the candidate individually perhaps you can also find an ideal candidate for the vacancy you have who has not even applied.
Database of Clients
LinkedIn is an excellent networking siteuseful to establish a database of potential customers to contact. It will be much easier for the marketing or sales team if you have all of the LinkedIn company and personal page URLs data in a list because manual searching for LinkedIn takestoo long. Theextractor will provide quick and easy access to your sales team, allowing them to spend more time closing deals and chasing leads.
Market Research
Keeping track of competitors' recruitment, and market research are important, and consider making it easier by providing the list of competitors' URLs. This assists in effortlessly linking competitors' LinkedIn feeds and know about their branding strategies.
Process of Scraping LinkedIn data for company pages
Let's get started by going over how to use LinkedIn Company URL Finder. You will be able to extractLinkedIn company page URLs you desire in just a few simple steps!
1. Locate Your Performer
Click on Try for free button on the LinkedIn Company URL Finder page on Scraping intelligence.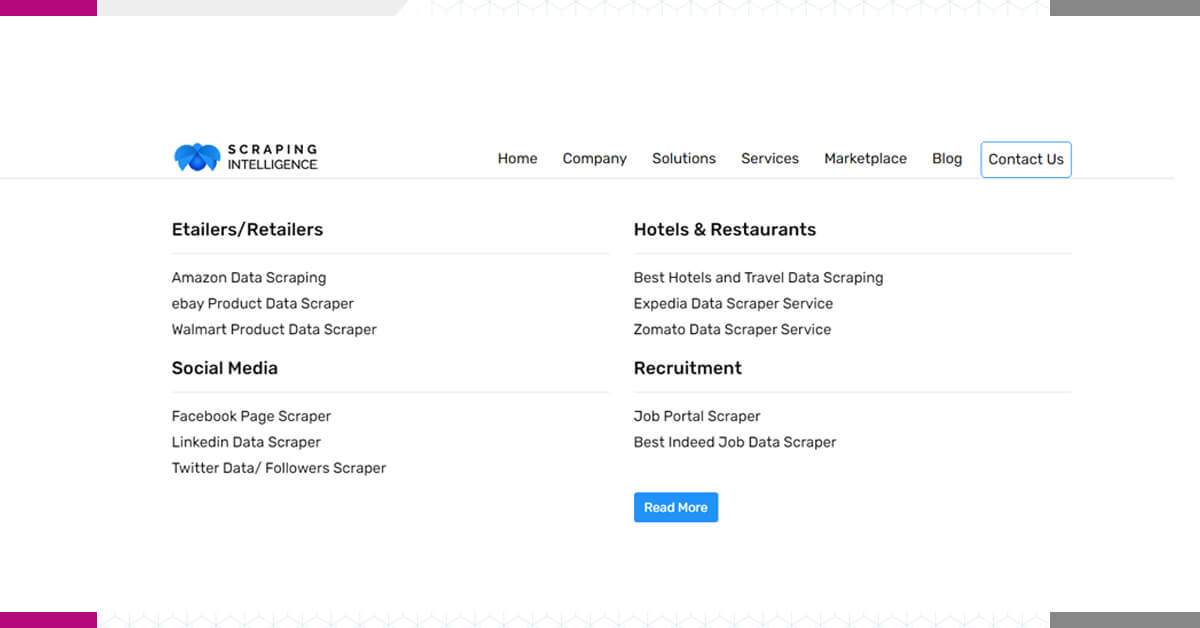 2. Sign-In
Filling a registration page will direct you to a sign-in page. If you don't have an account create it via email. Already have an account then log in and got to step 3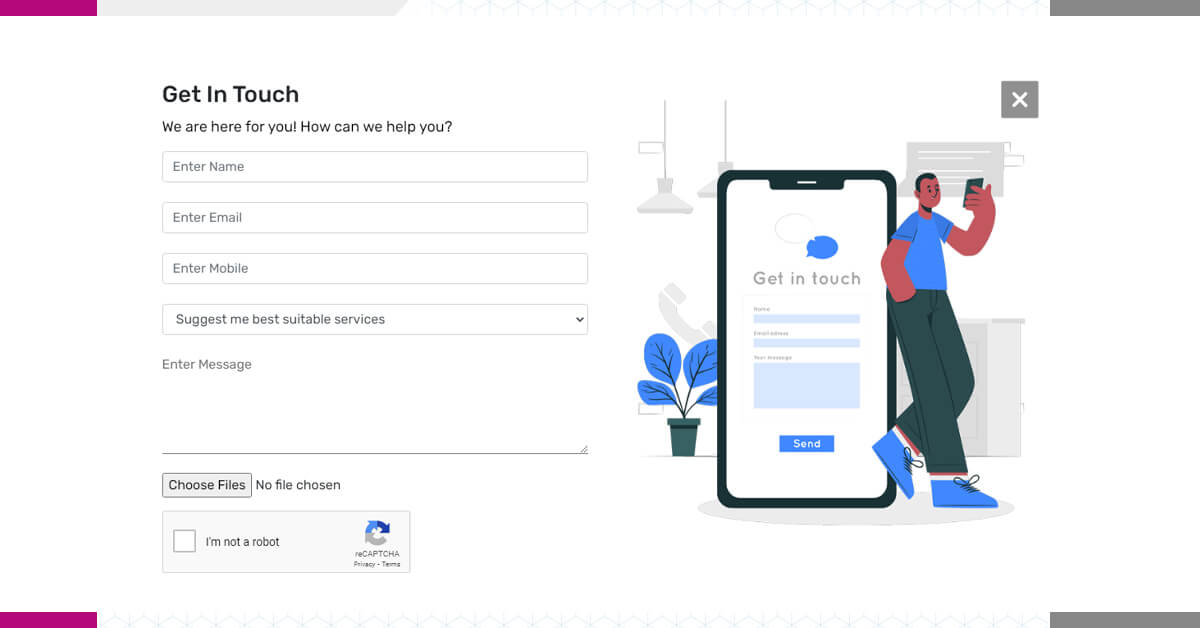 3. Scraping Intelligence will redirect you to the page. Here,you can run tasks for your extractors. And can again use the free trial for LinkedIn people finder.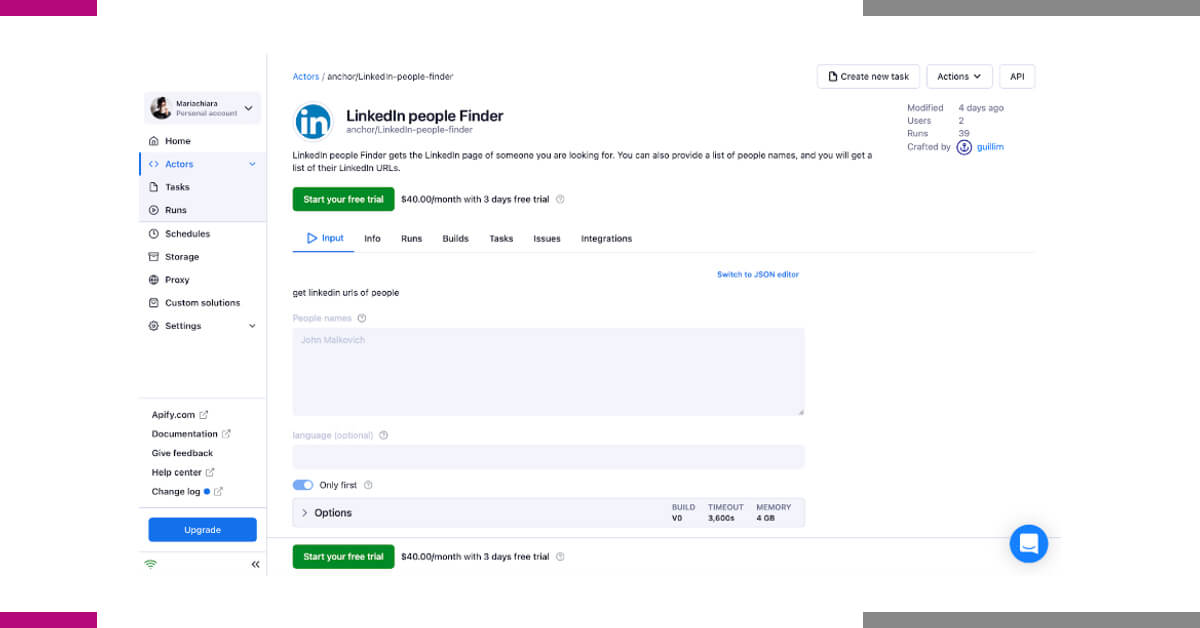 4. Input
Fill in the names of the individual in the name box in LinkedIn People Finder, i.e. the names of the people for whom you wish to extract the LinkedIn page URL. A list of people's names can be typed in or copied and pasted into the box. Make sure every line has only one name.
You can also select a language for the profile in the next field if you wish to filter the LinkedIn scraper's search field. Only those results that are accessible in the language selected will be displayed.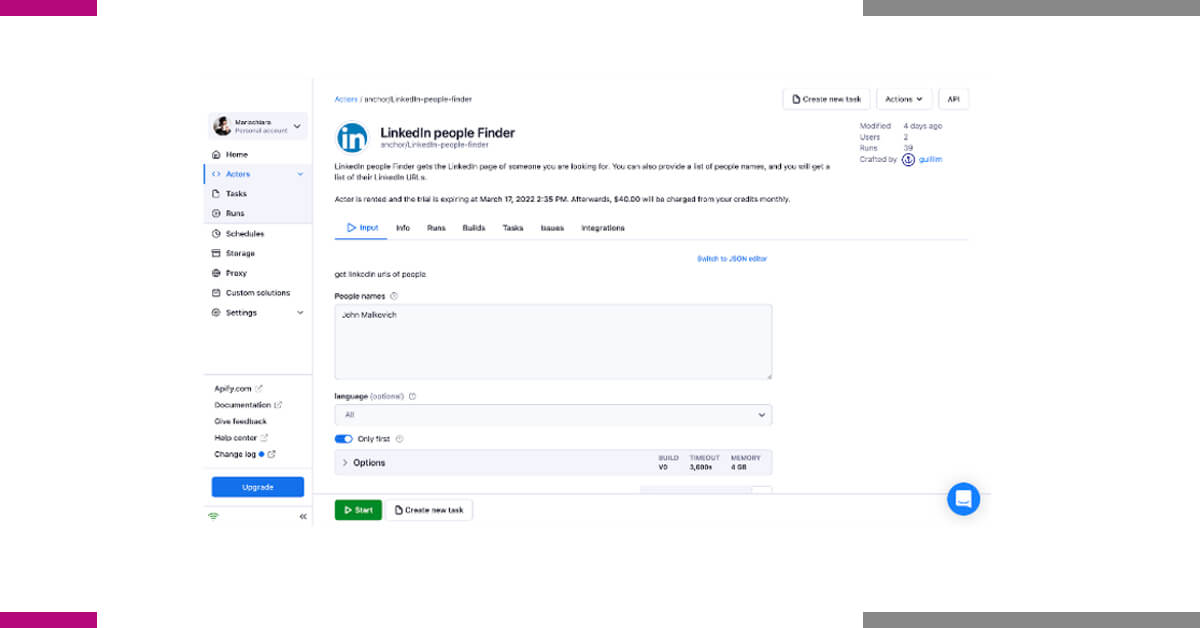 5. Press the Start button. Wait for the scraper's run to finish. And check the status to get converted into succeeded.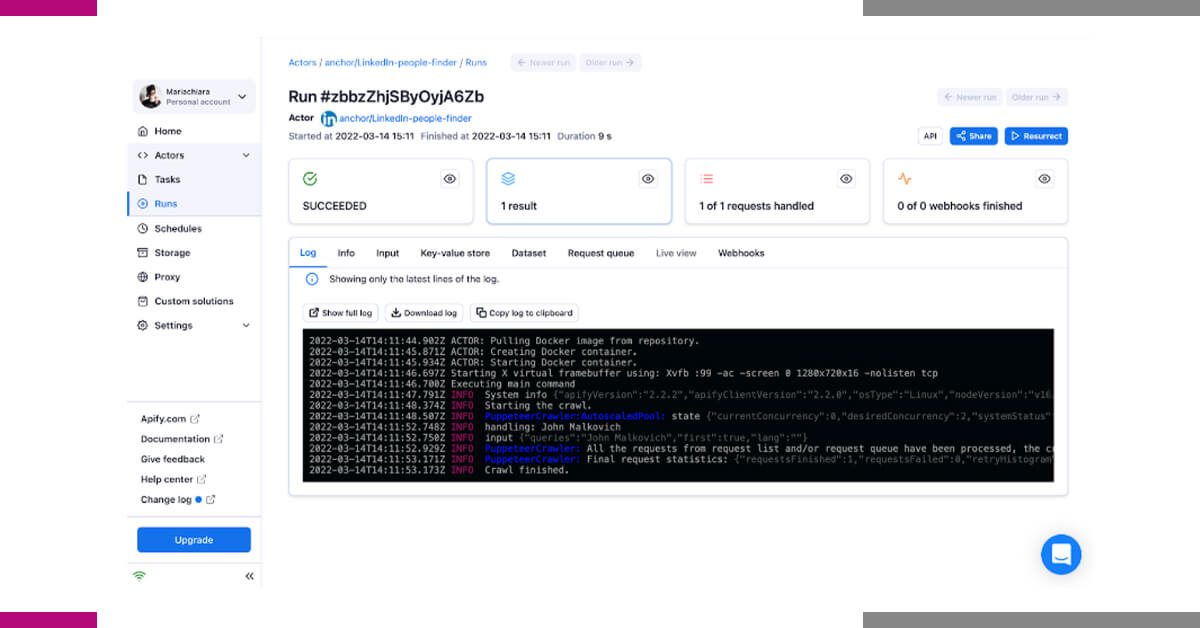 6. Outcomes
The search will return for as many individuals as you specified in the input phase. To see the results, go to the Dataset tab. The Dataset tab contains your fetched data in a variety of formats, such as CSV, JSON, XML, Excel, and RSS feed. If the dataset is huge, you can view it in a new tab by clicking the preview button.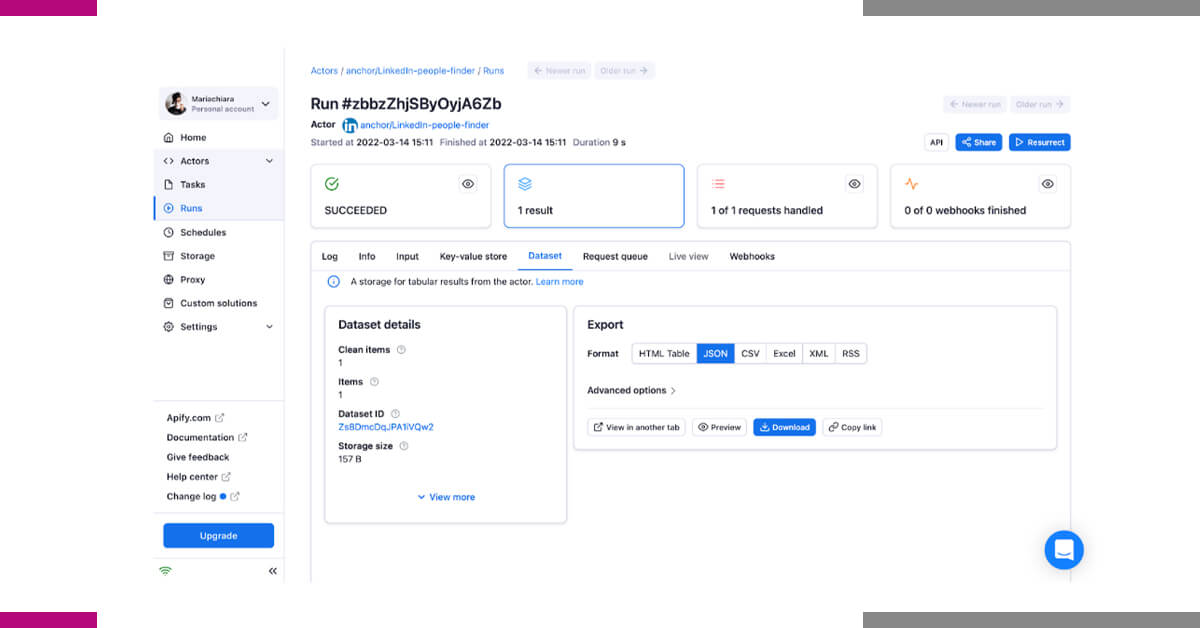 7. You have the option of downloading it to your computer for using it as spreadsheets or in other programs.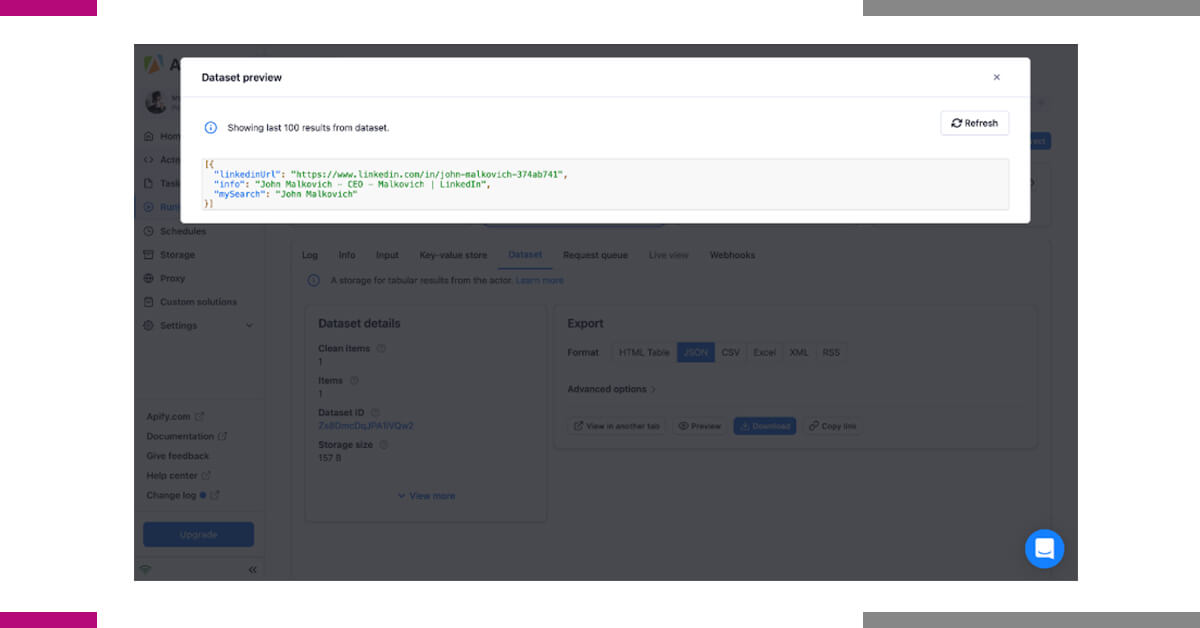 Conclusion
This was the process of scraping LinkedIn personal page URLs and company page URLs. Extracting these data is so useful for ideal recruitment and also helps candidates in searching for their desired jobs in just some clicks. LinkedIn company URL finder helps employees in need of jobs and LinkedIn people finder assists employers who are finding the best fit for their organization.
For any other web scraping services, contact Scraping Intelligence today!
Request for a quote