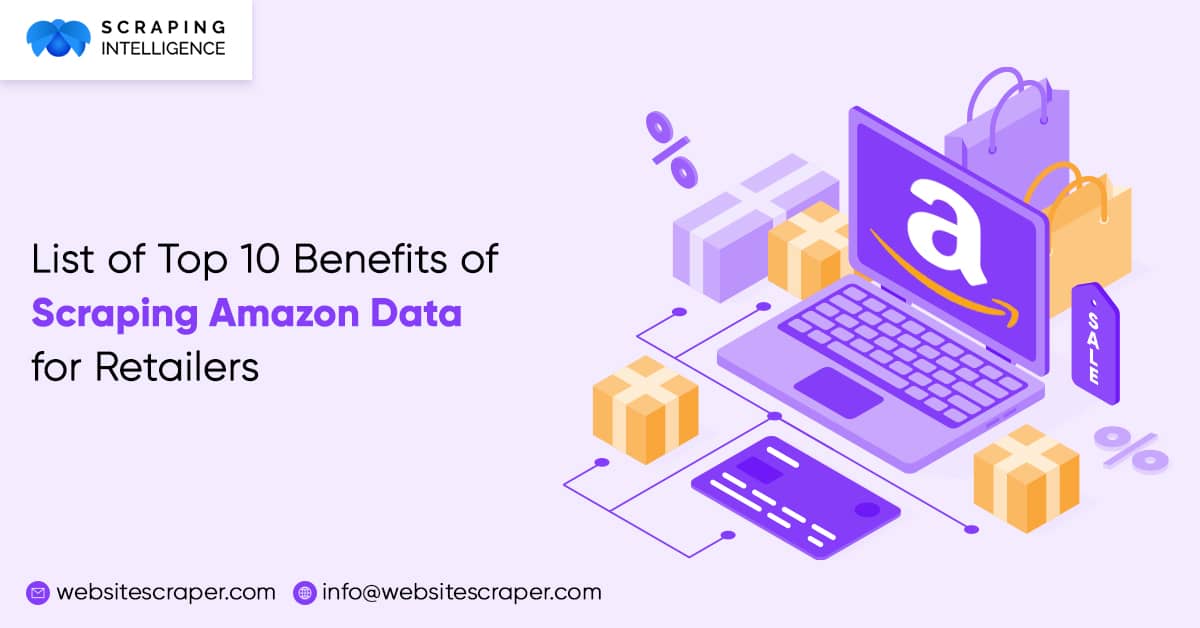 Using online platforms, e-commerce retailers can create a competitive edge in the market. Online retailers rely heavily on these platforms to generate income through attractive online offers and sales. With the rise in e-commerce stores, various dealers opt to enhance their online presence.
Nowadays, e-commerce is more about targeted and clever marketing. Many consumers have switched to online buying, and merchants have done the same as they grow their portfolios on sites like Amazon, Flipkart, eBay, Ali Baba, etc. One can predict and shape the next major shopping trend using machine learning and artificial intelligence.
However, e-commerce merchants must use data analytics to optimize their services to turn the average internet user into a customer.
The following are some reasons why Amazon sellers should use web scraping to boost conversions:
Reasons Behind Scraping Amazon Data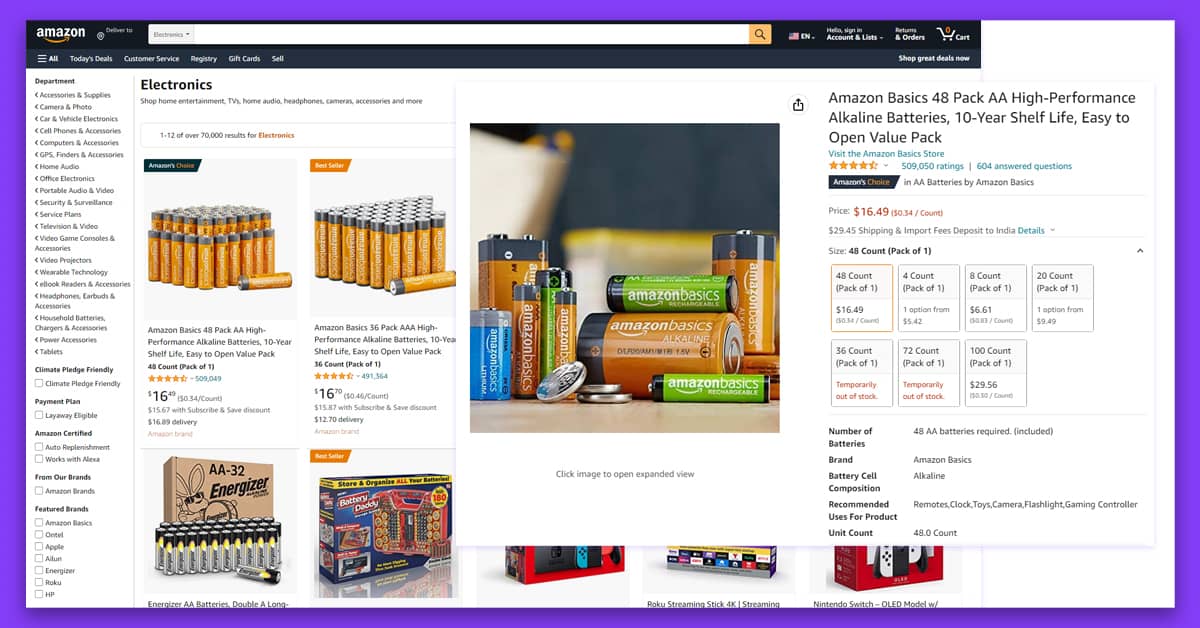 1. Market Monitoring
The video marketing trend is prevalent across the globe. Many brands rely on artistic platforms and methods of self-promotion. Retailers can use statistics on websites like YouTube that are easily measurable regarding views, visits, likes, and comments. While creating and gauging interest in the target market, you might raise awareness even though analytics needs to show whether the campaign is successful. You can learn more about how people feel about a video by scraping e-commerce websites and information from the comments on those films. One can measure current interest using sentiment analysis techniques, and based on the findings, one can create new future campaigns. Customers can gather feedback on websites, social media platforms, and news coverage replies.
2. Channel Partner Administration
An online merchant must adhere to the minimum retail price if they sell through channel partners. Retailers must monitor any changes to the prices these resellers set. Channel partners may run flash sales for a product for a predetermined time frame before the cost returns to normal. Some websites, including Amazon, offer upfront margins. You can keep an eye on websites in real-time and find out when the price is less than the MRP using live statistics.
3. Blackmarket Enforcement
Reselling involves web data scraping as well. Generally, they cannot sell through third-party websites, but the easiest way to find out if they do is to scan each website for each product automatically. By sending out enforcement warnings immediately, your legal department will be able to identify all resellers violating the rate agreements.
4. Price Monitoring
Price scraping and product data scraping give opportunities to monitor data from various sources, which can help online retailers and businesses to market themselves effectively. Companies that perform web scraping must adapt to the demands of the industry while utilizing the tactics used by competitors.
Every seller has a specialty in which they excel and a particular type of clientele. A dealer can choose the products it sells in an informed manner by understanding its target market.
Amazon sellers can use customer data to research customers' buying preferences and develop customized product combinations, increasing sales. A dealer can learn more about its customer base by scraping Amazon's list of customer preferences. Dealers can develop a plan to compile customer profiles of those who have purchased their products, even though Amazon secures customer information to a significant extent.
5. Develop Market Insights
To identify the most lucrative niche, sellers need to conduct industry research. It will help you understand Amazon's category structure and demonstrate the most popular types of goods. And how the goods fit within the market as it stands. A dealer can use this information to improve their internal selection and use their most efficient production resources by scraping Amazon data from competing products.
6. Price Evaluation
Amazon price scraping has several benefits. You may watch market trends, assess your competitors, and, most crucially, determine the optimum pricing plan with competitor pricing analysis. A sound pricing plan will boost your earnings and improve the company's profitability. Generally speaking, price scrapping is a crucial step that gives a business the strategic knowledge it needs to beat the competition in e-commerce data extraction.
7. Offers Evaluation
Deals are the part of e-commerce pages that consumers find most alluring—creating successful marketing policies for products is possible s by being aware of what your competition is saying. You can concentrate on competition pricing research, real-time cost monitoring, and seasonal shift monitoring to enhance product offerings with web scraping Amazon data.
8. Obtain Price and Selling Information Worldwide
Amazon ships internationally and operates on a global scale. By scraping product data for products that ship internationally, you can discover opportunities for export sales. To determine where prices are more outstanding, compare the costs of these products in various nations. Instead, it would help if you expanded into these markets using a comparative price data analysis.
9. Analyze Competitor's product lists
The only way to stay ahead of the competition is to pay close attention to everything they do. Knowing your rivals and brand is essential to win the race. You can frequently scrape your competitors' products from their Amazon shops, compare them, and keep track of any changes because Amazon has access to all the most recent information regarding product lists. You will undoubtedly discover all of your competitors selling on Amazon. So, to analyze competitor products, scrape Amazon for products.
10. Monitor Product review
How can you tell from consumer reviews of your items whether they met their needs and desires? The solution is straightforward: you must ask them. Amazon is renowned for its honest customer reviews. Examining the reviews of your items is one approach to learning how they perform. You can better understand your items' advantages and disadvantages by using information from reviews. It is essential to address clients' pain points and areas of improvement. Additionally, you will learn how to improve your client service and experience.
11. Reviews of competing brands
You should closely monitor your competitors' behavior and your own. You'll learn a lot when you check out the Amazon website's review section for your competition. Knowing what people appreciate most about your rivals will also help you determine where they outperform you. Once you realize it, you will discover an excellent foundation for your competitive edge.
12. Top-rated items and rankings
Amazon features a tool that allows you to sort items according to their rankings. You can check the winning products by looking at the highest-rated items in the selected categories. You can identify the products losing top sales by regularly scraping the most popular and highly rated products. As market trends emerge, you can consider adding comparable best-selling items. Your ability to optimize your assortment will increase if you know market trends.
13. Prices
There are many benefits to scraping Amazon prices. Price scraping is a crucial stage that gives the business the strategic knowledge to outperform the competition in e-commerce data extraction. Competition pricing analysis helps reveal the optimum pricing strategy, competitor analysis, and price trend spotting. Profits will rise, and your business will be in a stronger competitive position with a sound pricing plan.
Selling goods and setting prices outside of the US is possible thanks to Amazon, which also ships abroad. By looking at products that ship internationally, you can find prospects for foreign sales. Compare the pricing of these products in various markets to identify those with higher costs. Afterward, depending on examining the comparable price data, you can consider expanding into such markets.
Customer profiles and rankings of the best reviewers: Scraping client profiles would have offered a fantastic chance to generate leads. However, Amazon's web scraping policies are tight and guarded regarding their customers' private information. Scraping personal accounts is difficult. However, you might scrape the list of Amazon's top reviewers as one option. As a result, you may ask them to review your current products whenever they are out, or you can invite them to do so. Since up to 10,000 people are on the list of the best reviewers, using web scraping to collect the data will save time.
Benefits of Amazon Data Scraping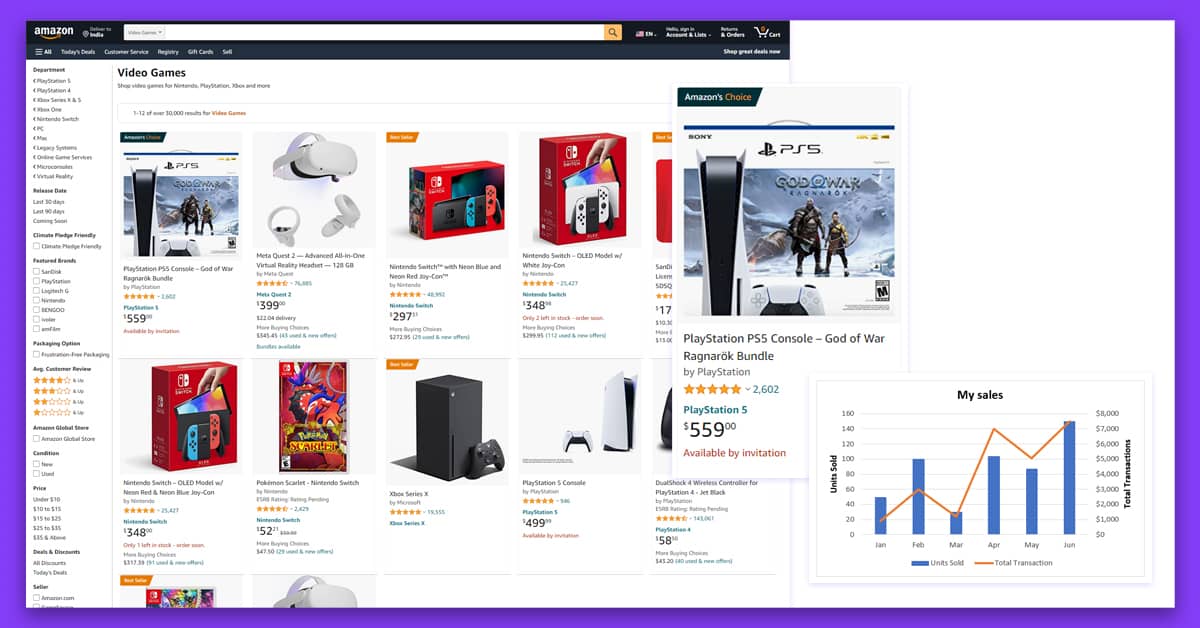 As we have already said, you must closely monitor your competitors' activity and your own. You will learn a lot when you check out the Amazon website's review section for your competition. What about their goods do consumers find most objectionable? Once you realize it, you will discover a key element upon which to base your competitive advantage. Discovering what customers appreciate most about your rivals will help you identify the areas where they outperform you.
A company should constantly be aware of the performance of its products. Amazon is renowned for its genuine customer reviews. Examining the reviews of your items is one approach to learning how they perform. You can better understand your items' advantages and disadvantages by using information from reviews. You can improve many areas and address clients' points. Additionally, you will learn how to improve your client service and experience. Amazon sellers can decide what they need to do to better their goods, customer services, etc., with the data from product reviews at hand.
Sellers must research market data to establish their most lucrative niche. By scraping Amazon's competitor products that contain this information, the seller can improve their internal selection and maximize their manufacturing capabilities. As a result, it will become clear which products are in high demand, how Amazon's category structure works, and how they fit into the market. Regular scraping of top-rated and best-selling products will also reveal products losing their top-selling rankings.
Does Amazon support Web Scraping?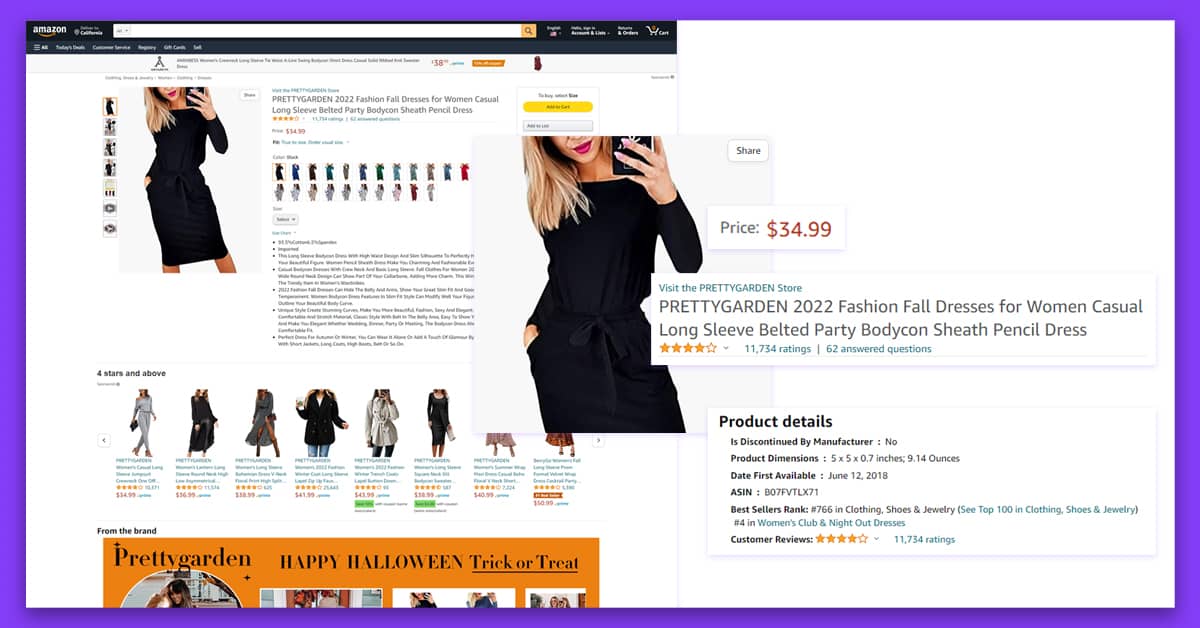 It is lawful to collect publicly available information from Amazon's website. The platform is worried about data security, though. It is unlawful to attempt to scrape any content that Amazon has designated private and forbade all search robots from doing. Amazon may take legal action against anybody or any search robot that does so. Amazon follows the following guidelines to make it challenging to scrape its data:
If the site's algorithm discovers your IP address and you are a citizen of a nation where you are not permitted to read that page, your IP address will be blocked.
Amazon may restrict the search if a single IP address sends out too many requests at once.
Conclusion
Using Amazon data to guide important decisions could yield a great deal of information with untapped potential. Scraping Intelligence provides data scraping services for Amazon at reasonable prices.
Get in touch with Scraping Intelligence for any web scraping services.
Request for a quote!