Overstock Product Price Extractor
This web scraper is designed to extract all product and price data from Overstock.com website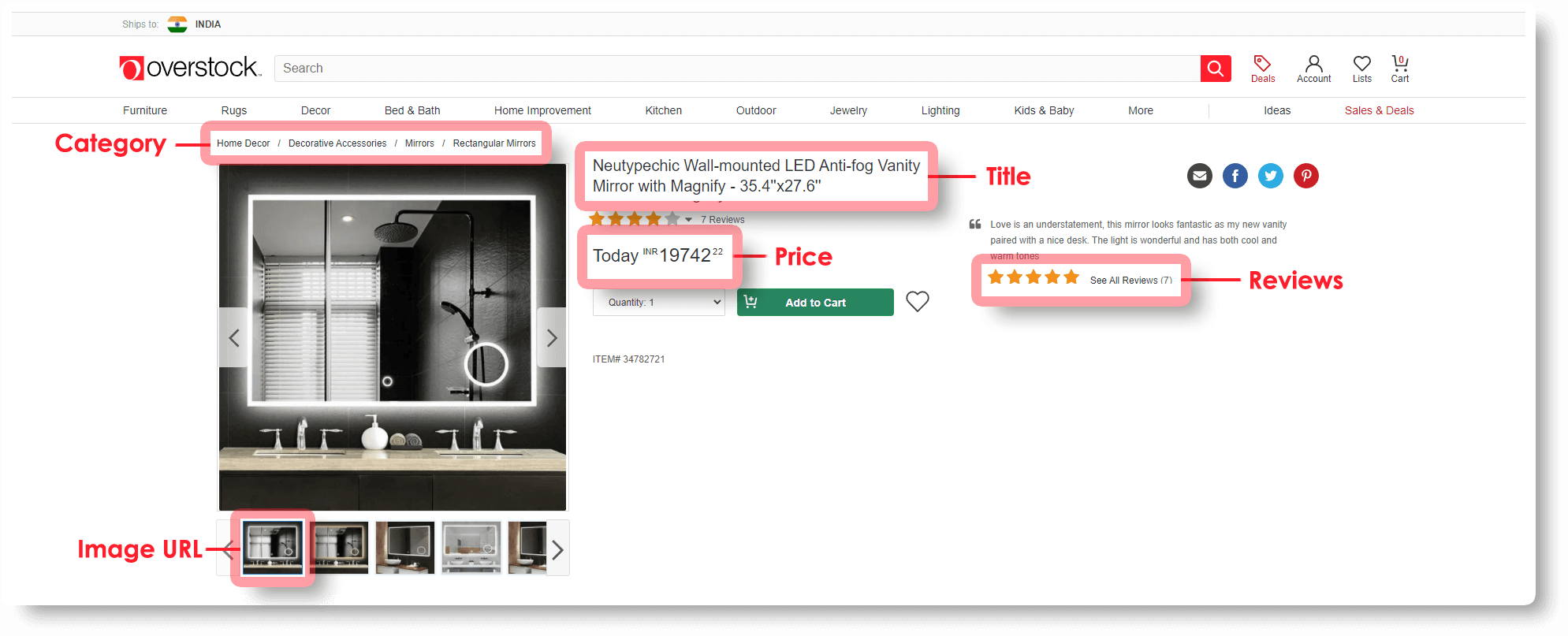 Which data is being extracted from Overstock?
Product Name
Brand Name
Rating
Number of reviews
Category Breadcrumbs
Price
Shipping
Product Details
Product Specifications
Product Page Sample
How to use
Click and create your account now
Select the Overstock Product Scraper from list of Pre-Built Extractors and click use for free to activate
Enter your starter URLs and run the extractor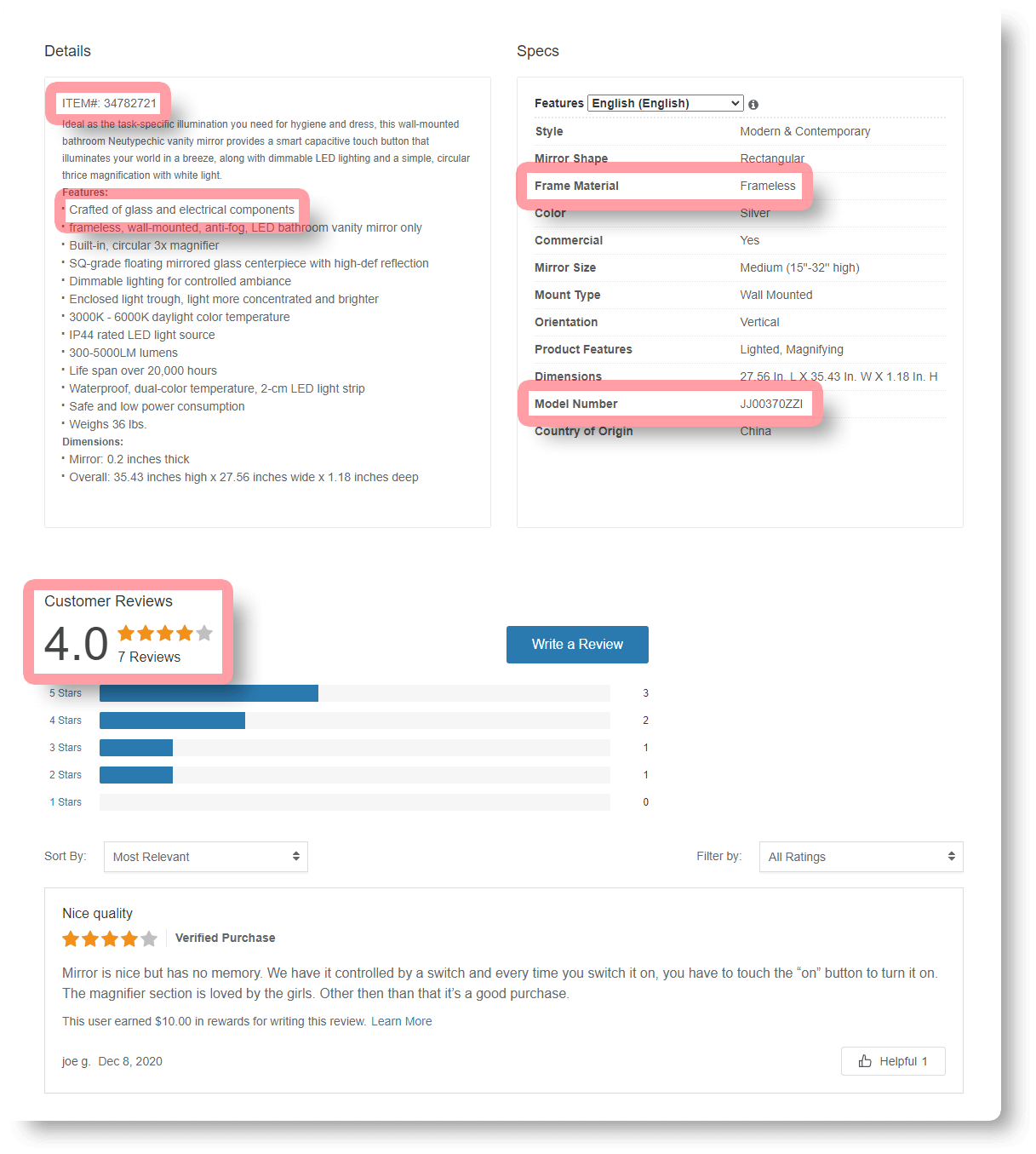 What does the output data look like?
When it is available this data will have rows which represent a single page's information such as its Item, Model_Number, Name, Image_url, Price, Size, Mirror_Shape, Frame_Material, Color, Country_of_origin, Reviews, etc from overstock.com.
| # | Item | Model_Number | Name | Image_Url | Price | Size | Mirror_Shape | Frame_Material | Color | Country_of_Origin | Reviews |
| --- | --- | --- | --- | --- | --- | --- | --- | --- | --- | --- | --- |
| 1 | 34782721 | JJ00370ZZI | Neutypechic Wall-mounted LED Anti-fog Vanity Mirror with Magnify | https://ak1.ostkcdn.com/images/products/is/images/direct/6f1596130b8a535a8a80558ed597674c6bf359de/Frameless-Wall-Mounted-LED-Dimmable-Bathroom-Vanity-Mirror.jpg | $219.49 | 35.4''x27.6'' | Rectangular | Frameless | Silver | China | 4 |
| 2 | 32844521 | - | Goodrich LED Tunnel Mirror - Round 28" Diameter - 28" Diameter x 2"D | https://ak1.ostkcdn.com/images/products/is/images/direct/73b29244273dc68c18fc8d256d6b314d712e599e/Goodrich-LED-Tunnel-Mirror---Round-28%22-Diameter.jpg | $219.49 | 28" Diameter x 2"D | Circle | Frame | Black | China | 4 |
| 3 | 24165998 | 834-028 | HOMCOM 28" LED Illuminated Bathroom Wall Vanity Mirror with Outline LEDs, Adjustable Horizontally or Vertically, Silver | https://ak1.ostkcdn.com/images/products/is/images/direct/ea55f0c78f07fde0af63f7d7e75fe11efd963f69/HOMCOM-28%22-LED-Illuminated-Bathroom-Wall-Vanity-Mirror-with-Outline-LEDs%2C-Adjustable-Horizontally-or-Vertically%2C-Silver.jpg | $176.49 | 27.5''x 19.75'' | Rectangular | Glass | Silver | China | 4.6 |
| 4 | 39363261 | OV12BM2432SKSXXXX | ExBrite 24 x 32 Inch LED Light Vanity Mirror for Bathroom,Defogger CRI more than 90 Makeup Mirror,Auto Memory Touch Switch | https://ak1.ostkcdn.com/images/products/is/images/direct/715b0a8ac56131ef0920d06f038f952ce9d8c849/ExBrite-24-x-32-Inch-LED-Light-Vanity-Mirror-for-Bathroom%2CDefogger-CRI-more-than-90-Makeup-Mirror%2CAuto-Memory-Touch-Switch.jpg | $222.99 | 24'' x 32'' | Rectangular | Frameless | Silver | China | 4.6 |
| 5 | 35542314 | JJ01022ZZZ | Neutypechic Smart LED Anti-fog Bathroom Vanity Mirror - 31.9''x24'' - White | https://ak1.ostkcdn.com/images/products/is/images/direct/8d9edba26283f115fbfe0776109385858f741e66/Smart-LED-Illuminated-Bathroom-Vanity-Mirror-In-Light-With-Anti-fog-And-Dimmer.jpg | $185.72 | 31.9''x24'' | Rectangular | Frameless | White | China | 4.6 |
Scraping Intelligence is leading Web scraping company with Headquarter in Houston, USA