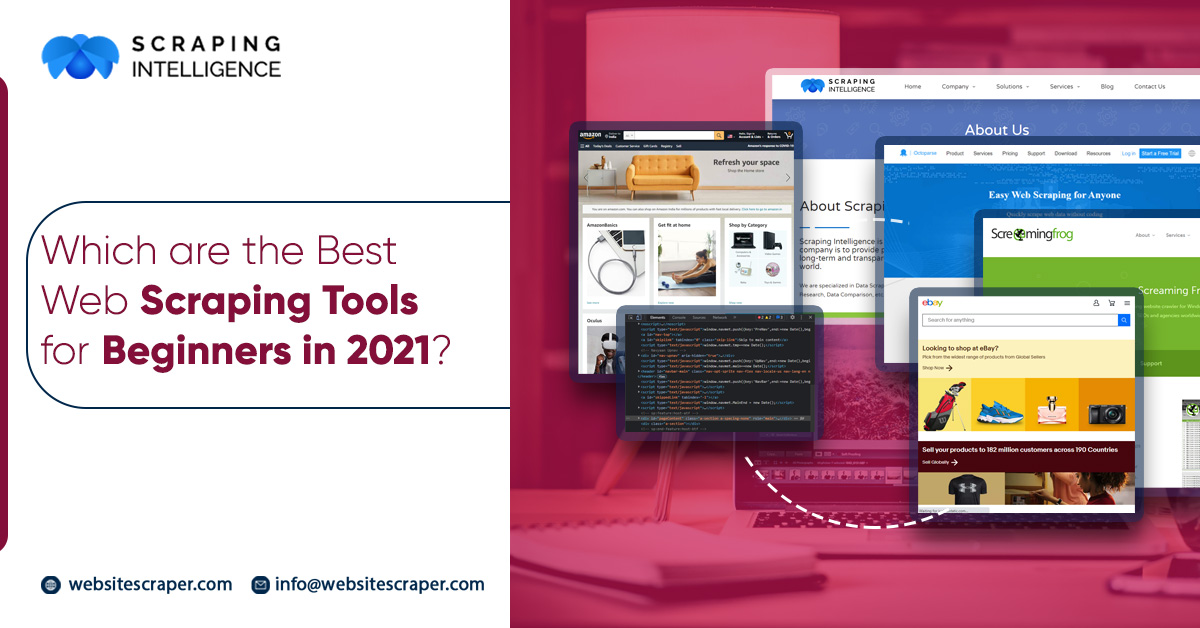 Why Should You Use Data Scraping Tools?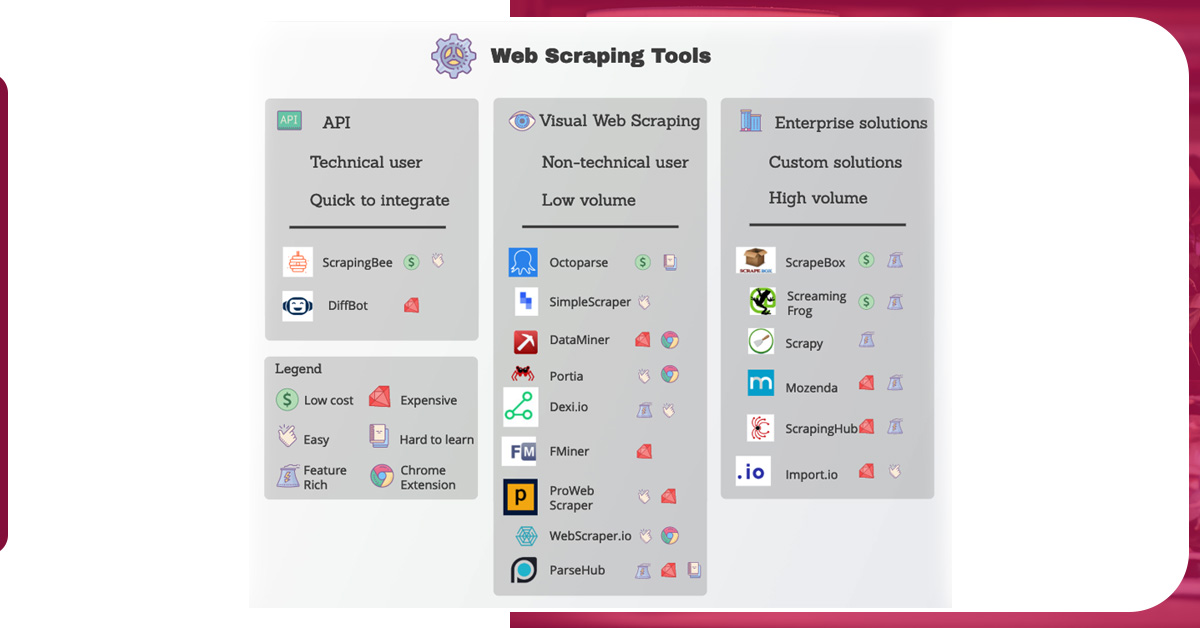 There are various reasons for using web scraping tools, but one of the popular reasons is to scrape websites to perform product research, which will help to create a competitive edge over the competitors. But it assists an individual, who is in search of effective prices of a product. You can obtain a better grasp of your market position and make more
Educated judgments regarding your future goals if you can easily access huge amounts of data.
Selecting the best web scraping tool is hard, so Scraping Intelligence will help assist to choose the best tool as per your requirement.
List of Top Web Scraping Tools:
Scraping Intelligence
Diffbot
Scrapebox
ScreamingFrog
Scrapy
Import.io
Frontera
PySpider
Goutte
ProWebScraper
Mozenda
ScrapingHub
Dexi.io
Parsehub
Octoparse
Simplescraper.io
Portia
1. Scraping Intelligence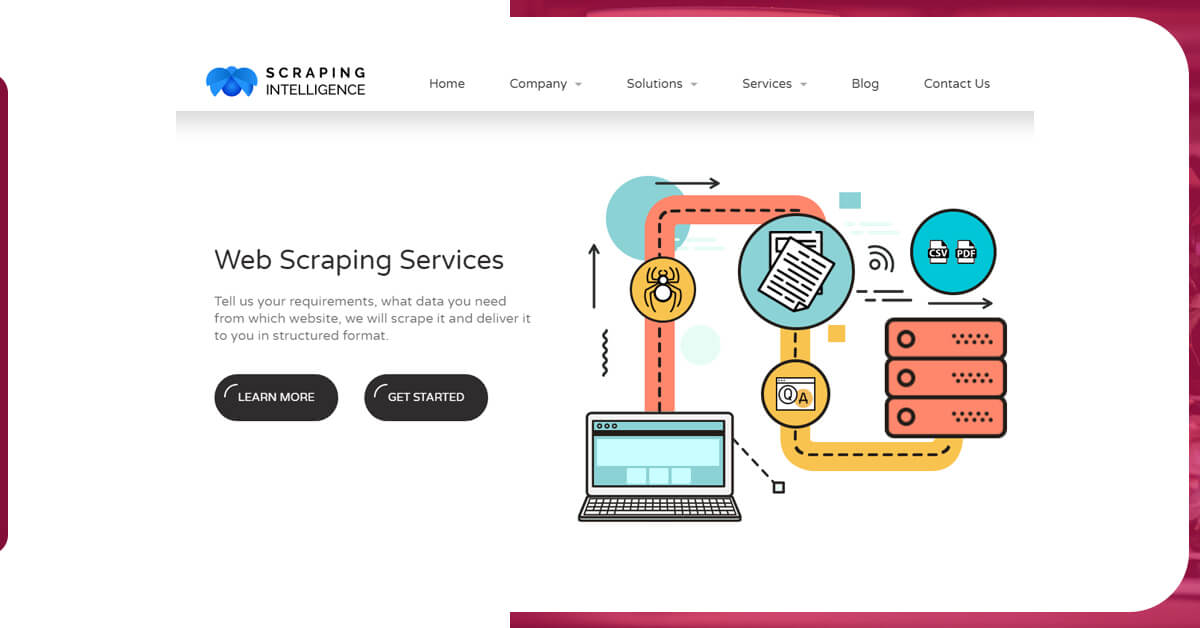 Scraping Intelligence provides web scraping API that will allow extracting the web anonymously. Scraping Intelligence provides both the traditional and premium proxies, ensuring that you will never get blocked during the web scraping process. We provide the option of rendering any pages in the genuine browser that will allow us to support websites Relying on JavaScript.
Who Should Use This web Scraping Tool?
Scraping Intelligence is designed for developers and tech firms, who wish to manage their scraping pipelines without having to worry about proxies or headless browsers.
Pros:
Ease of integration
Excellent documentation
Efficient JavaScript rendering
Even for many requests per month, buying proxies is cheaper.
Cons:
It can't be used unless you have in-house developers.
2. Diffbot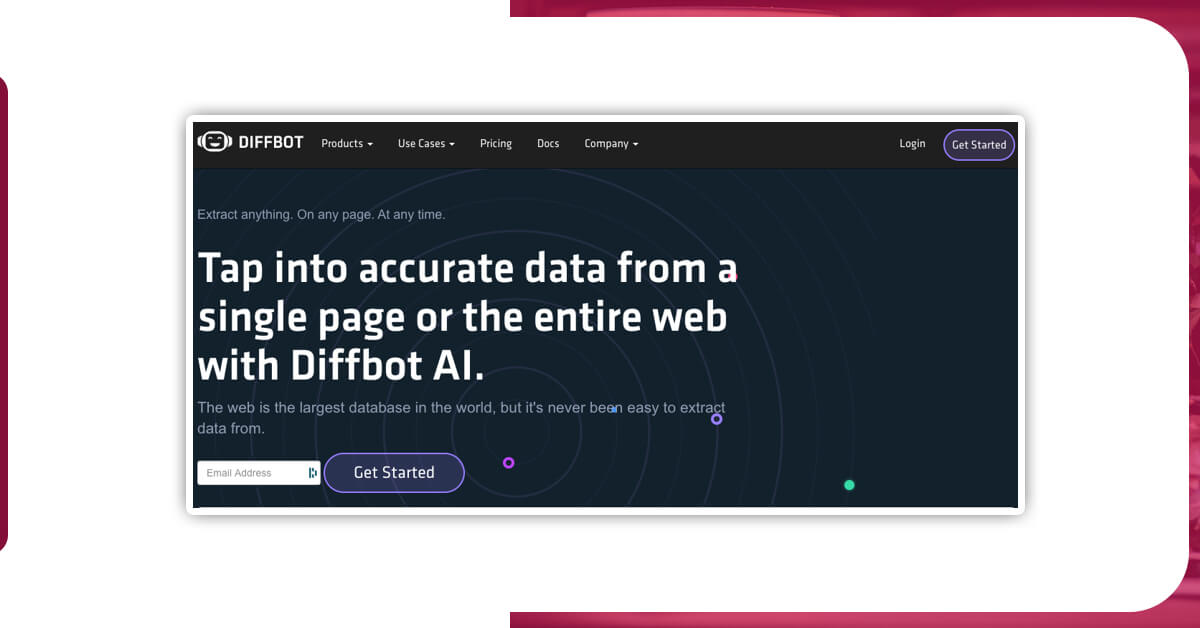 Diffbot offers several APIs that result in structured data for products/articles/discussion web pages. Their service is rather expensive, with the cheapest package starting at $299 per month.
Who Should Use This Web Scraping Tool?
Developers and companies are the best users considered of using this Web scraping tool.
Because websites are continuously changing, creating in-house web scrapers is difficult. Assume you're scraping ten different news websites. To handle the various circumstances, you'll need ten distinct rules (XPath, CSS selectors, etc.). And that is where Diffbot comes into action. Diffbot takes care of the situation by utilizing automatic extraction APIs.
Pros:
Cons:
Does not work with every website
Costly
3. ScrapeBox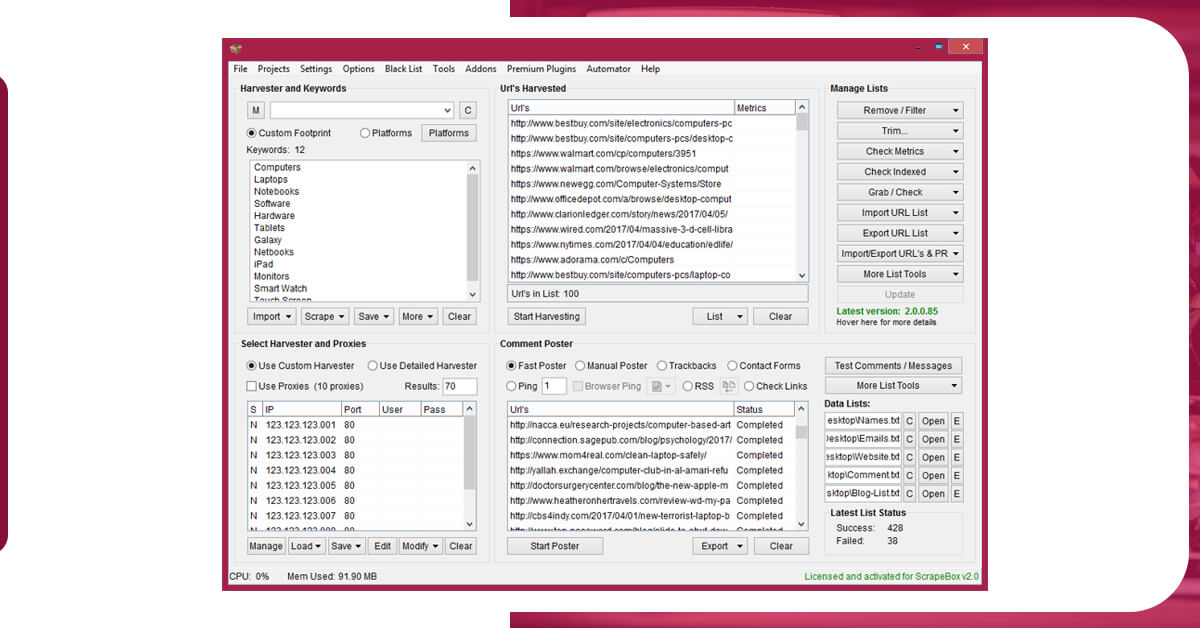 ScrapeBox is a desktop application that lets you perform a variety of web scraping tasks. They claim to have been the Swiss army knife of SEO, offering anything from email scrapers to keyword scrapers.
Who Should Use This Web Scraping Tool?
SEO professionals and agencies are the best users for this scraping tool
Pros:
Run-on your computer.
Cost-effective (onetime payment)
Feature-rich
Cons:
Runs slow in case of large-scale scraping.
4. ScreamingFrog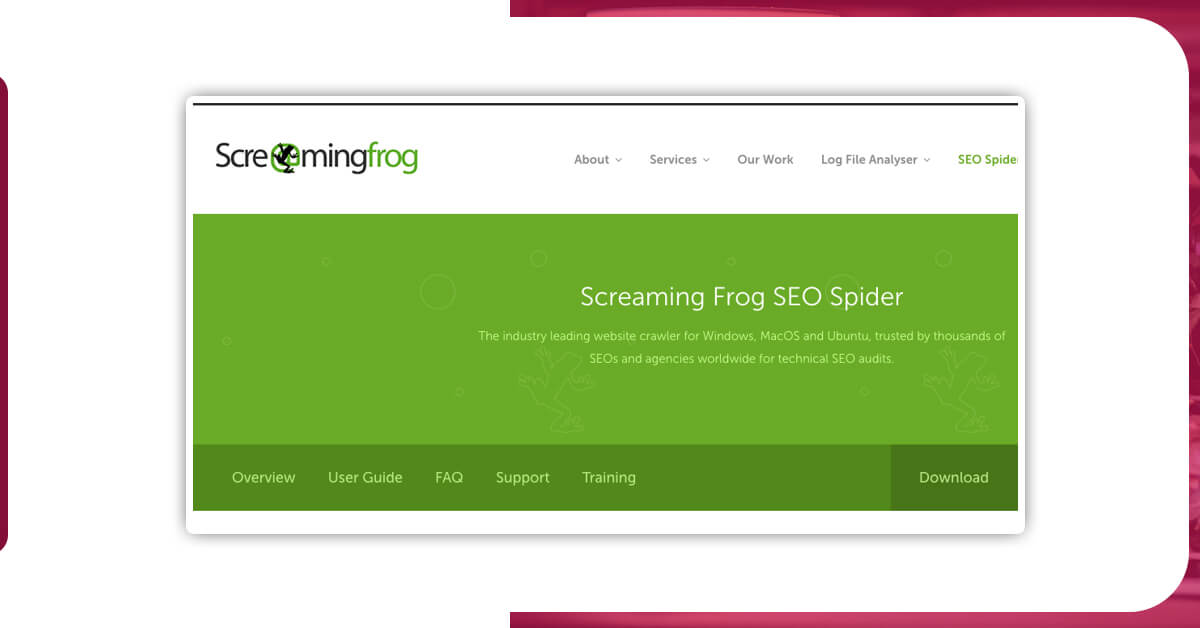 ScreamingFrog is used as a web crawler for Windows, MacOS, and Ubuntu. It will allow you to crawl various website URLs to monitor and perform technical audit and onsite SEO. It can crawl both small and large websites quickly and study real-time results.
Who Should Use This Web Scraping Tool?
SEO professionals and agencies are the best users for this scraping tool.
Pros:
Run-on your computer.
Cost-effective (onetime payment)
Feature-rich
Cons:
Runs slow in case of large-scale scraping.
5. Scrapy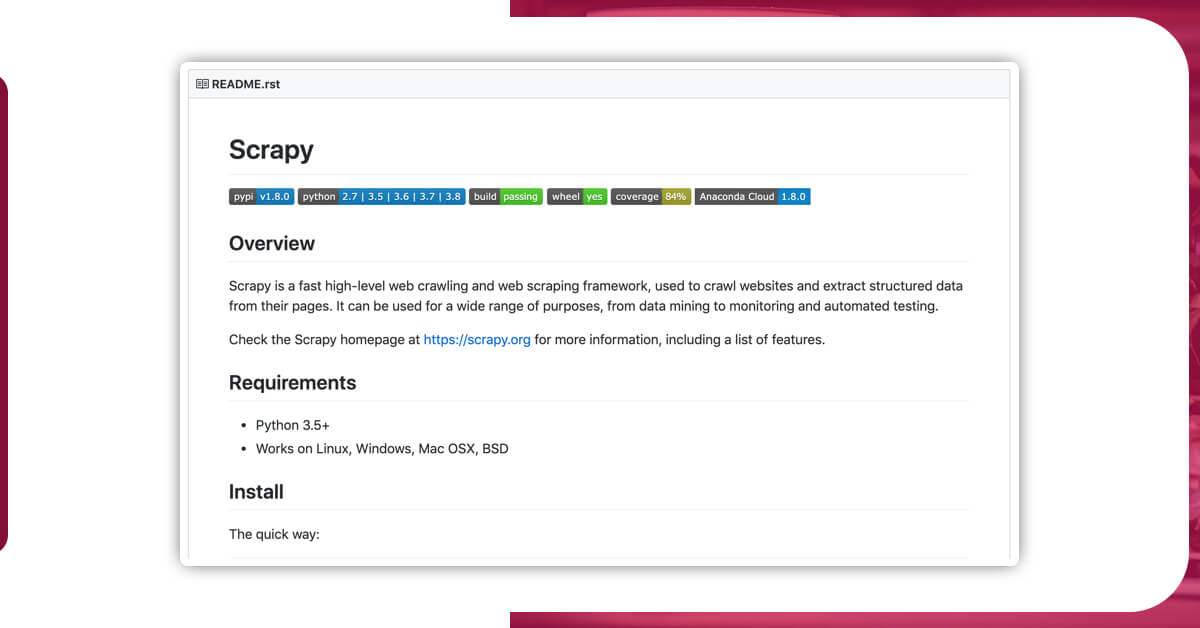 Scrapy is a Python-based open internet scraping framework. It was created with web scraping in mind, but it may also be used to collect data via APIs or general-purpose web crawlers.
Who Should Use This Web Scraping Tool?
Scrapy is used by Developers or Companies having Python Knowledge. Scrapy is ideal for web scraping on a wide scale with repeated tasks
Pros:
Data extraction from e-commerce products
Articles from news websites are extracted.
Getting every URL from an entire domain by crawling it
Cons:
There are numerous features to handle the most typical web scraping issues.
Highly maintained
Excellent documentation
6. Import.io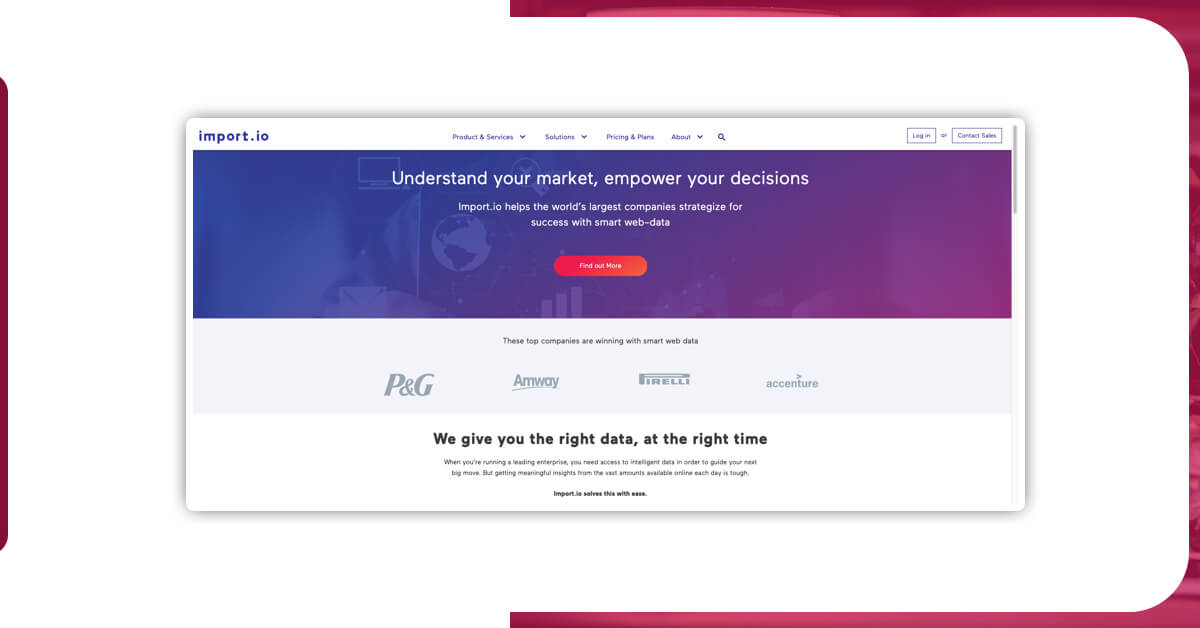 Import.io is a web scraping platform for businesses. Previously, they offered a graphical web scraping application that was self-served.
Who Should Use This Web Scraping Tool?
Import.io is a no-code/low-code web scraping tool for large enterprises looking to gather data from websites quickly.
Pros:
Cons:
Because the tool is self-served, you won't get any help if you run into issues.
Like many other visual web scraping applications, it's expensive.
7. Frontera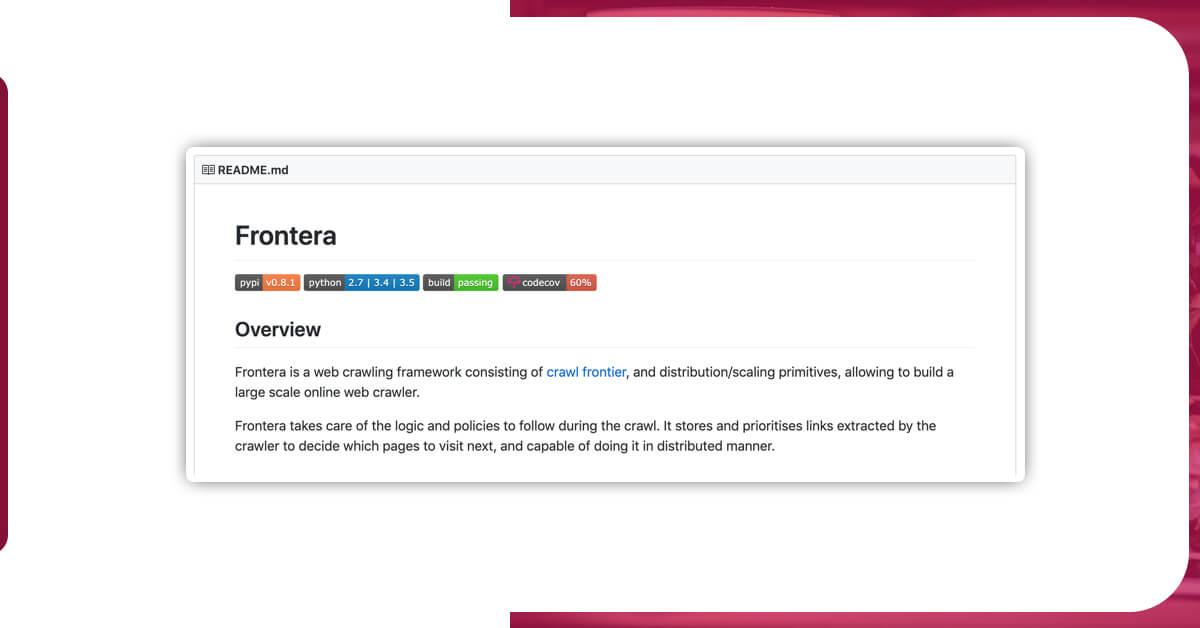 Frontera is an open-source framework designed to make a crawl frontier easier. In increasingly sophisticated crawling systems, a crawl frontier is a platform in charge of the rules and policies to apply while crawling websites.
It specifies which pages should be explored next, the priority and sequence of visits, the frequency with which pages are viewed, and any other activity you want to include in crawling. Scrapy or other data scraping frameworks is used with it.
Who Should Use This Web Scraping Tool?
Frontera is the best web scraping tool to be used by developers and tech companies with knowledge of Python stack.
Pros:
Open-source
Free usage
It is best for large-scale web crawling
Cons:
Not maintained properly, the last commit is of 2019
For crawling only
Not that famous
8. PySpider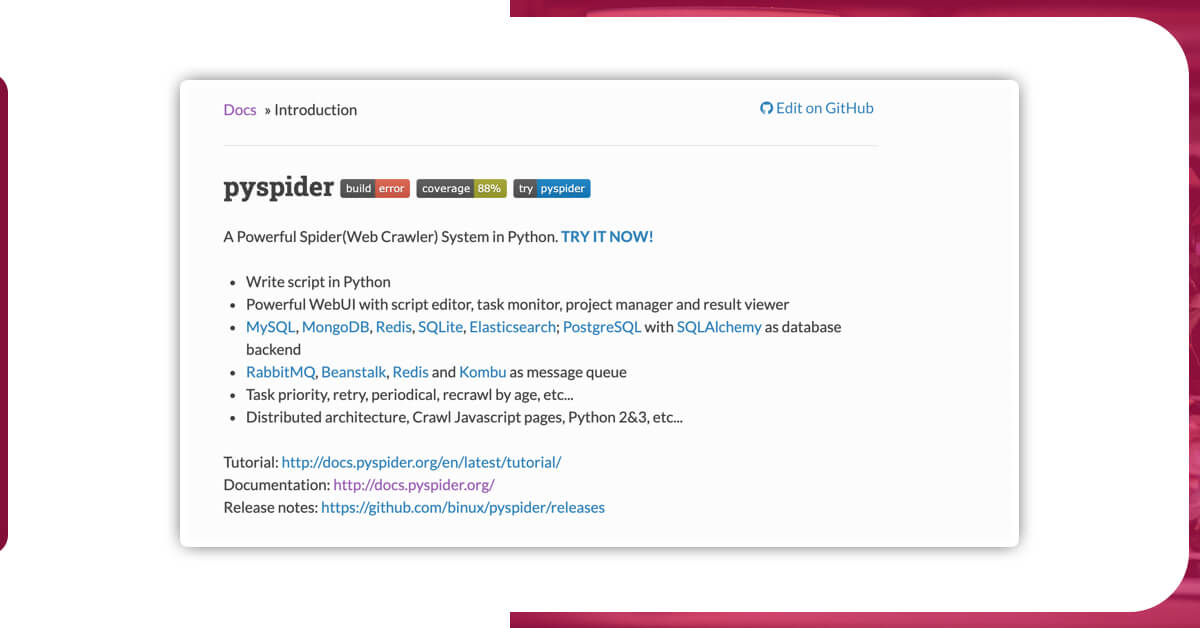 PySpider has a web UI that will allow you to analyze tasks, edit scripts, and view the conclusions.
Who Should Use This Web Scraping Tool?
Frontera is the best option for developers and tech companies having Python knowledge.
Pros:
Open-source
Famous (14K Github stars) and highly active project.
Solves various web scraping issues
Powerful web UI
Cons:
The learning curve is steep.
PhantomJS is used to render JavaScript pages, which is not as well as Headless Chrome.
9. Mozenda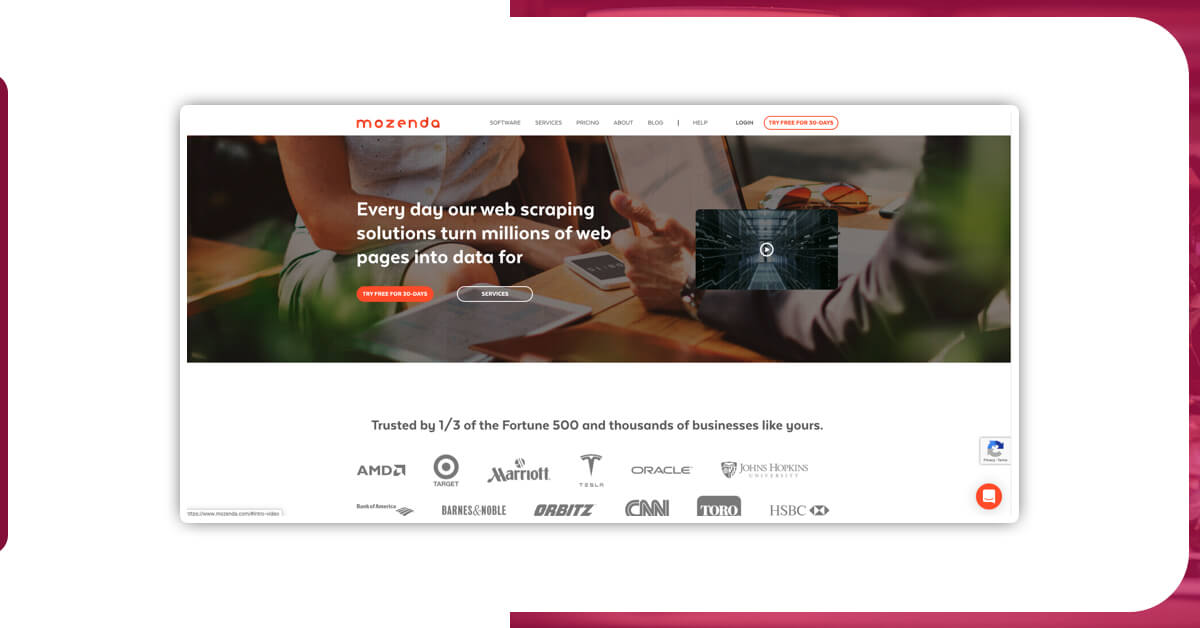 Mozenda is a web scraping platform for businesses that need to scrape data from a variety of sources.
They claim to collaborate with 30% of the Fortune 500 companies on projects such as large-scale price monitoring, market analysis, and competitor tracking. This web scraper can develop and host the scraper for you.
Who Should Use This Web Scraping Tool?
Enterprises with extensive data extraction tasks should use Mozenda.
Pros:
This is ideal for large companies.
It is possible to integrate into any system
It is possible to scrape PDFs.
Cons:
10. ScrapingHub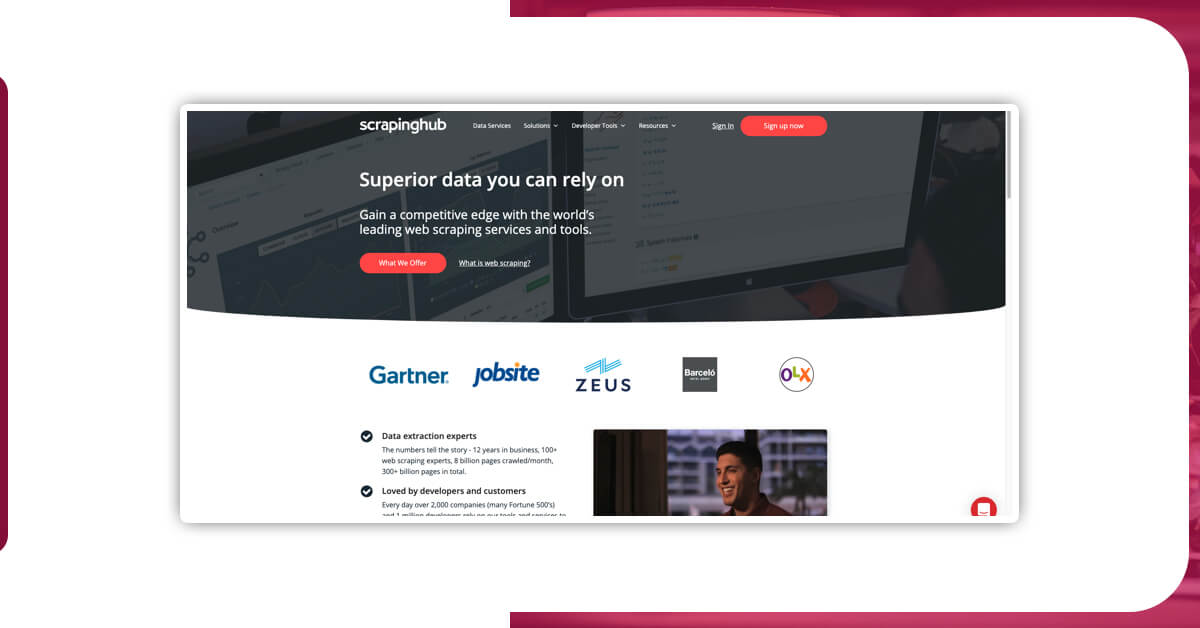 ScrapingHub is one of the famous web scraping companies. They have a variety of open-source and commercial web scraping products. ScrapingHub is the firm behind Portia and the Scrapy frameworks. They provide Scrapy hosting, which allows you to quickly deploy Scrapy spiders to their cloud.
Who Should Use This Web Scraping Tool?
scrapinghub is a platform for developers and tech enterprises. It has a variety of web scraping tools for developers.
Pros:
There are numerous products available for various applications.
Scrappy project hosting at its finest
Cons:
Pricing is difficult to predict and therefore can quickly become prohibitively expensive when compared to other options.
Support appears to be slow to respond.
11. Goutte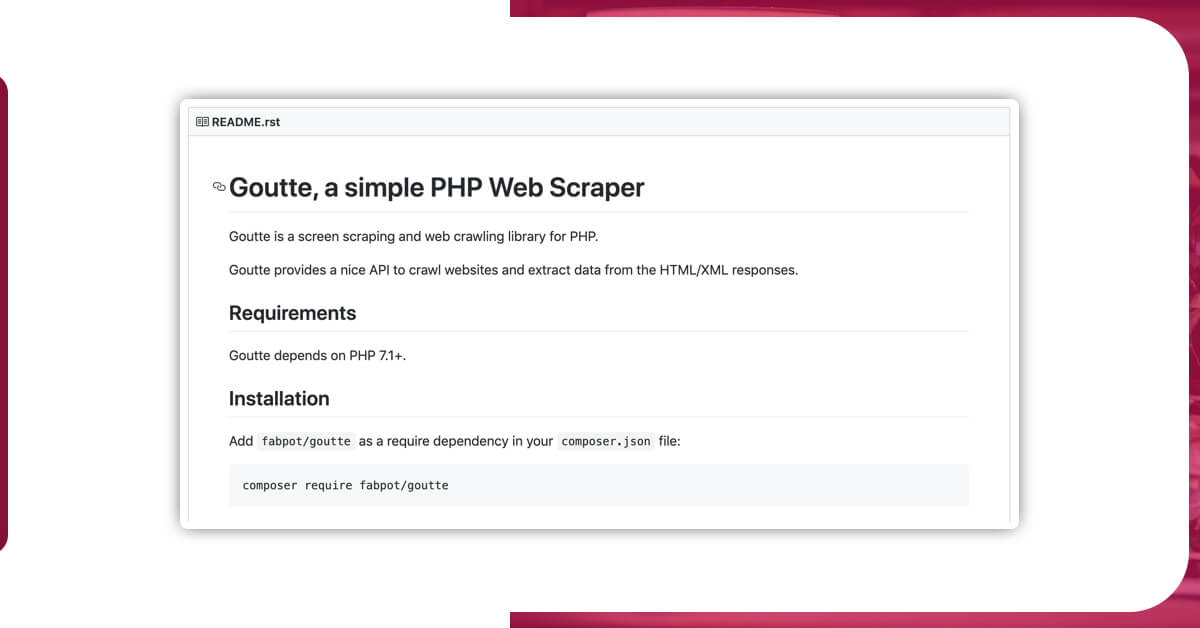 Goutte is a PHP package that allows you to scrape the web and crawl it.
Goutte is a useful API for crawling websites and extracting data from HTML/XML answers.
It also works well with Guzzle requests, allowing you to easily customize the framework for more complicated scenarios.
Who Should Use This Web Scraping Tool?
Goutte is a platform for PHP developers and tech enterprises.
Pros:
Open-source
Free
Highly maintained
Cons:
Less popular than Scrapy
Fewer integrations than Scrapy
12. Dexi.io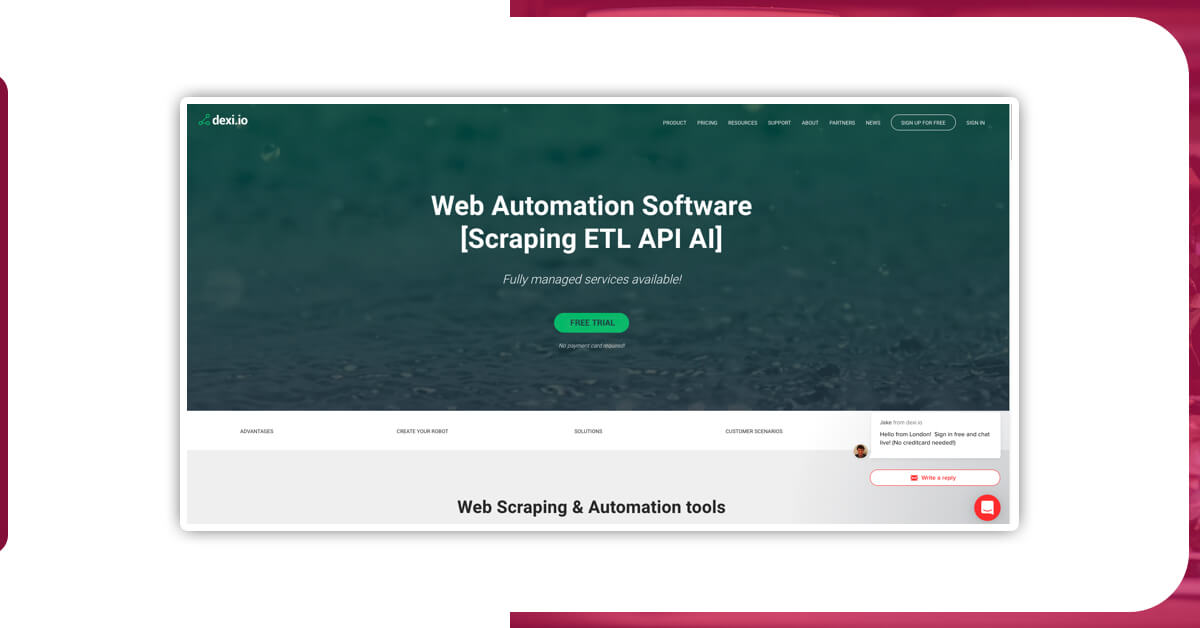 Dexi.io is a web scraping software with a visual interface. They have a built-in flow of data, which is one of the most intriguing characteristics. This implies that you can use external APIs to not only scrape data from the external websites but also to change the data (like Clearbit, Google Sheetsn etc).
Who Should Use This Web Scraping Tool?
Dexi.io is for non-developer teams who wish to scrape webpages and process the data quickly.
Pros:
Easy to use interface
Data pipeline
Many integrations
13. Webscraper.io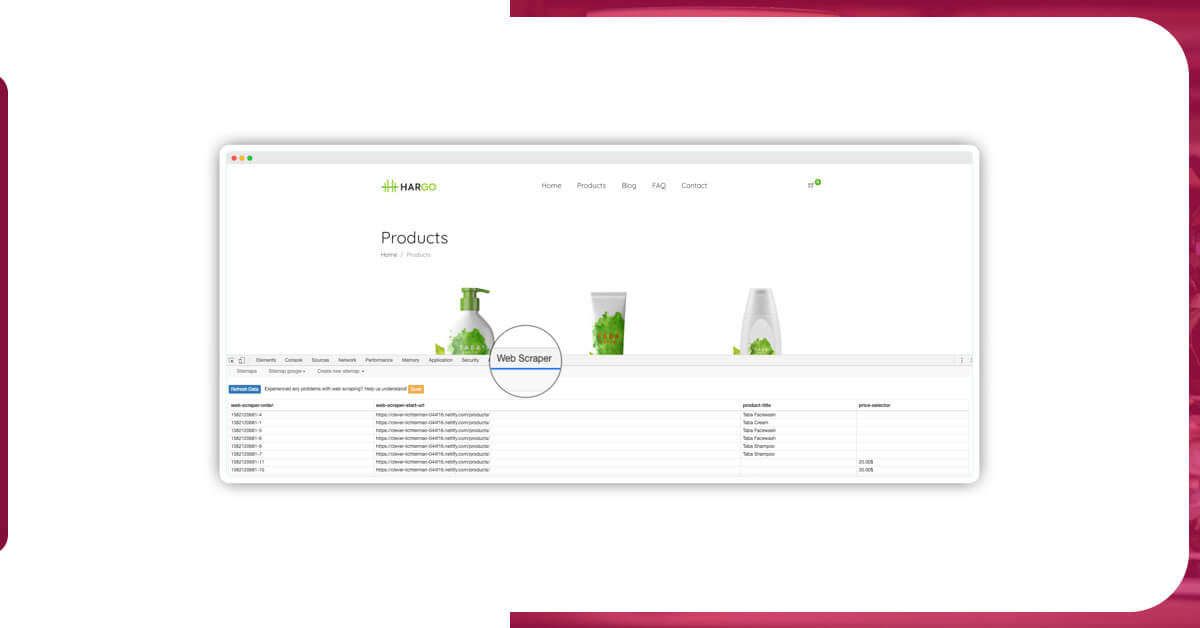 The Chrome plugin WebScraper is one of the most widely used scrapers. It allows you to scrape any website using Chrome without writing a single line of code!
The following is a screenshot of the UI (which can be seen through the Chrome developer tools):
They also provide a cloud option where you can execute your scraping jobs directly on their servers for a monthly subscription if your scraping operations require proxies or must be done regularly.
Who Should Use This Web Scraping Tool?
Companies not having developers, marketing teams, product managers…
Pros:
Cons:
Cannot manage complicated web scraping scenarios
14. Parsehub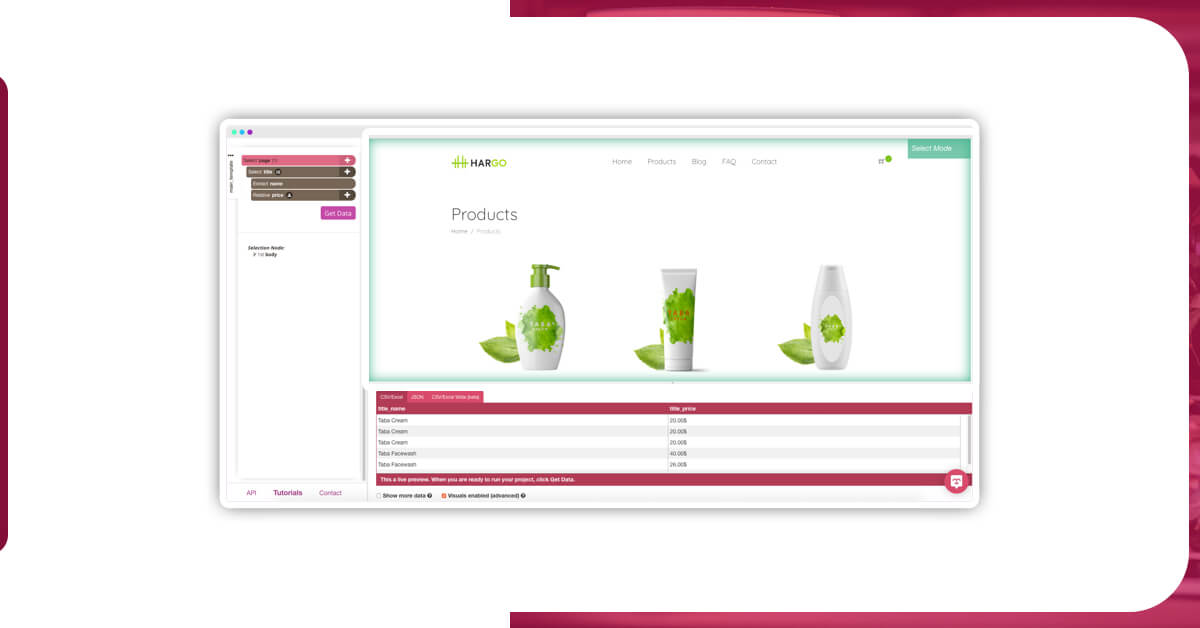 Parsehub is a web scraping software that allows you to scrape data using crucial and dynamic websites.
Scraping takes place on Parsehub servers. All you have to do is make the instruction in the app.
Whenever it comes to extracting dynamic websites data, many visual web data extraction technologies are limited, but not Parsehub. You can, for example:
Scroll
Allow time for a page element to appear.
Forms must be filled up and submitted.
Data behind a login form can be scrapped.
Files and photos to download
Buying proxies might be costly.
Pros:
API access
Export to JSON/CSV file
Scheduler
Cons:
Steep learning curve
Costly
15. Octoparse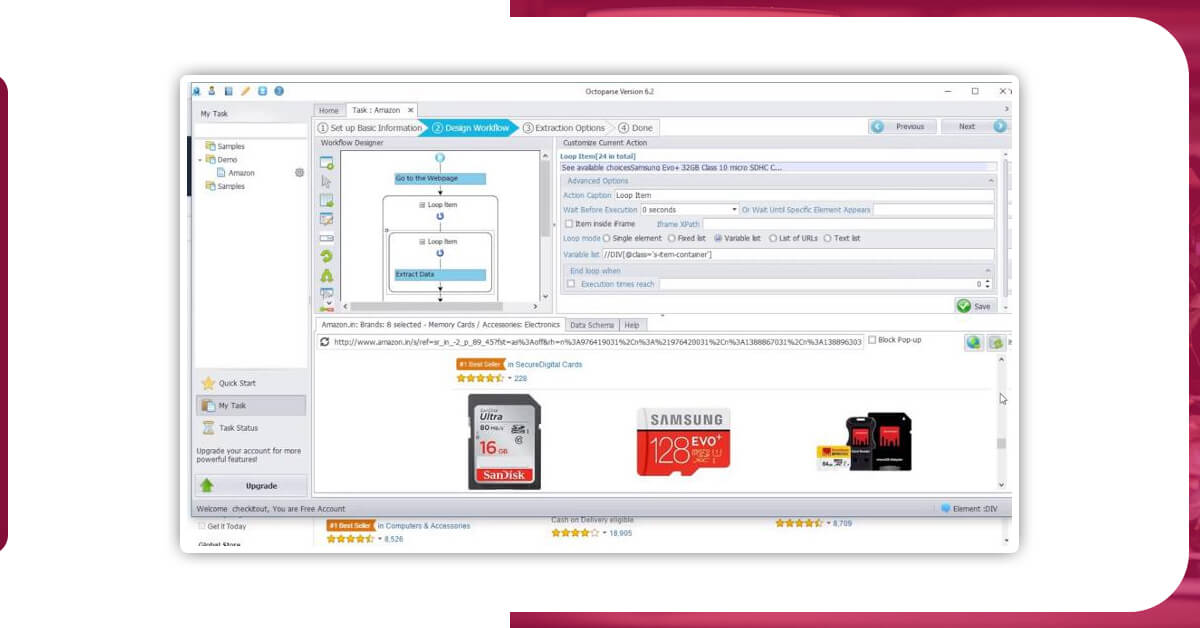 Octoparse is also another web scraper with a desktop application that is similar to Parsehub.
Although it is less expensive than ParseHub, still the tool is more difficult to use.
Both cloud extraction and local extraction are available.
Pros:
Cons:
The learning curve is steep.
Only for Windows.
16. Simplescraper.io
Simplescraper is a Chrome addon that extracts information from a webpage in a simple manner. Simply indicate and click on a piece, submit it a name, and then you are done.
Pros:
Simple usage
Converts website data to API in 30 seconds
Cons:
It has more limitations than Octoparse or ParseHub
Costly for high volume
17. Dataminer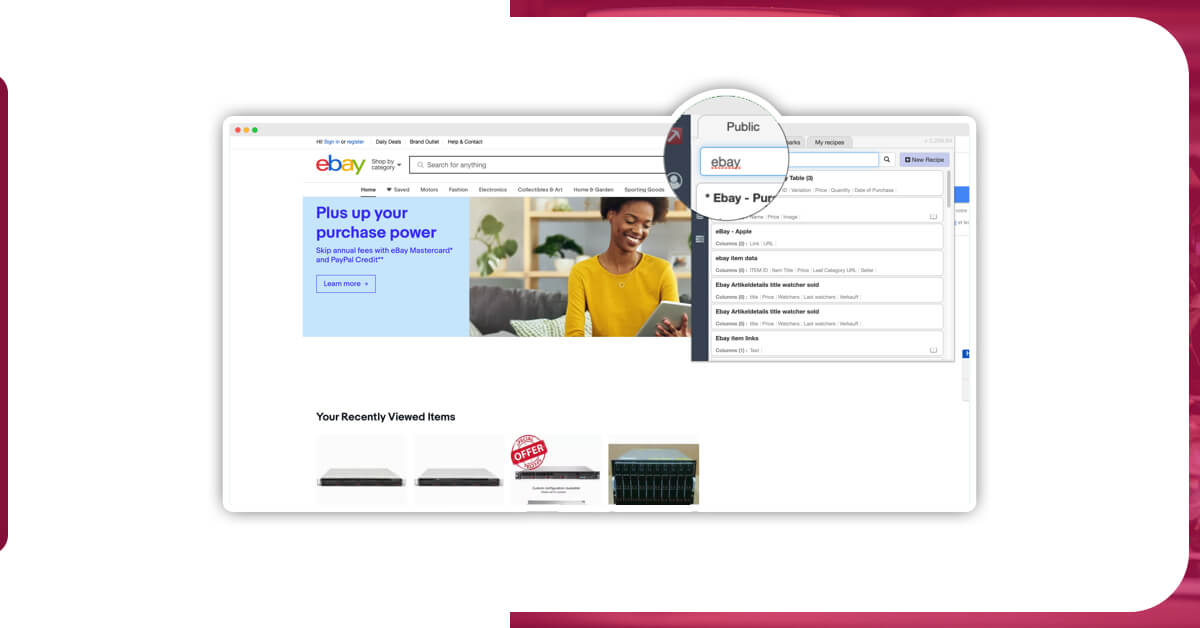 DataMiner is a well-known Chrome addon for web scraping (186k installation and counting). When compared to other extensions, data miner is unique as it offers a lot of features.
Chrome extensions are probably simpler than using desktop apps such as Octoparse or Parsehub, but they lack many features.
DataMiner is perfectly positioned in the middle. Inside your browser, it can manage unlimited scrolling, pagination, and custom Javascript execution.
One of the best features of a data miner is that you may search a public recipe list to accelerate your scraping. A script is a set of instructions for scraping a webpage.
Pros:
Easy usage
Several public recipes
No coding required
Cons:
It is the most expensive web scraper tool in our list.
18. Portia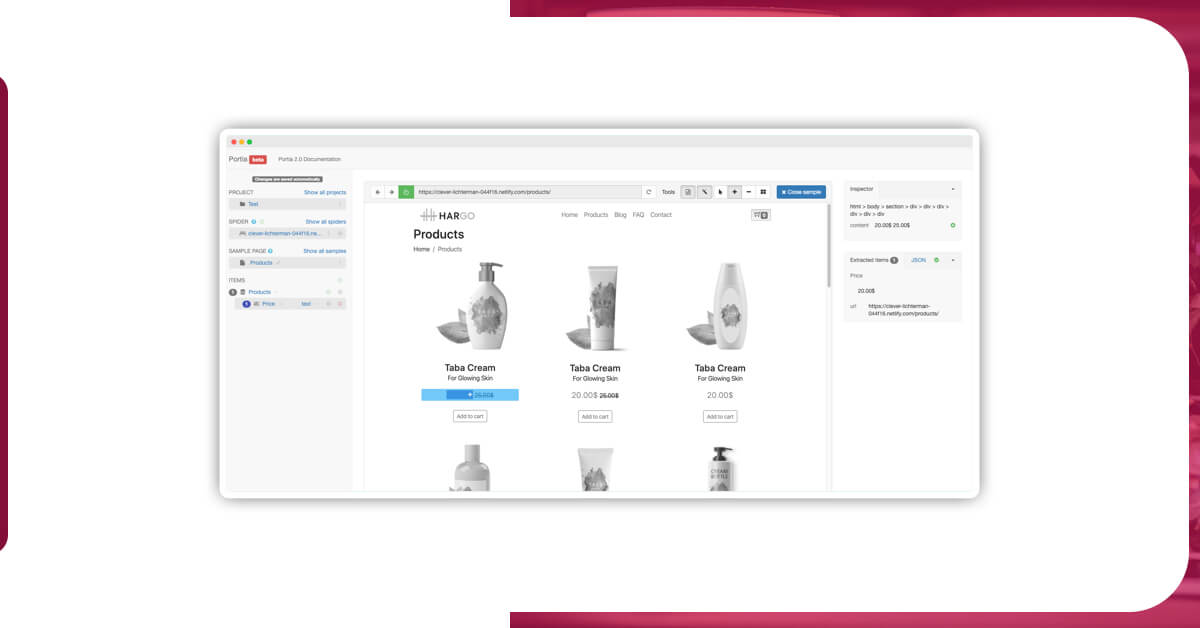 Portia is a visual abstraction layer on top of the excellent great Scrapy framework. It allows to create Scrapy spiders without using a single line of script and using a visual tool. Portia is a web application written in Python. Simply execute the following code:
Many things are automated with Portia. When things get too crucial, you can prefer to use the web scraper tool to convert a Portia project into a Scrapy project. The fact that Portia uses the Splash engine to display JavaScript-heavy websites is one of its main flaws. It works well in many situations, although it has significant limitations when compared to other browsers, such as Headless Chrome. React.js-based websites are not supported!
Pros:
Excellent "low-code" tool for teams that are using Scrapy
Open-source
Cons:
Limitations of JavaScript rendering support
19. ProWebScraper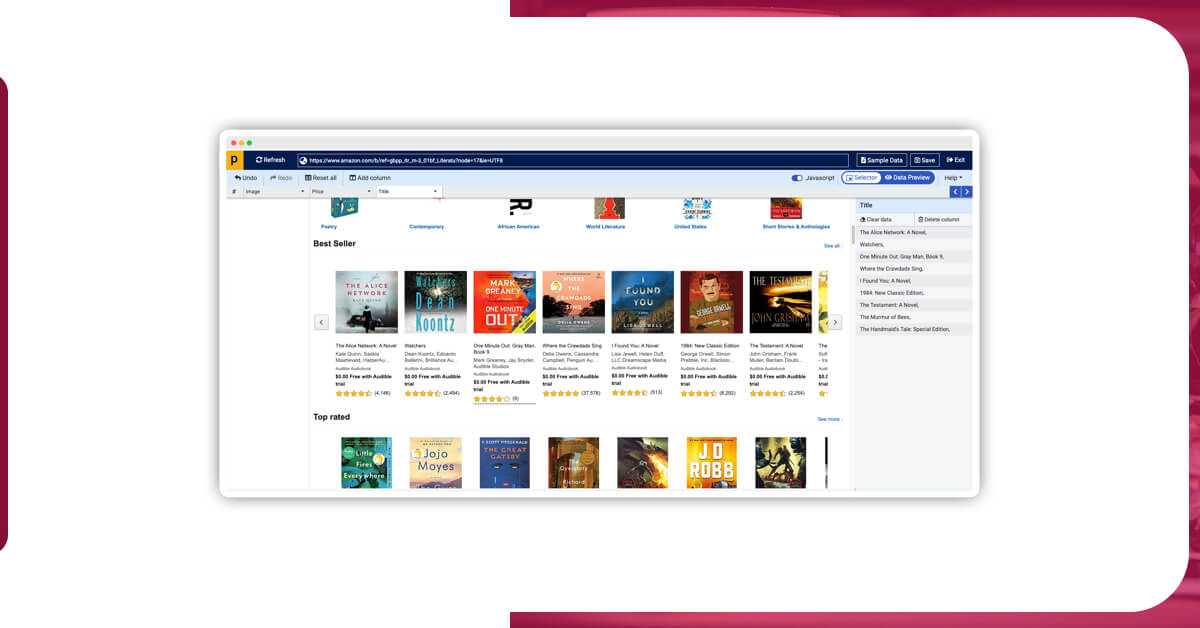 ProWebScraper is indeed a new visual web scraping tool available online.
It comes with a lot of important functions. You can choose elements using a simple point-and-click interface, as normal. Data can be exported in a variety of formats. CSV, JSON, and even a REST API are all options.
For a charge, ProWebScraper will set up the scraper for business if it's too difficult.
Pros:
Easy set-up
Executes in the cloud
Cons:
20. Fminer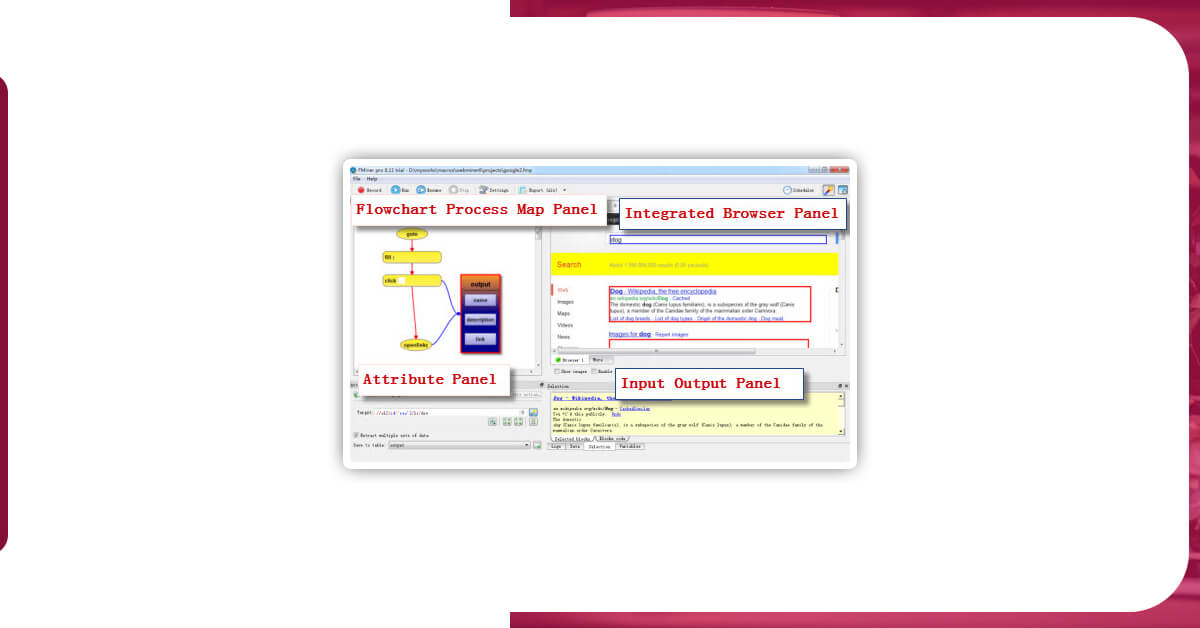 FMiner is a comparable piece of software to Webharvy. Between FMiner and WebHarvy, there are three key distinctions.
Using FMiner:
You can use your browser to record and reproduce full sequences.
CAPTCHAs are simple to solve.
To handle sophisticated reasoning, you can write your Python code.
Overall FMiner is excellent web scraping software
The only drawback we found is $249 for the pro version.
Pros:
One-time payment
Excellent for visual data scraping
Cons:
Conclusion
People with varying levels of skill and understanding can scrape the web. There are various options available if you're a developer looking to extract data from a huge number of websites or a development hacker looking to harvest email addresses from directory websites.
To know more about web scraping, you can contact Scraping Intelligence today. If you want data scraping services then you can also ask us for a free quote!