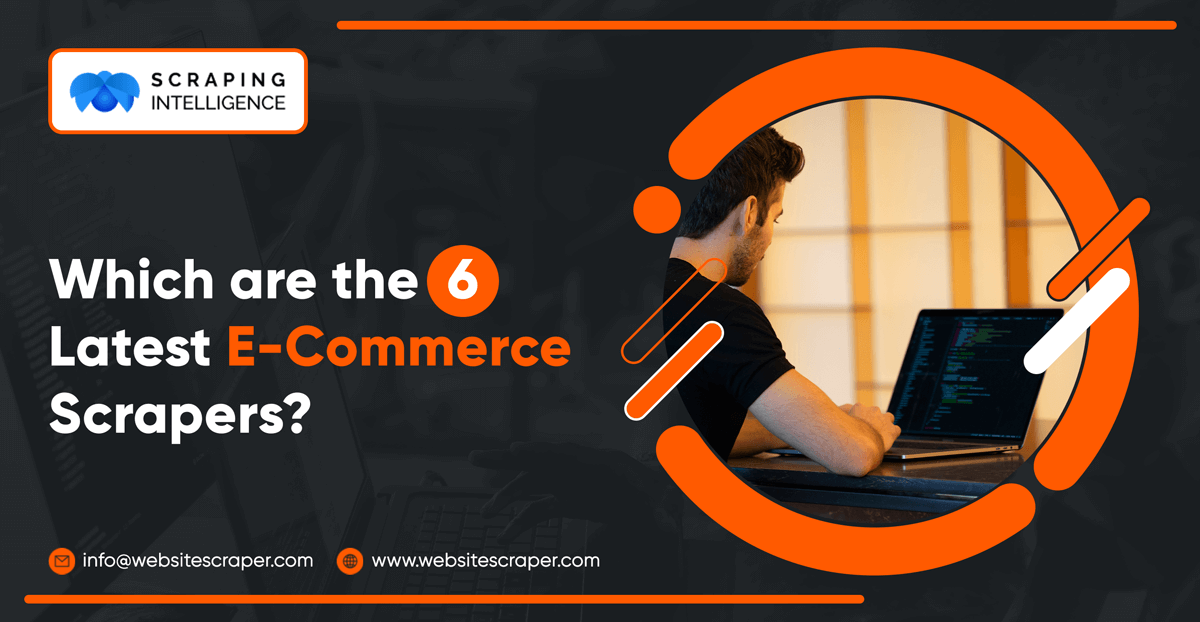 Extracting consumer data, product, and transaction data from various e-commerce websites to keep watch on the competitor, continuous price monitoring, investigating items, and gauging brand sentiment. This simple step-by-step instruction will show you how to scrape Decathlon and hundreds of other e-commerce websites.
Web Scraping E-Commerce Websites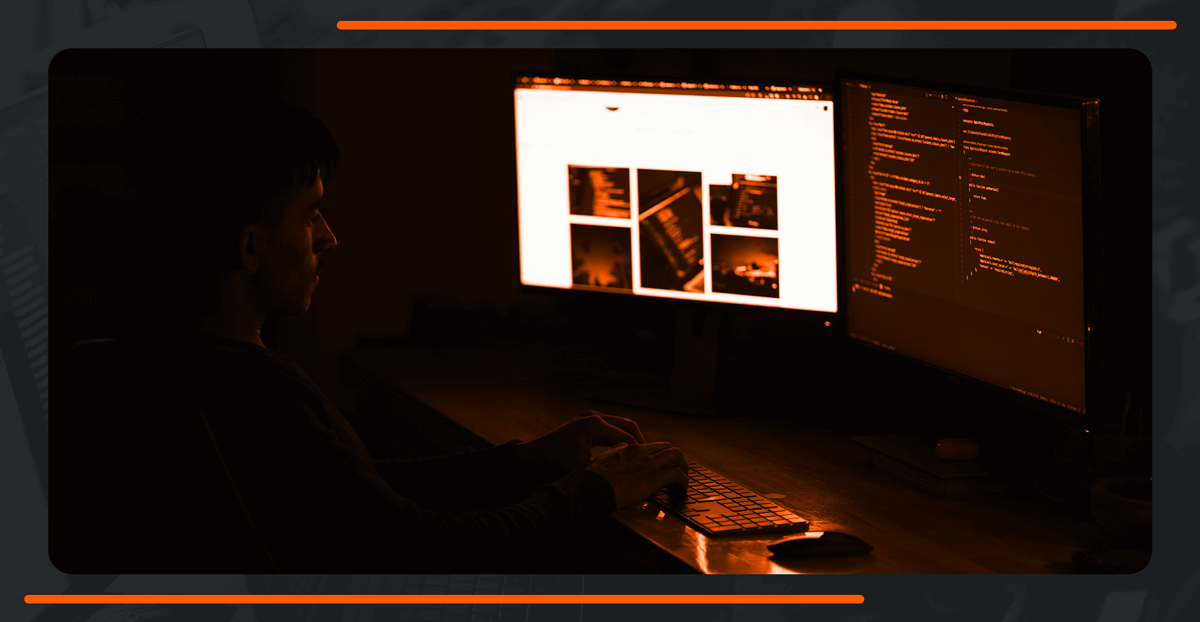 E-commerce simply refers to firms and people purchasing and selling items and services through the internet. Customers' data (reviews, lists, interests, search queries), product data (price, description, availability), and transaction data may all be scraped from e-commerce websites (payment methods, taxation).
To adopt data-driven strategies, this data may be collected and examined. Market research, brand sentiment monitoring, and pricing tracking are some of the sectors where this data might be used.
Reasons Behind Web Scraping E-Commerce Websites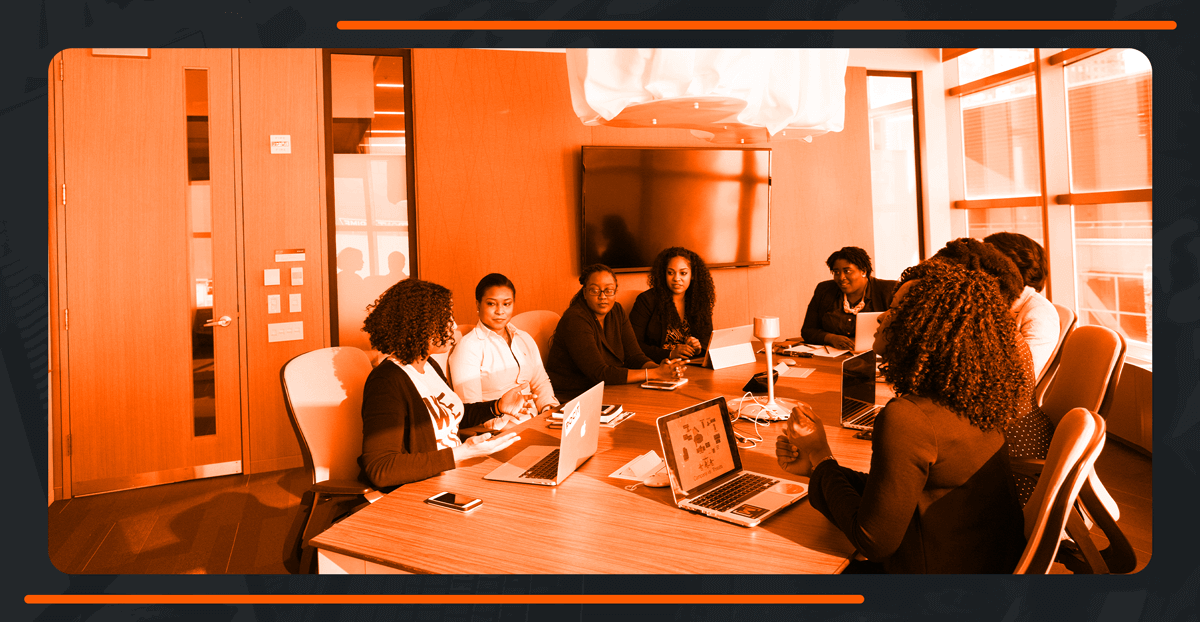 Web scraping e-commerce websites can be beneficial for a variety of reasons. The four most popular ones are as follows:
Market Research: If you're a company, you'll want to know what your competitors are offering online at all times, and at what rates they're selling it for.
Price Tracking: Searching for the product information and prices frequently ensure that you obtain the greatest bargains on your purchases.
Product Research:Scrape e-commerce product data frequently to be the first to know when a popular item is back in stock.
Brand Monitoring: Be aware of how customers are discussing your company and remain up to date on any comments so you can reply quickly.
Is E-Commerce Web Scraping Legal?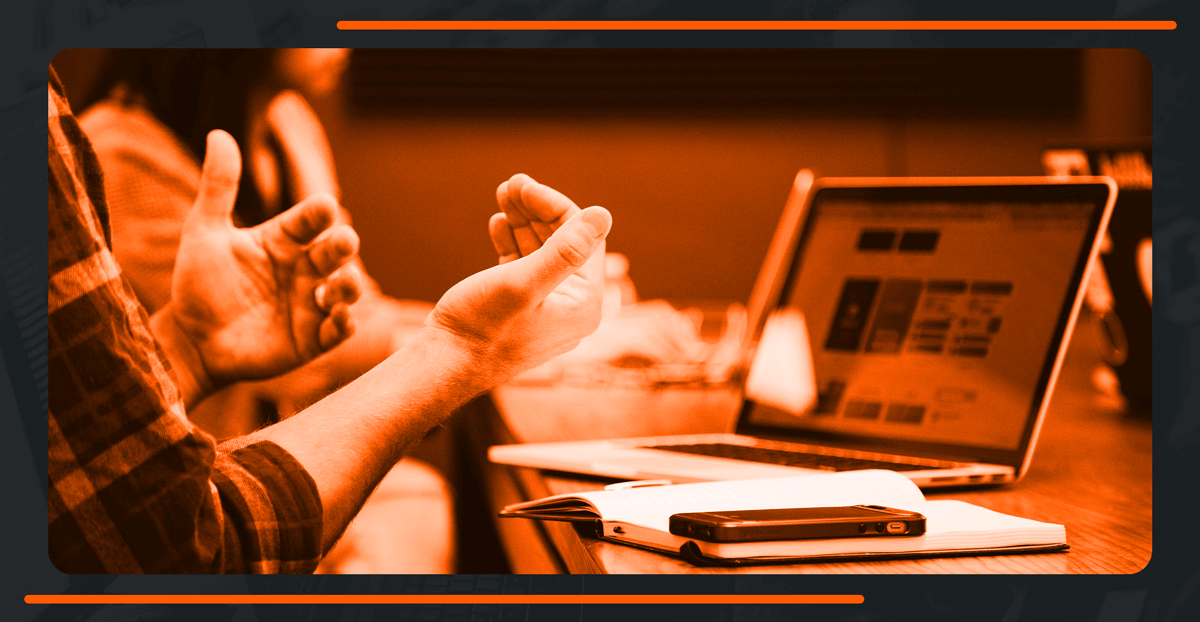 Scraping websites is legal. Personal data is protected in the European Union by GDPR and other legislation, although scraping public data from internet retailers is permitted.
Top 6 Online Stores that You Can Scrape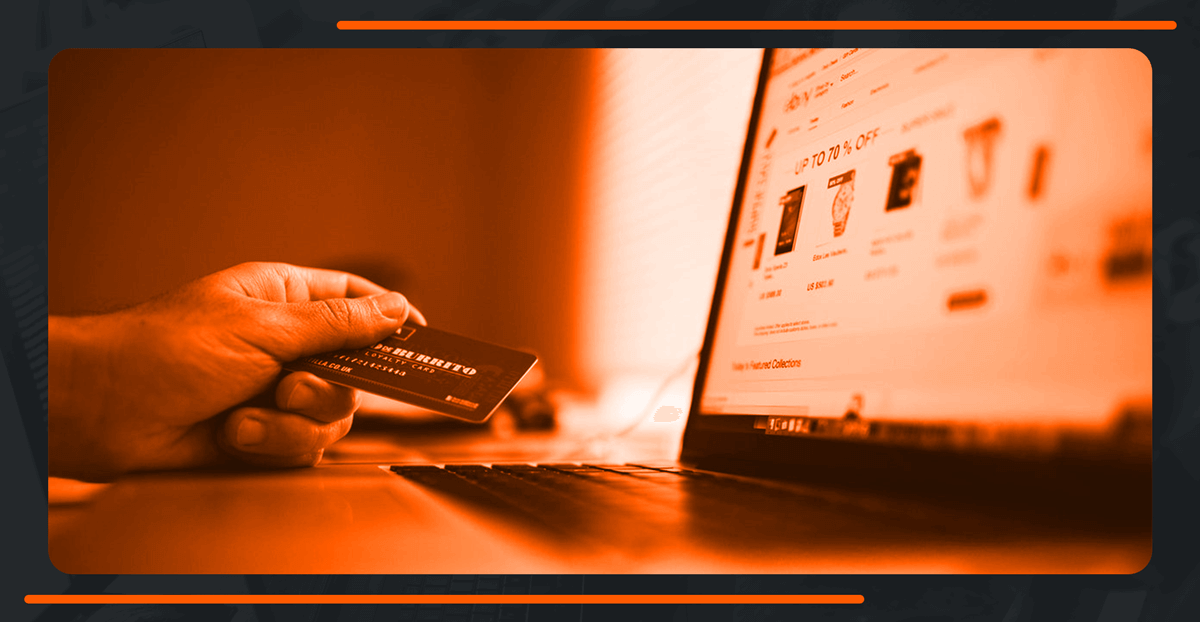 1. Whole Latte Love Scraper
You can shop for all things along with coffee on the Whole Latte Love website. They have espresso machines, coffee makers, and grinders, to mention a few. They also have a limited selection of coffee brews and cups. With the Whole Latte Love Scraper, you may extract Whole Latte Love catalog data from its website.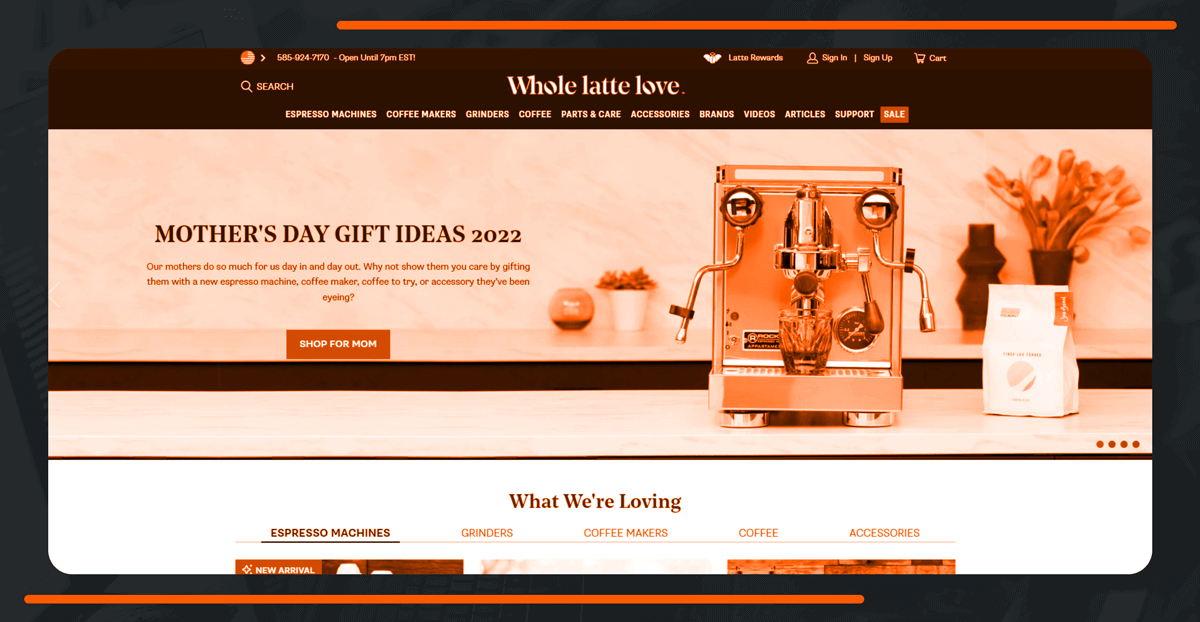 2. TeaBox Scraper
Teabox is an Indian firm that intends to improve the tea industry's sustainability by establishing a more direct relationship between tea farmers and tea drinkers. Teabox Scraper will harvest all of the tea data needed to create the best tea selection.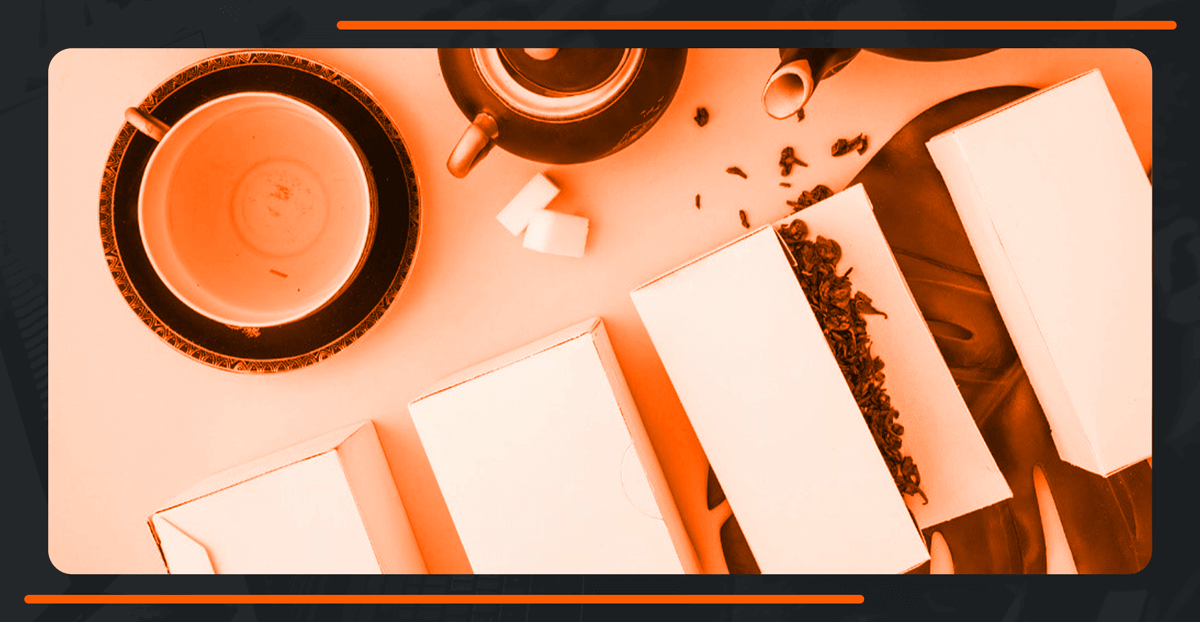 3. Fungi Perfecti Scraper
Fungi Perfecti is a family-run enterprise that specializes in the cultivation of gourmet and therapeutic mushrooms. You may purchase a wide range of mushroom-based items on their website, including vitamins, food, and fungal cultures. They also provide products and educational materials such as seminars and books. Fungi Perfect Scraper can help you extract pricing and product information and arrange them on your smartphone.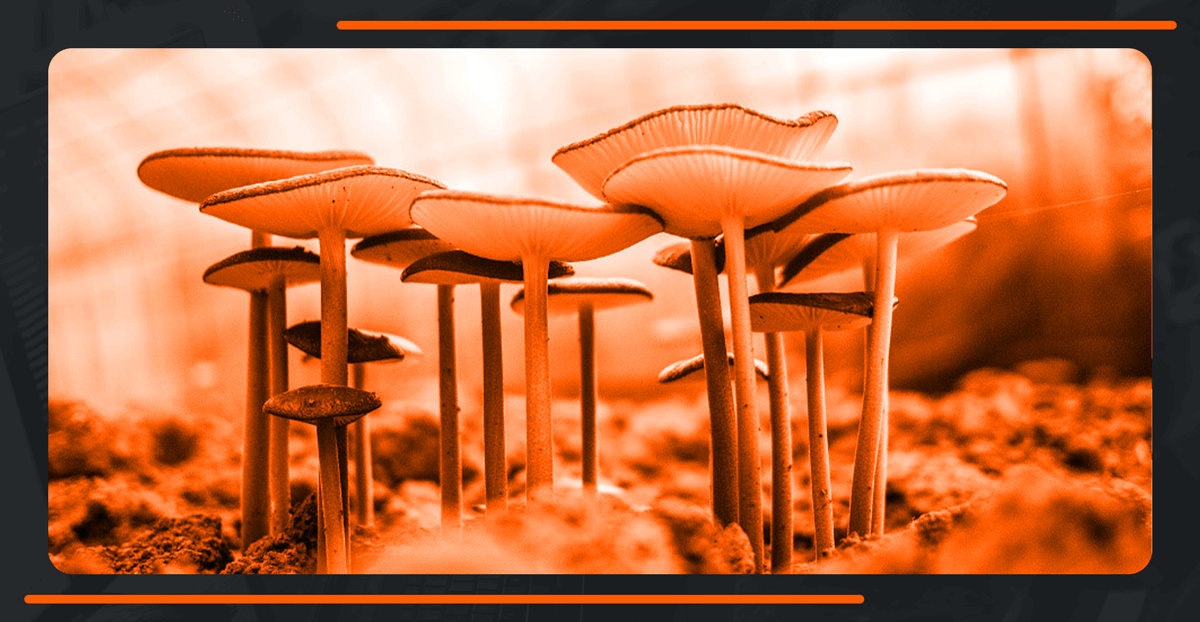 4. Unique Vintage Scraper
Vintage apparel and accessories are the focus of Unique Vintage, an online store dedicated to them. It's a diversified and size-inclusive brand that supports a number of companies committed to transforming the world. Find your vintage bell bottoms and get ready to dance. Unique Vintage Scraper is ready to assist you in sorting through this vintage catalog.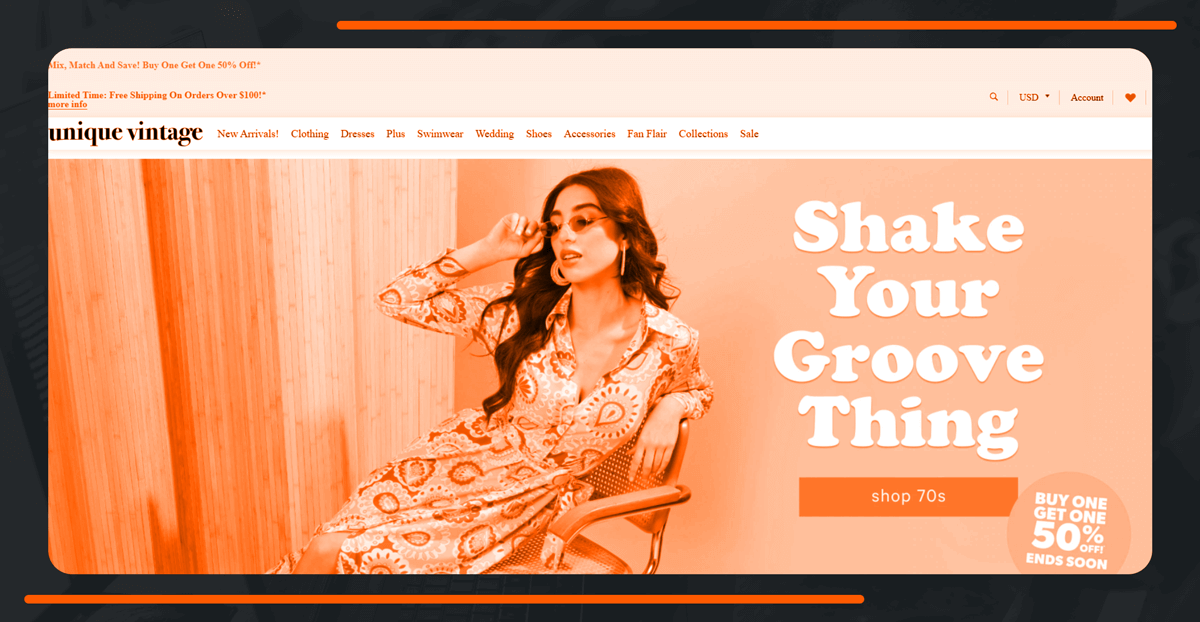 5. Macy's Scraper
This is a wonderful website to scrape fashion data. Macy's website receives an average of 100 million monthly views and features all of the current fashion trends. Clothing and accessories for men, women, and children, as well as cosmetics and home furnishings, may be found here. Macy's Scraper will obtain information about products and pricing directly from the Macy's website.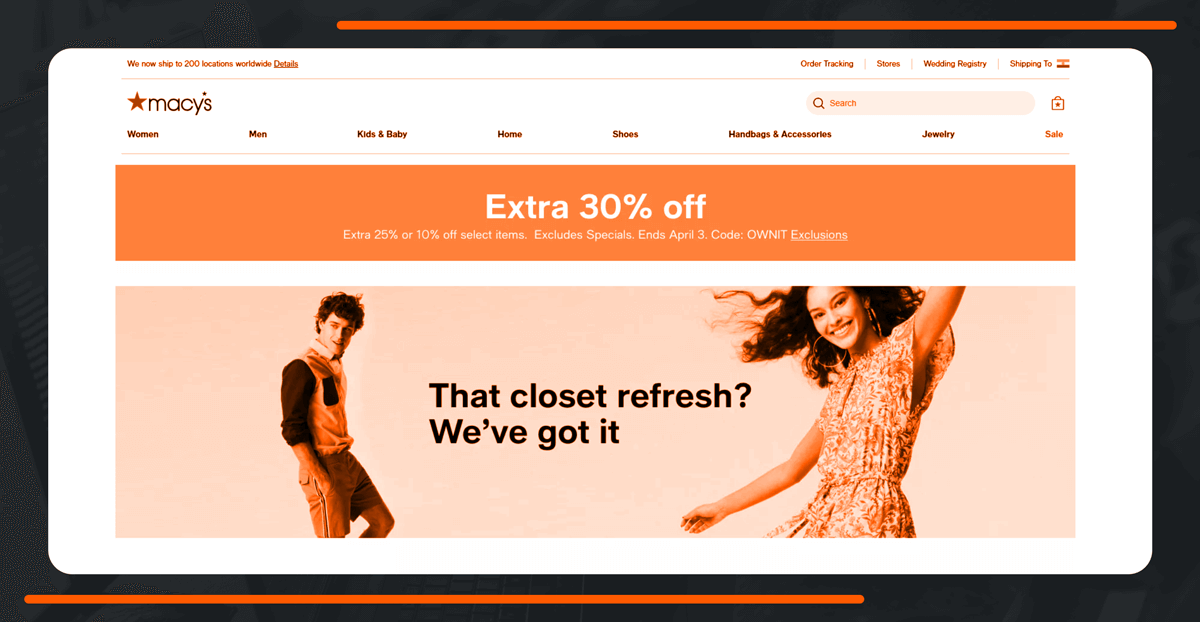 6. Decathlon Scraper
Decathlon is one of the world's largest retailers of sports clothing and equipment. Camping, volleyball, hiking, football, climbing, basketball... Decathlon has the perfect apparel and equipment for all of your favorite activities. Decathlon Scraper may be used to keep track of product pricing, information, and availability.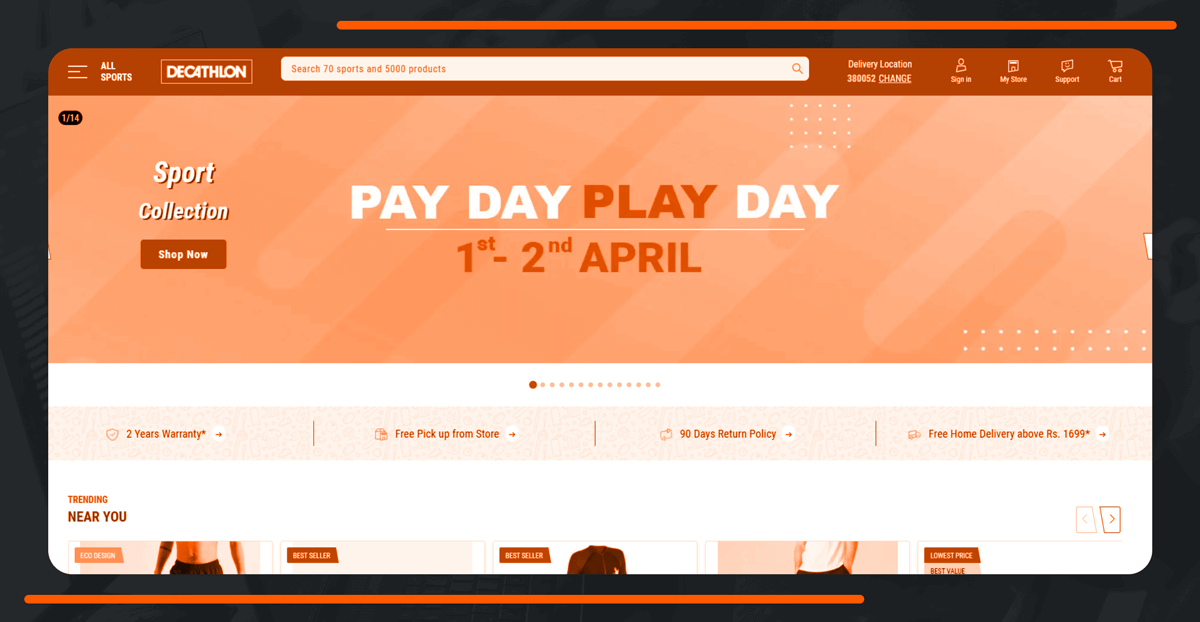 Decathlon Tutorial
Below are the steps for scraping decathlon.com data.
1. Go to the Decathlon scraper and sign in.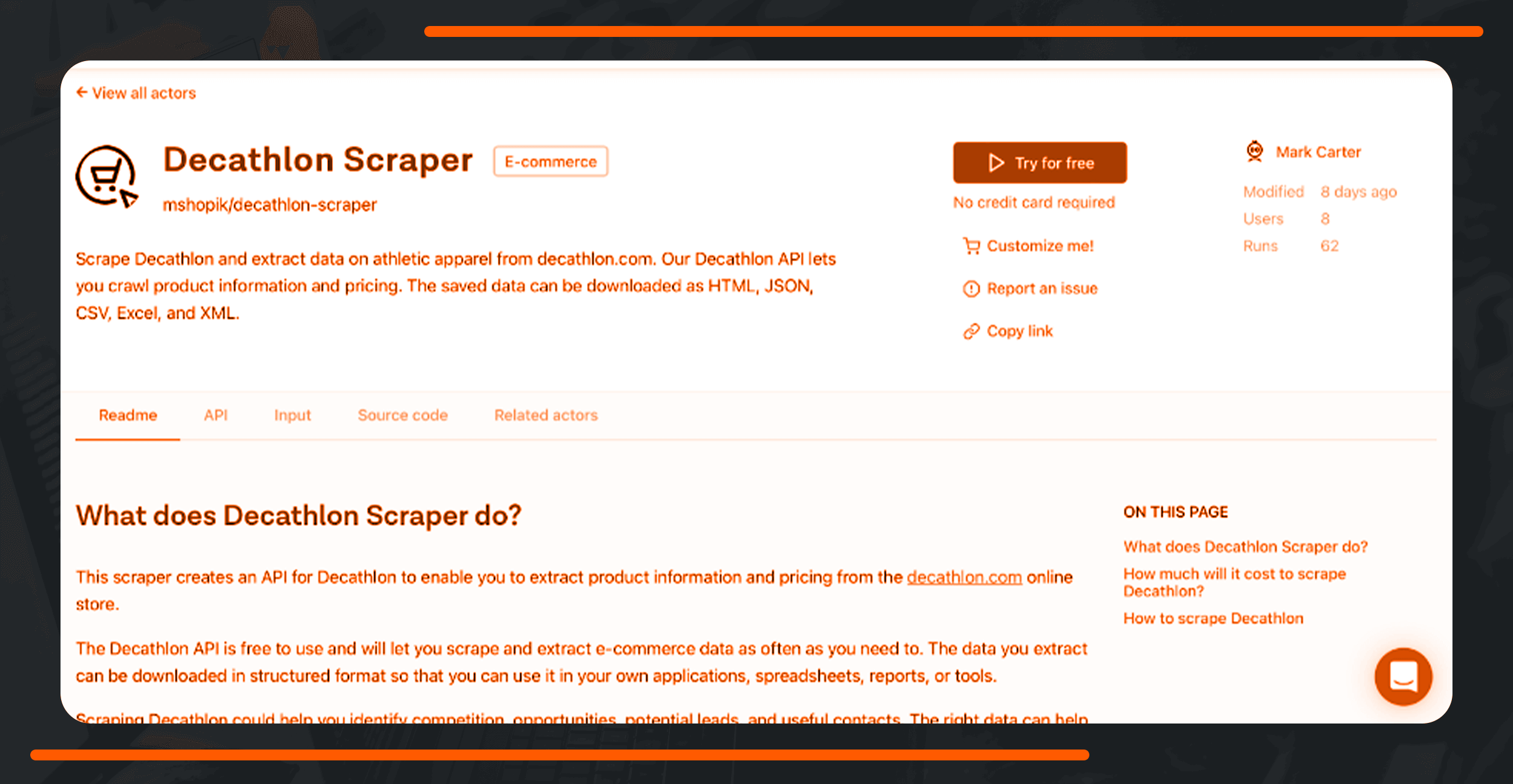 2. If you are not signed in, you will be redirected to the sign-up page.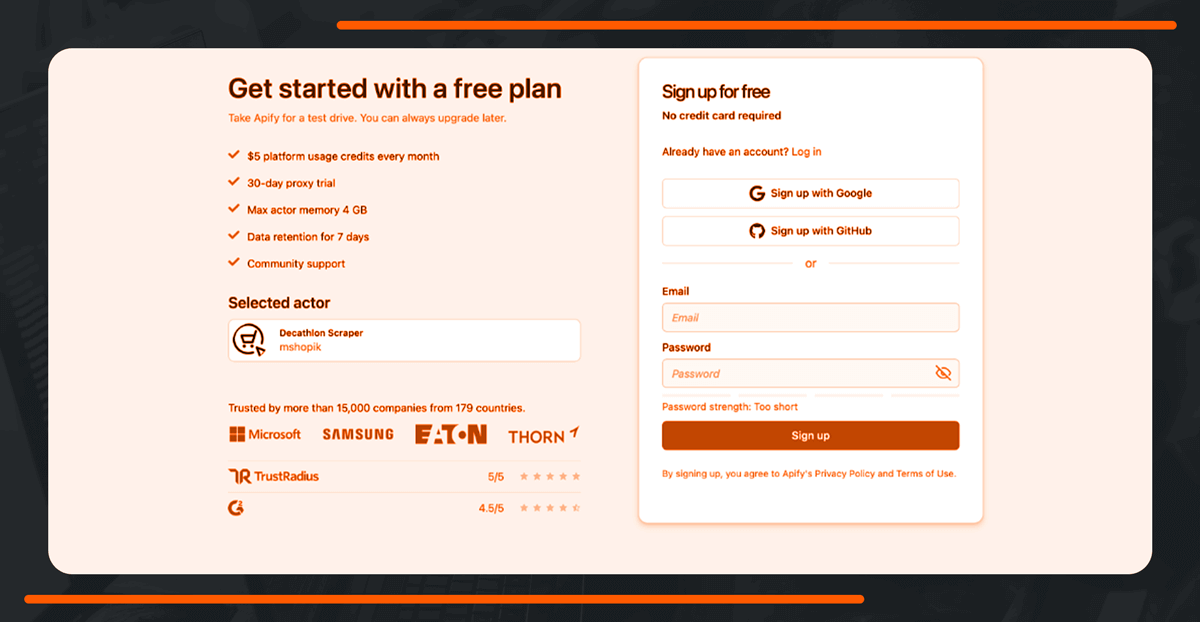 3. You will be redirected to the web scraper's homepage where you will be asked to place the target link.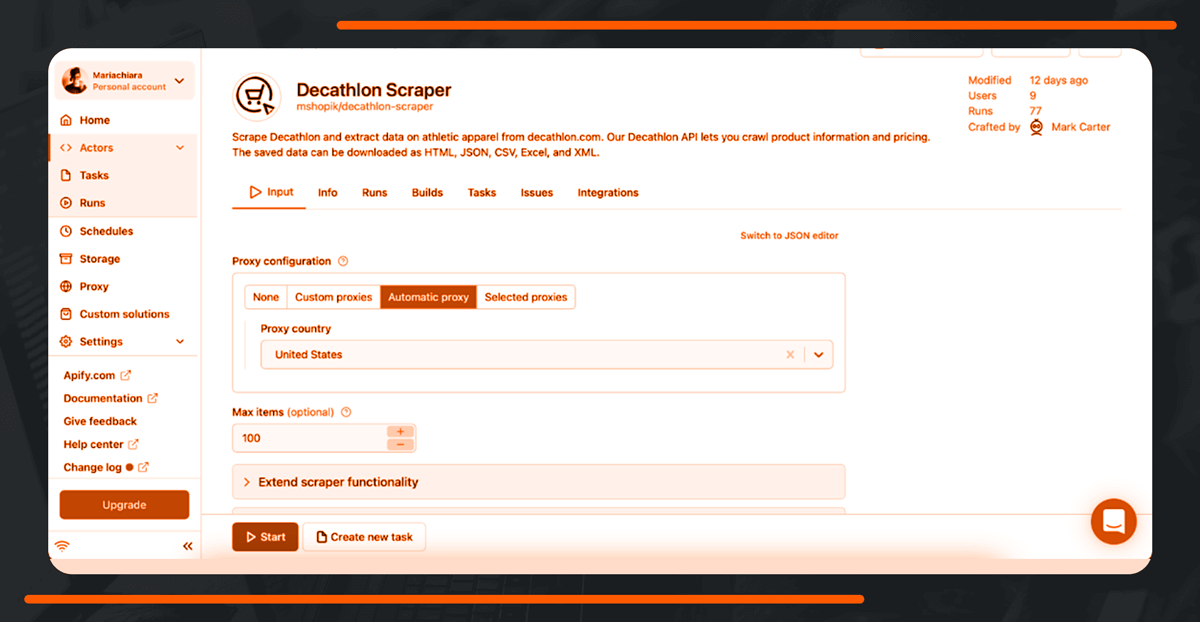 4. The proxy servers you want to utilize are the only mandatory parameter for this scraper. From the menu, you may select the kind and location. Click Extend scraper functionality and Options if you wish to change the advanced settings.
5. When you're ready, press the Start button. Wait for the scraper's run to finish before changing the status of your job to Running. It will just take a minute for the status to change to Succeeded.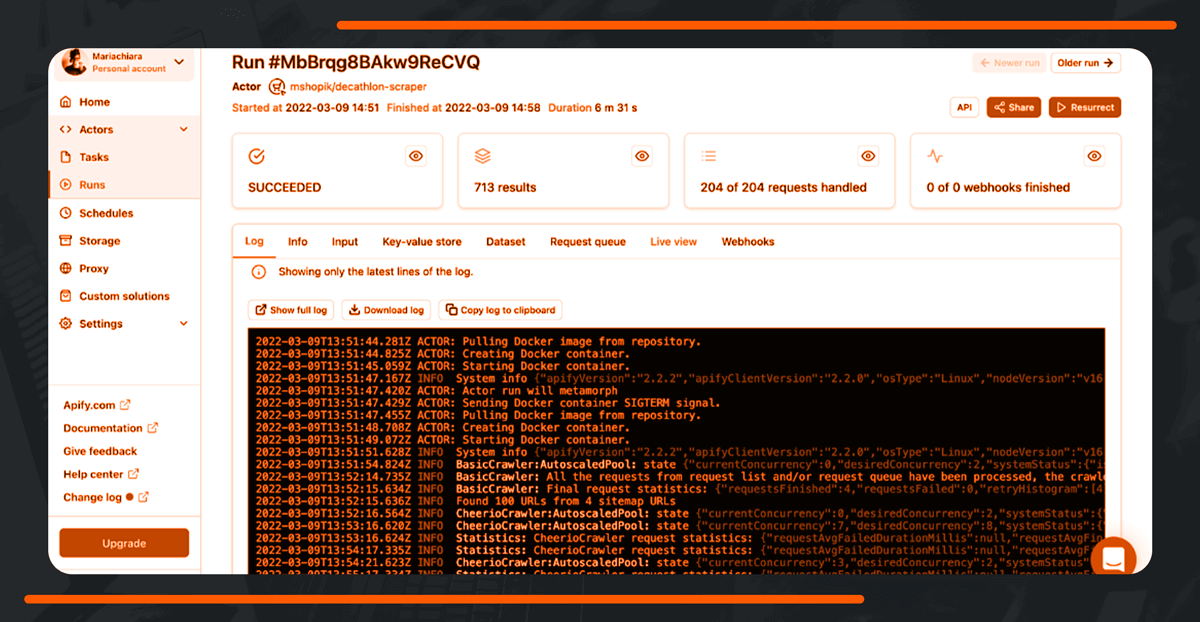 6. The Dataset tab holds your scraped data from a wide variety of forms, including HTML tables, JSON, CSV, Excel, XML, and RSS feeds. If the dataset is too big, you may view it in a new tab by clicking the Preview option.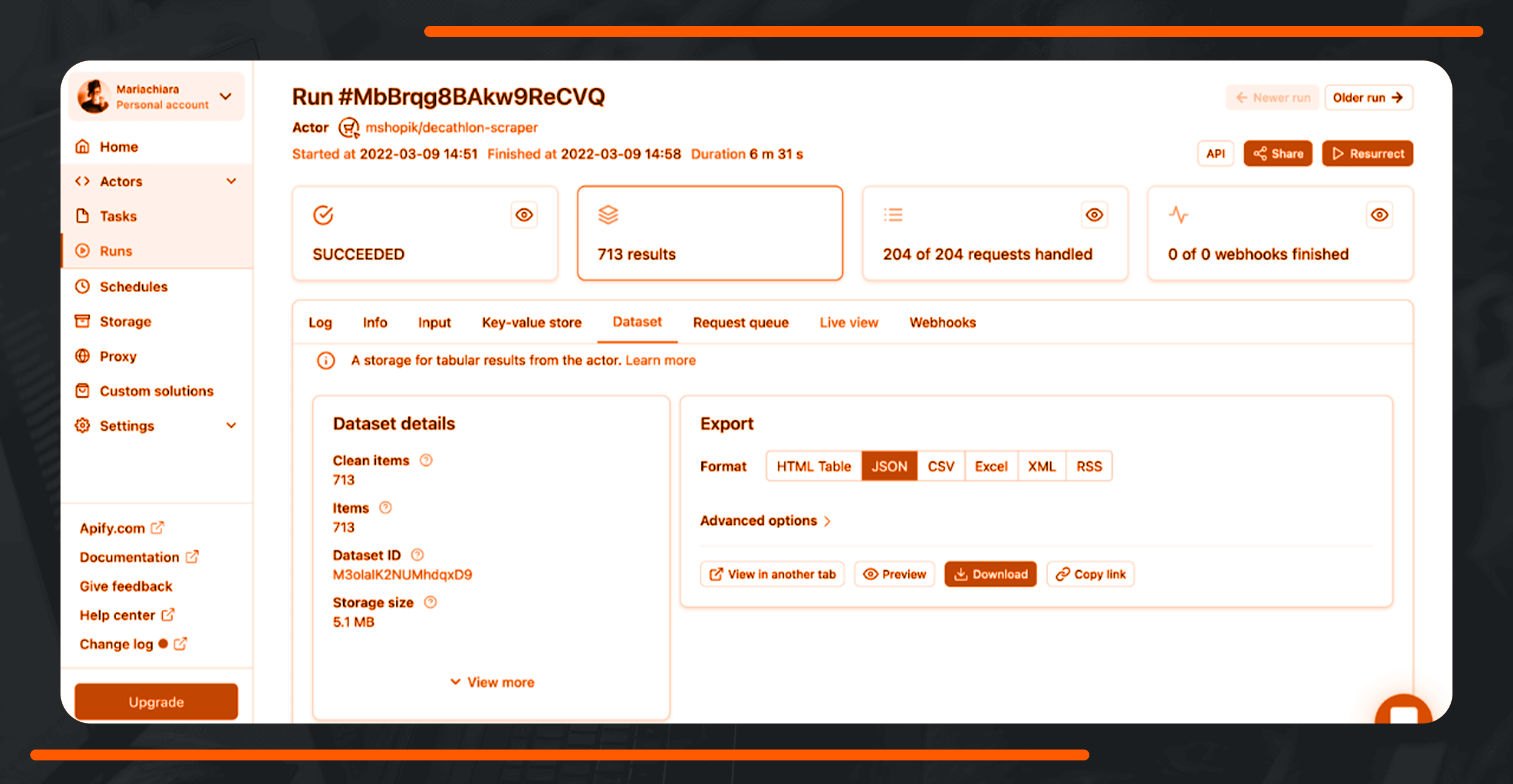 7. You may now save the information to your computer and utilize it in spreadsheets, applications, and projects.
On Scraping Intelligence Store, you can get these and hundreds of additional scrapers for Shopify stores. By following the procedures outlined above for the Decathlon Scraper, you can simply scrape any of them.
Get in touch with us for any web scraping services today!
Request for a quote!